John Tolley,

September 30, 2016

College dining hall meal plans can be complicated. Deciding what sort of plan will work best for you involves a complicated equation that takes into effect schedule, proximity to dining options, food quality, off-campus eating, late night snacking, swipes, credits, points, bucks, and a myriad of other variables.

For example, at Purdue University?s quick-service On-the-GO! stations, students can redeem a meal plan credit, or swipe, for any four items, say a turkey sandwich, chips, an apple, and a brownie. Whether you want more or less, a swipe will forever be four items. And those swipes don?t rollover from one week to the next. This leads many students with extraneous swipes to pad their meals with frivolous snacks or simply let the swipes go unredeemed.

This struck some students as needlessly wasteful when people in nearby communities battle hunger daily. So they decided to turn this problem into a solution.

GiJey Gilliam was a founding member of one of two groups that approached Purdue Housing and Food Service in 2009 about using university meal credits to help the hungry. Though the groups found it difficult to get traction when operating separately, in 2010 they joined forces as Swipe Out Starvation and were able to convince HFS to let them try an innovative approach to campus giving.

?They did a pilot program where students were allowed to exchange a portion of a meal credit for a Swipe Out Starvation card,? explains Gilliam. The SOS cards take the place of one or more of the four items that make up a meal swipe; a single card represents a 25 cent donation to the organization. The cards themselves are actually purchased by the university from SOS and stocked like any other item.

Gilliam, who now serves as an advisor for SOS, says that the pilot program was a success from the start, leading to the program becoming a permanent fixture of campus dining in 2011.

As Drake Krohn, president of SOS, explains, the cards serve a dual purpose as both a physical representation of a donation and as a tool for marketing the organization.

?One form of education is the card itself,? says Krohn. ?On the front is an image to capture students? attention and the back has some statistics about how our partners are dealing with hunger.?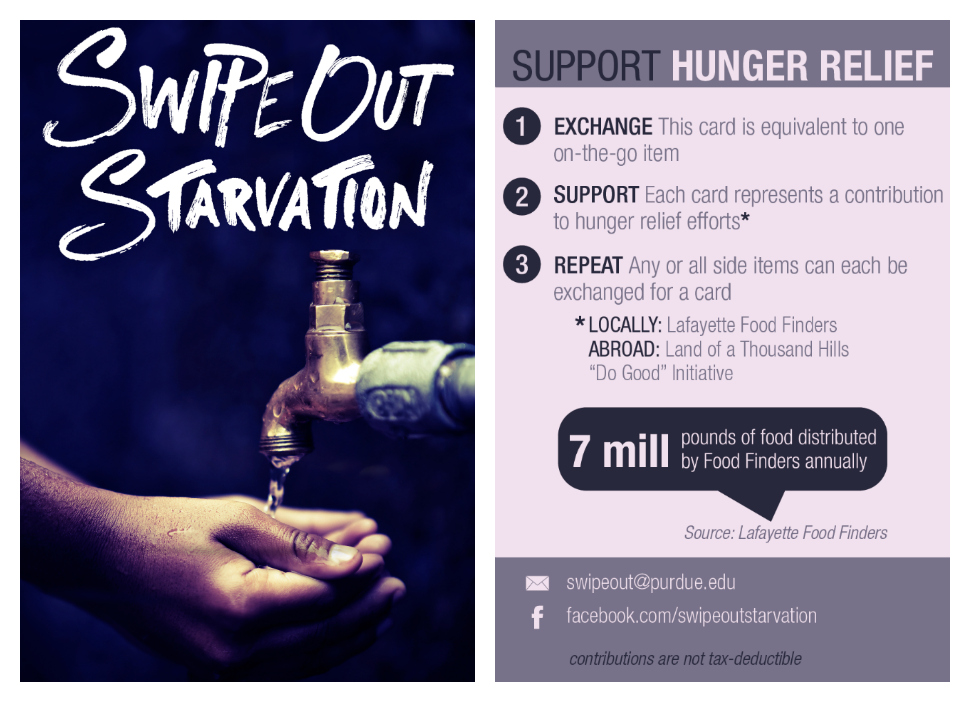 The money SOS collects from the sale of the cards is divided evenly between two groups. Rwanda-based, fair-trade coffee company Land of a Thousand Hills uses the money to provide training and pay higher wages to their growers, which, in turn, gives them greater buying power when it comes to food and other necessities. Closer to home, SOS supports Food Finders, a food bank that provides seven million pounds of food annually to North Central Indiana.
?It?s been awesome to see how we can make an impact,? says Grace Caruthers, SOS? vice president. ?Especially close to home because when you think of food insecurity, you think of countries that are distant. But there are needs in this community and Food Finders is doing incredible things like taking a dollar and stretching it into three meals for someone.?
Caruthers also adds that a large part of the outreach that SOS does is through On-the-GO! employees, educating them about what the cards mean and how the program works.
?If they notice a kid is buying his lunch, but he only wants three of those four items, they can say, ?If you?re not going to get that fourth item, you should take a card instead and this is what it is benefitting.??
Gilliam says while SOS has been approached by similar organizations at both Northwestern and Indiana Wesleyan for consultation on how to start and manage similar programs, he?s more focused on making sure the group remains a consistent force for good at Purdue.
?What I?d like to see is the group continue to get strong here on campus, developing systems and communications that help them grow sustainably; taking care of themselves, taking care of the program, and helping to educate students as much as possible.?