Adam Fluck,

September 24, 2016

As Gary Willyerd looks back on nine years of Michigan State University's College of Osteopathic Medicine?s annual Peru Global Outreach Program, the numbers are undeniably impressive.

The group - which this year totaled 80 participants, including 31 medical students and 27 physicians - saw over 2,300 patients in Iquitos during a two-week stretch in August.

According to Willyerd, associate dean at MSUCOM, that?s up from 1,200 patients in the program?s first year. But numbers hardly paint the entire picture of the trip, which is offered as an elective to the medical students. The meaningful impact is only truly seen first-hand through the lives they encounter.

?Two years ago, a young mother traveled up the Amazon for three days to bring her two-year old child to us,? Willyerd recalls. ?She was no longer able to breastfeed and she had no money, so she was feeding her young son a brew of water and whatever little piece of meat she could find. Literally, the child was starving to death.

?We were able to get her assistance and the little boy, whose arm was as big as my thumb, is now doing very well,? Willyerd adds.

While the program serves locals in a region that has extremely limited resources, it also provides those who participate with an opportunity of a lifetime.

?To experience being in the one of the natural wonders the world and provide healthcare services to a population that literally has none is a wonderful opportunity for my students,? notes Willyerd. ?Not only are they expanding their medical knowledge, but they are expanding their experience in clinical skills.?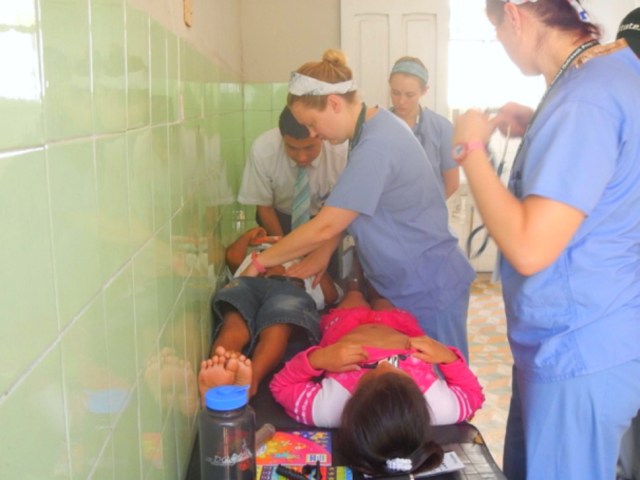 Willyerd explains that the program is part of MSU?s goal to create a culture of giving back. He seeks for his students a ?degree of cultural competency? and working in Iquitos has provided that and so much more.
Developing relationships is a key aspect of their efforts and over the years, Willyerd and others with the Peru Global Outreach Program have gotten to know the mayor of Iquitos. In turn, the Peruvian port city provides them with a building where they are working to establish a clinic for the community. MSU will get the clinic started and supply it with the hopes that eventually it will be able to hire a local physician to work with them and run it.
?If we go once a year, it?s a wonderful experience for us and we can literally save lives, but who takes care of them the rest of the year?? asks Willyerd.
?There is no clean water or sanitation, so you can imagine that infectious diseases are rampant,? adds Willyerd. ?Same goes for parasitic diseases, all of which very much effect the nutrition. There are a lot of nutrition developmental disorders and treating them is where we probably have the largest impact.?
Shane Sergent first participated in the program as a student in 2009 and he?s now involved in its leadership as a coordinator who works in research, another emphasis of the trip.
?As a student I not only provided leadership to grow the trip, but also added a research component to its objectives,? states Sergent. ?This was to not only identify the factors that were disease causing, but to find sustainable ways to combat disease in our absence.?
Air quality was a main focus this past trip. As Willyerd explains, ?They burn all their rubbish, so the pollution, even in [the] Amazon region, is bad when you breathe that air.?
The group is also genotyping the HPV virus in women to determine the most effective vaccine. It?s that kind of hands-on experience that motivated Sergent to become a better physician who understands how to work with others.
?Having the opportunity to participate in this elective has not only transformed me as a physician but as a person that sees the world as a much smaller place,? Sergent says. ?I have learned to collaborate with many organizations and institutions over these years and continue to grow each year.?
Because of his experiences, Willyerd urges his students to travel internationally for a trip along these lines, medically related or not. He certainly has seen enough to understand the benefits of such an endeavor.
?Being able educate my students and treat an indigent population with little or no resources, and then to see that through the eyes of my students and their experiences is really special,? says Willyerd. ?I think it?s so important.?