John Tolley,

September 23, 2016

Over the past weeks and months, people have called Betsy McCann a trailblazer. And it?s a mantle that the newly installed director of the University of Minnesota Marching Band certainly deserves. As the first female marching band director in the Big Ten conference, McCann is keenly aware of how she is an inspiration to future generations. But if you ask her, she?ll tell you that she?s more comfortable in her role as an educator, using music to reach out to children and to make connections across campus and beyond.

BTN LiveBIG recently got a chance to speak with the UMN grad about her life in music, her vision for the Pride of Minnesota, and what she has planned for halftime.

BTN LiveBIG: Tell us a little about your journey to becoming the band director at the University of Minnesota.

Betsy McCann: I?ve been involved with music since I was a kid. My undergraduate degree is from the University of Minnesota in music education as well as music performance. I knew when I was here that education was the route I wanted to go. I taught high school band for a number of years, both in Minnesota and Illinois. I also have a master?s degree in conducting (from Northwestern University).

I moved into the collegiate world as the assistant director of the University of Minnesota marching band in 2013. I worked for three years as the assistant here.

BTN LiveBIG: Along the way, who were some of the people who encouraged you to follow your passions and dreams?

McCann: I?ve had so many amazing mentors and supporters and teachers through the years. I had a phenomenal middle school director and I still have a letter that she wrote to me when I had not gotten a spot in an audition. She said, ?Keep trying, you?re going to do great things, you?re a great musician.?

My professors here at the University of Minnesota and also at Northwestern have been incredibly inspiring and supportive to this day. I still have great connections with them. I?ve been lucky to have a really amazing network of people who?ve worked really hard for me and with me to get here.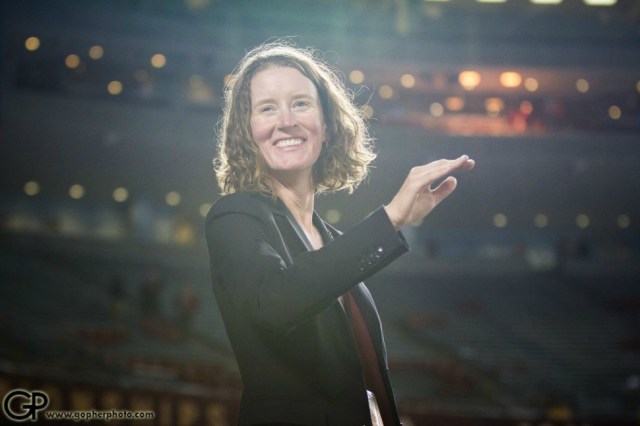 BTN LiveBIG: Given that you are the first female band director in the Big Ten, why do you think it has taken so long for woman to reach that position?
McCann: I?ve been asking that question a lot lately. I think part of it is women just weren?t in marching bands until relatively recently. Here at Minnesota, women didn?t march in the band until 1972. So, it took some time before women became established in the band.
And, I think that our profession has a lot of great educators and wonderful people who have just been in their jobs for a number of years. There?s not always a lot of turnover with band directors. I think that plays a role and it?s not a bad thing at all. These band directors are wonderful and doing great things.
BTN LiveBIG: Given that you were a member of the UMN marching band, how does that influence your role as the band director?
McCann: I think it?s helpful, certainly, to have some knowledge of the history and the traditions: where the band has been, where we are, where we are going, and what we want as a group. I have that in my staff as well; I have staff members that have been around the band for longer than I have.
I think the students also like knowing that their directors have done this. We?ve literally marched in their shoes.
BTN LiveBIG: What is your vision for the band? Where do you see it going?
McCann: I feel that there a lot of really good things going on in this band right now. I?ve inherited a really healthy program. I think the marching band can be a much bigger vessel for greater university visibility and promotion and community engagement. So I?m hoping that our marching band can be out there working in the schools and inspiring students to continue in music.
BTN LiveBIG: Is that something that band members have done in the past: going out into the schools and communities and giving them a taste of what it?s like to be in a marching band?
McCann: It certainly is. Our drumline especially has some relationships with schools. We have a band student sorority and fraternity and they have relationships with schools. We have days where high school students will come here and march and work with us. That?s something I would just like to continue improving, those offerings that we?ve had so far.
BTN LiveBIG: Can you give us a teaser of some of the things you?re working on for upcoming shows?
McCann: I?m actually really excited for the show we just started working on. We are highlighting some areas of the university that are doing some really cool groundbreaking things. For example, our Bee Lab is a leader in the country. So we?re highlighting their team. We?re having them come down on the field and talk about what they do. Then the band is going to play ?The Circus Bee March?
I?m excited for the shows because we get to work with a number of departments at the university that we don?t usually have a connection. We can give them a greater audience for what they do in a nice way that they don?t usually get.
Images: GopherPhoto.com