Marc Zarefsky,

September 15, 2016

Laura Alford has a fondness for the Great Lakes.

As a Michigan native and lecturer in Naval Architecture and Marine Engineering at the University of Michigan, she has spent time researching microplastic pollution in the Great Lakes, the largest body of fresh water on Earth. So when she heard about an opportunity to sample plastic debris pollution across all five lakes and connecting waterways while simultaneously raising public awareness and encouraging girls to pursue careers in the sciences, she jumped at the opportunity.

On August 20, Alford and fellow Michigan faculty member Melissa Duhaime were two of more than 1,000 participants in the world's largest simultaneous water sampling project for microplastics - tiny pieces of plastic that measure mere millimeters in size - as part of eXXpedition Great Lakes 2016. The community-led initiative provided a unique way to engage people with the health of the Great Lakes through the issues of plastic pollution, both seen, such as on shorelines, and unseen, such as in the water.

Alford and Duhaime, who is an assistant professor in Michigan's Department of Ecology and Evolutionary Biology, led a team that sailed aboard a 30-foot sailboat through Lake St. Clair. The plan was to sample water from various locations in the lake and the Detroit River - which connects with the northwest corner of Lake Erie - before docking on Belle Isle, located at the northern most point of the Detroit River. Duhaime's Michigan lab organized interactive learning sessions about microplastics to be held outside the Belle Isle Aquarium.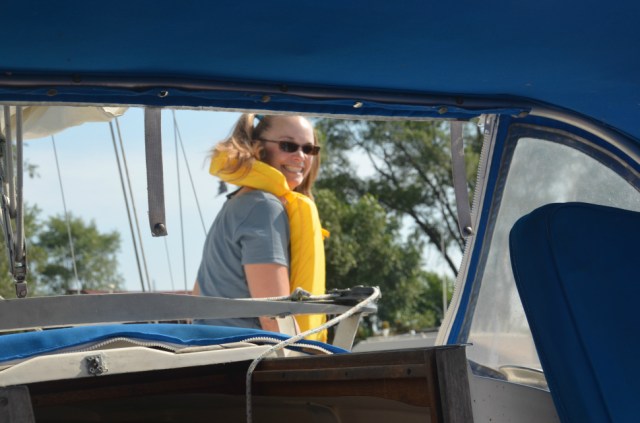 High winds and impending storms prevented the team from sailing toward Belle Isle, though, and made Duhaime and Alford adjust their plans. They still were able to sample the Lake St. Clair water, and instead of docking at Belle Isle, they ended up driving there to meet the rest of Duhaime's lab.
"It wasn't as flashy of an arrival as sailing up to a dock with all our eXXpedition banners flying, but it worked out," Alford said. "We came up with some good ideas about how to continue learning about microplastics and raising awareness of their dangers, and we had a ton of fun.?
Alford explained that two major sources of plastic pollution are the food and textile industries, and that people at the learning session talked about how they could change one small thing at a time in their everyday routines, like putting apples from the grocery store directly in a shopping cart rather than a plastic bag.
?Every time we get to connect with someone is a new opportunity to empower them to make better decisions to protect their water and themselves,? Duhaime said. ?You can?t change your behavior if you don?t know your current patterns are causing harm to your environment and possibly your own health. The eXXpedition event was an amazing opportunity to bring people together across the Great Lakes region to do just that.?
The Great Lakes trip is part of a larger series of eXXpedition voyages that feature lead boats with all-female crews of scientists and change makers. The hope is to empower women and girls in STE(A)M careers (science, technology, engineering, art and math).
?Research has shown that having role models that look like you can positively affect your sense of belonging to a group,? Alford said. ?Now that I have the opportunities to make events like this happen, I'm doing my best to keep being visible and show women and girls that we do this kind of stuff for a living. And if I can do it, they can do it too.?
That being said, organizers with eXXpedition recognize the need to have everyone involved in the day's activities.
"As much as there is a need to empower women, it was also integral that from day one this event was open to everyone and encouraged action from all citizens of the Great Lakes," said Jen Pate, one of the eXXpedition Great Lakes mission leaders. "This type of event is important because it engages everyone - male and female, children and adults - to understand that we are all a part of the problem, but can very quickly become a part of the solution."
Moving forward, the event will become an annual "Love Your Greats" day, according to Pate. For more information, visit www.loveyourgreats.com.