Adam Fluck,

August 22, 2016

As she spends her days surrounded by more than 300,000 original cartoons, 45,000 books and 2.5 million comic strip clippings and tear sheets, Caitlin McGurk is living her dream.

McGurk, 30, serves as associate curator for Ohio State University?s Billy Ireland Cartoon Library & Museum - she?s also an assistant professor - a result of her lifelong passion for comics, coupled with hard work and perseverance.

BTN.com recently spoke with McGurk about her role, the museum itself, and her thoughts on the future of the comics industry.

Big Ten Network: You?ve long been passionate about comics. At what point in your life did you begin to understand you could make a career in that industry?

Caitlin McGurk: I started to daydream about that possibility right out of high school. It was around that time I started self-publishing comics myself as I made mini-comics or zines. I was going for an English and creative writing degree and just to make some money on the side as I went to school, I worked at an auction house. They were introducing a new auction for underground comics, spelled with an ?x?, and it was my job to photograph and create basic metadata about the pieces in order for them to be listed. I remember thinking, ?Wow, it would be amazing if I could spend the rest of my life cataloging comics.?

BTN: You arrived at the university?s Billy Ireland Cartoon Library & Museum in 2012 but it?s been around since 1977. What can you share about how Ohio State started the library and its mission?

McGurk: Our library started because of a gift from a very famous artist, Milton Caniff, who was one of the most successful cartoonists in American history. He had two major comic strips, Terry and the Pirates and Steve Canyon. He had this really brilliant, celebrity-level kind of career and he happened to be an Ohio native and OSU alum. As he started to retire, he felt like he owed the success of his career to his education. So he decided to donate all of his life?s work to Ohio State. We became the only place in the world collecting and caring for comics and the types of materials with the respect that it deserved.

BTN: You believe that comics can be used to study subject matter and that?s something you have shared with colleagues at Ohio State. What are some ways that they be used as a way to learn and teach different disciplines?

McGurk: There are obvious ones, like art and English. We work with a lot of ESL classes here and when students from other countries are tasked with learning about

American culture and there is a chapter on humor, it?s a lot easier to visually show someone with the use of comics what a pun is, rather than verbally explaining it.?

BTN: What?s on your list of unfinished business, whether it?s something you?d like to accomplish on behalf of the museum or personally?

McGurk: Number one on the list, and it goes both with the museum and with my personal scholarship, is to see more of the history of women in comics celebrated. I?m working on some research projects that will hopefully culminate into a book about the unsung history of women who have worked in comics since they first emerged in the 1800s. I?d like to see that reflected more in our library and its collections.

BTN: What is one must-see piece, exhibit or experience at the museum?

McGurk: We have all of the original art for Calvin and Hobbes. Bill Watterson, the creator, is kind of a known recluse, so it was pretty incredible for him to befriend the library and trust us with his work. Other than a very small number of pieces that have sold at auctions, we have everything from Calvin and Hobbes.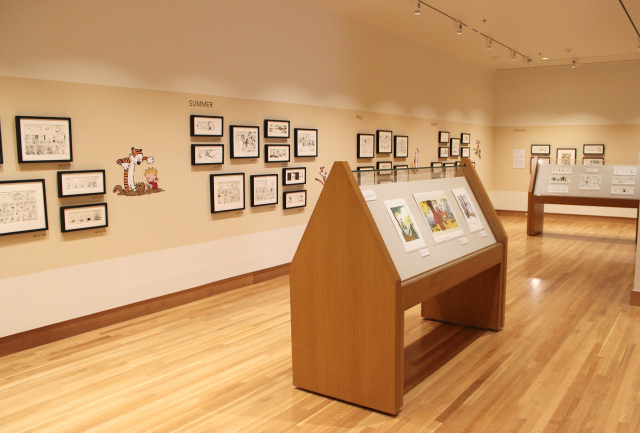 BTN: In terms of the visitors, is it more of a local group or do you get a good amount of international guests?
McGurk: Just this week, we had three researchers in our library reading room, two of which were from France and one from Japan. They also come from all over the U.S. As a research facility, we?re a destination internationally, without a doubt. The Columbus community has also really embraced us. I think Columbus is actually the best place for us to be. Some people might wonder why a place like this isn?t in New York or Los Angeles, but there are more cartoonists from Ohio than any other state in America, including many of the most important and influential cartoonists.
BTN: What do you see as the future of the cartoons and comics?
McGurk: Comics have always found a different medium; it?s not like they?ve always been produced in just one. They started in newspapers and then they moved on to comic books. Then there were graphic novels and now there are web comics. Because comics are really a language, they?re going to survive and they?ll continue to change forms and adapt with the times.
by Adam Fluck