Matthew Wood,

August 15, 2016

Within the safe confines of a greenhouse, the average amateur gardener will yield a viable crop. But what happens when you have to take the seeds outside into the real world? How do you ensure they?ll grow as intended?

A group of Michigan State University professors and students have created a laboratory to simulate real-world climate and weather changes in order to determine which plants can best survive under different conditions.

?For years, scientists have been studying genes in a lab under very controlled conditions,? said Jeff Cruz, director of MSU's Center for Advanced Algal and Plant Phenotyping (CAAPP). ?But the conditions in the lab have nothing to do with what happens out in the field. That?s what we?re trying to recreate. If you take those same plants out in the field, they yield very poorly. One of the thoughts is that random outdoor conditions have an effect on how the genes perform.?

The process is called Dynamic Environmental Photosynthetic Imaging (DEPI) and it focuses on the different steps of photosynthesis, determining how much light the plant actually uses and how efficient it can be.

?Photosynthesis is an extremely energetic process,? Cruz says. ?In many cases the plant can?t use all the light it absorbs. That leaves it vulnerable to toxic species, which can damage the plant. The way plants have evolved, is they have developed mechanisms for combating that.?

In the past, research has consisted of taking a snapshot of one leaf from a plant, then comparing it with others to measure productivity. But in their lab, Cruz and the team-headed by Hannah Distinguished Professor in Photosynthesis and Bioenergetics David Kramer-can dynamically track multiple plants against differing conditions.

They can simultaneously look at up to 250 plants in each lab.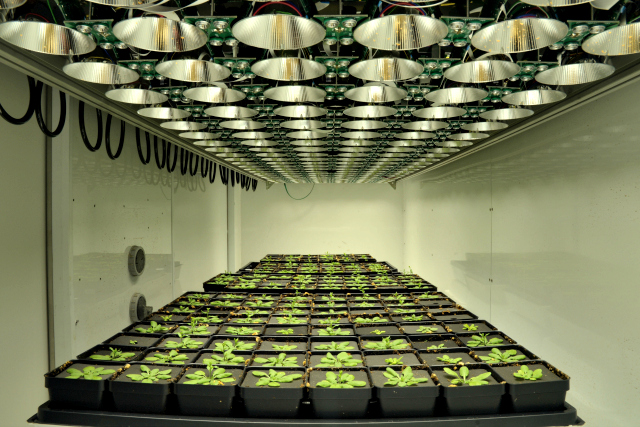 ?We are able to collect images every few minutes if we wanted to, which means we have huge data sets,? Cruz says.
The team hopes to isolate the genes that work most efficiently in varying situations, such as a drought or climates that receive less sunlight than others.
Cruz was the lead author of a paper on the topic, which was featured on the cover of Cell Life magazine. He says the publicity has given the project some added exposure.
?I?m still kind of absorbing the fact that it actually got published,? says Cruz. ?Things have been quite busy right now because there?s a lot of interest.?
He estimates they?ve received close to 100 calls from other universities and companies interested in collaboration.
?We?re big developers of technology,? he says. ?The philosophy of the lab is we want to get the technology out there as fast as possible. It?s satisfying to know people can make use of this.?
The ultimate goal is to grow more productive crops. The team is interested specifically in knowing if plants are being too conservative, in survival mode instead of living up to their capabilities of optimal production.
?If we can harness just a few percent of the energy, they could potentially double output,? Cruz says. ?If you talk about feeding the population in the future, that would be enough to cover that deficit. Can we develop practices or modify the plant so that it will be more productive when we have more limited land and climate changing? If the current population trends, we?re going to have to figure something out.?
Their team uses MSU graduate and undergraduate students with what Cruz calls ?a peculiar mix of backgrounds, [including] engineering, computer and actual research scientists.?
He says the great thing for them about MSU is the ability to learn about different aspects of research just by going down the hall to another department. The students they work with pick up a broad array of knowledge.
?The average student that leaves the lab has a fair amount of expertise in multiple subjects,? Cruz says.
By Matthew Wood