Betsy Piland,

August 13, 2016

So you?re in your office. Sweating. Again. While you appreciate the sweltering summer heat when you?re on the beach or riding your bike, desperately fanning yourself in a vain effort to cool down has gotten old.

While you?ll have to suffer through the rest of August 2016, a group of engineers at the University of Maryland is working on a solution. And like everything great about the future, it involves a robot.

Maryland professor Vikrant Aute says his team has been kicking around the idea of how to be thermally comfortable no matter where you are since 2014. The key to the problem has a lot to do with how thermostats measure the room?s temperature, not yours.

?Just because the temperature of the air in the room is 75 degrees Fahrenheit doesn't mean you are comfortable at that temperature,? said Aute. ?Each person has a different level of clothing on, a different metabolism, and so forth. The idea was, ?It'd be really nice if there was a device that can keep me comfortable, and then taking it a step further, no matter where I am, in my office, home, etc.??

Solving this problem is about more than personal comfort; it could also dramatically reduce cooling and heating costs in both business and residential buildings. The government is so interested in tackling the problem it offered a $2.5 million grant from the U.S. Department of Energy?s Advanced Research Projects Agency - a grant Aute and his team acquired to begin their research.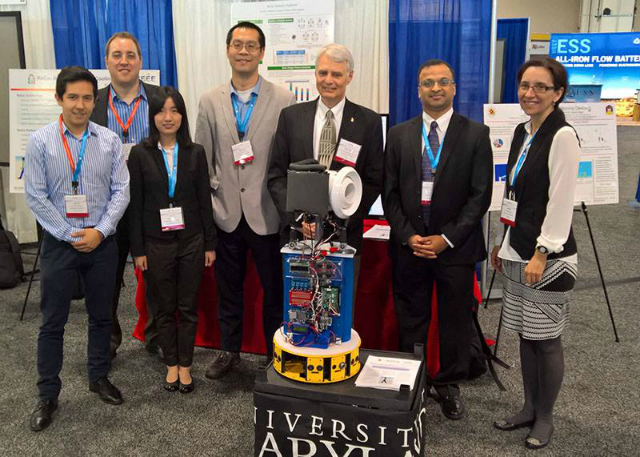 To develop solutions, Aute assembled an expert team skilled in robotics and engineering: Maryland engineering colleagues Jelena Srebric and Reinhard Radermacher; Kyle Gluesenkamp from Oak Ridge National Laboratory, a specialist on robotics, electronics and sensors; and FirstBuild, a micro-factory environment for field test and consumer feedback.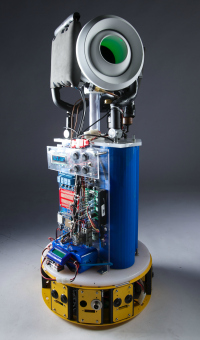 What Aute and his team came up with is a robotic personal cooling device or, the RoCo.
Beyond some significant energy cost savings potential, the RoCo is essentially meant to be a personal comfort device light-years ahead of the air conditioner you stick in your window every June. Aute said there are several ways a RoCo could operate, but much of their interest focuses on wearable technology.
?The advantage of the wearable technology is that the wearable is already measuring some of your biometrics, like heart rate, but it could measure your skin temperature and skin moisture too,? said Aute. ?One of our team members, professor Jelena Srebric, is working on developing algorithms that can use information from wearables to actually calculate what your personal thermal comfort is. [The RoCo would use that data] to adjust the speed, amount and temperature of air that gets blown toward you. Also it can adjust the nozzle to make sure it is blown at the appropriate location.?
When looking at the amount of energy it takes to power heating, ventilation and air conditioning (HVAC) systems, most of the power is spent on cooling and heating the building, not the actual occupants-which is a very small fraction in comparison to the volume of the building. Aute wants to focus on the people.
?What we can do is relax the building thermostat settings by a few degrees. Because of that relaxation the building air temperature is not going to be as cool, but we can compensate for it by using battery-powered RoCo devices,? said Aute. ?We did this analysis for various locations throughout the U.S. and we found that savings were as high as 30 percent.?
Aute said that his team is a little over a year into their three-year funding and are pleased to have developed a cooling version of the RoCo. Over the next two years they will continue to refine the technology and produce a version that provides both cooling and heating.
?We are also working on the tech-to-market side of things,? said Aute. His team is conducting surveys, proposing field tests and evaluating supply chain development. With a number of novel technologies involved, they need to make sure that a potential order for thousands of RoCos could actually be produced.
?We are fairly confident that we can deliver a decent product that somebody would actually want to buy at the end of three years. We have a vision that when ? we are able to bring this to market we plan to make this reasonably affordable. If you want a RoCo, you should be able to go to your corner store and pick one up.?
When you?re no longer suffering mid-August pit stains in your cubicle come the summer of 2019, you?ll have Maryland to thank.
By Betsy Piland