BTN.com LiveBIG Staff,

August 7, 2016

It?s noon on a Tuesday in New Jersey. Students circle a pond inhabited by creatures big and small – some on four feet, others powered by tentacles or wings.

This is Rutgers? Nature Thru Nurture (NTN) program, where plants, animals, gardens and bugs are used to develop a love of STEM skills in the next generation.

The program began six years ago with a $50,000 community development block grant from the city and is the brainchild of Radha Jagannathan, a Rutgers professor in its urban planning and policy development department, and Michael Camasso, who is an agricultural, food and resources economics professor. NTN is run in partnership with the university and New Brunswick public schools.

?We put children close to nature. They?re right there to touch, feel and smell the flower, pull the weeds, plant the seeds and then watch those seeds grow,? says Jagannathan.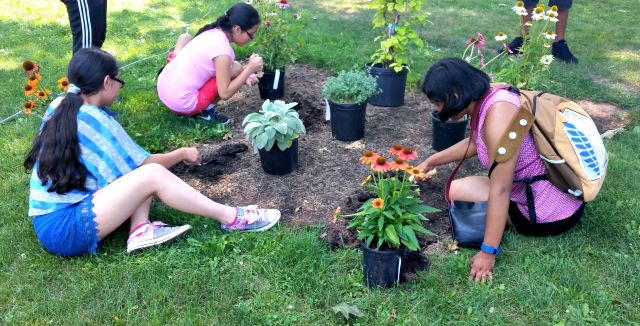 NTN serves more than 120 New Brunswick students who meet twice a week during the school year and three times over the summer to develop skills in science, technology, engineering and math through what might be seen as unconventional means.
?Gardening is just one of the tools that we use,? says Camasso. ?We put the gardens in play as a physical resource on the ground that keeps the science going,? said Camasso.
There is no typical day at NTN, which is divided between garden time, math and science experiments. ?We want to create critical thinking and fundamental understanding,? said Jagannathan whose NTN students range in age from fourth grade through seniors in high school.
Solar energy, osmosis, cellular biology and the life cycles of plants and animals are covered in detail. Math skills ensure gardens have the right proportions through early-stage scale models
"The garden is more like a prop. We use it as a springboard to teach different things," said Camasso.
?There are so many STEM jobs that aren?t even filled because there aren?t enough qualified people,? says Jagannathan. We?re trying to build interest in science and math, which is so critical.?
During the school year, students meet twice a week after school, but NTN offers three full days in the summer to keep students busy. ?There is research evidence that when you don?t have kids in touch with learning during the summer some of the knowledge gained the previous year at school can be lost,? Jagannathan says.
The NTN instructors are students and professors from Rutgers. Some of the NTN teacher?s aides started with the program when they were in elementary school.
?They started with us in fourth grade and now they?re in high school,? said Camasso. ?I?ve watched these kids grow. It?s a real chain of learning.?
Beyond STEM skills, NTN strives to give students an understanding of systems outside a lab or academic environment. Jagannathan sees this as a holistic approach. ?We want to teach them to respect nature and respect the process. Our students know what the tomato went through to get to the table and what the people went through to get it to market.? The group celebrates the often-literal fruits of their labor with a summer cookout.
NTN plans to expand into local science clubs and even start a potential farmer?s market stand in New Brunswick. ?It would be a great way to even teach marketing,? says Jagannathan.
Anecdotally, Jagannathan and Camasso have seen NTN students post higher grades after they begin the program. ?With our first group, we?ve been able to keep their math and science grades up,? Camasso says.
Better academic performance is the goal. But there are a few unintended consequences that Jagannathan finds just as heart-warming.
?No feeling can compare to when I walk into a room and all the kids swarm around me and go, ?Dr. Radha!?? she says. ?They know we care.?
by Cindy Pearlman