Tom Dienhart, BTN.com Senior Writer,

July 25, 2016

Big Ten Media Days 2016 kicked off with the first day and Michigan's Jim Harbaugh and Penn State?s James Franklin were there, along with four other head football coaches (see all of the videos here). Many players were on hand, too, including Minnesota quarterback Mitch Leidner.

Here?s my look at the Best of Day One.

Remember: We do it all again bright and early at 9 a.m. ET on BTN and BTN2Go. Day 2 is the other half of the league.

Best tie: I am a sucker for purple. So, when I caught a glimpse of the purple tie that Northwestern LB Anthony Walker was sporting ? well, I was hooked.

Best suit: There were many dapper suits on display in McCormick Place. In fact, it looked like a fashion show. But let?s go with new Rutgers coach Chris Ash. The guy stays in good shape. And his dark suit was tailored to fit, while his red tie completed the ensemble.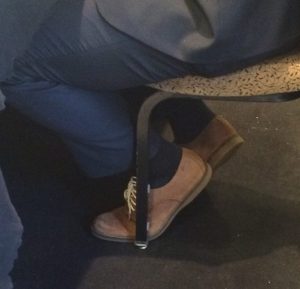 Best shoes: Penn State offensive lineman Brian Gaia had a nice pair of brown suede shows that stood out. And how about those bright laces? It was a nice touch.
Best speaker: James Franklin, Penn State. Did you really have to ask? The Nittany Lions boss is a smoothy-smooth who could have schooled Dale Carnegie. No one works a room better than Franklin, a big presence who doesn?t know a stranger.
If he was a shoe repair man, he?d be the best shoe repair man in town-and the friendliest and happiest.
Best hair: Penn State linebacker Nyeem Wartman-White had a nice design. It was a room stopper. Special shoutout to Northwestern coach Pat Fitzgerald, who also sports a nifty high-and-tight look that would make any Marine proud. Ooh-rah!
Best hat: Since only one coach was wearing one, this is easy. The honor goes to Jim Harbaugh. He was sporting the familiar and nifty Michigan ?M? ball cap to complete his ensemble. There is just something about a man in a suit and hat. Reminds me of old Tennessee coach Johnny Majors. If you ask me, everyone in America should wear a ball cap every day.
Most popular: Harbaugh drew a crowd everywhere he went. It was Harbaugh?s world. We all were just visiting. He was the Big Ten rock star on this day and every day, for that matter.
Best bow tie: Just one contender here, so Purdue WR DeAngelo Yancey gets the honor. The guy looked like a professor. Too bad he couldn?t have met the media while standing by a fire place.
Best interview: Michigan tight end Jake Butt was as introspective a player as I have encountered. He gives thought, depth and breadth to his answers. Such a soft-spoken guy who figures to have a great career in whatever profession he chooses. He addressed the concussion issues that cloud the future of football with aplomb. What an inspiring guy.
Here?s what we?ll have on live TV on Tuesday (all times ET):
Tuesday, 9 a.m.: Press conferences for Lovie Smith (Illinois), Kevin Wilson (Indiana), Mark Dantonio (Michigan State), Paul Chryst (Wisconsin), DJ Durkin (Maryland), Kirk Ferentz (Iowa) and Urban Meyer (Ohio State).
Tuesday, 11:20 a.m.: Big Ten Commissioner Jim Delany speaks to the press.
Tuesday, 3 p.m. - 7 p.m.: BTN Live returns with live coverage of the coaches and their students visiting the set.