BTN.com LiveBIG Staff,

July 17, 2016

From the Atlantic coast across the Midwest to the Great Plains, Big Ten country spans some of the most fertile farmland our nation has to offer, a fact that is not lost on the 14 member universities.

The conference is home to the nation?s first agricultural research university (Maryland) and its first land-grant institution (Michigan State). Students flock to schools like the University of Nebraska for their unique, hands-on approach to animal husbandry and Penn State for their advanced research in drought resistant crops. The University of Minnesota can count among its alumni arguably the most famous agricultural biologist ever, Nobel Prize recipient Norman Borlaug, whose research earned him the sobriquet ?the man who saved a billion lives.?

Join us now as we step out of the classroom and into the crop row with these inspiring stories of Big Ten agricultural innovation and ingenuity.

Together, Link and Bryan started Food Field, which is at the vanguard of the urban farming movement in Detroit. Set up on four-acres that once housed a recession-casualty school site, the farm isn?t just growing tomatoes and salad fixings. It?s cultivating optimism in a neighborhood in Detroit that?s seen more than its share of tough times.

?There?s something about growing food that brings hope to people,? Link said.

While the Farm allows students a chance to get their hands dirty, it also provides a plethora of vegetables and herbs for the campus dining service.

?This is pretty much the most that I could ask for really, just being in the dirt pulling the produce,? said Stephen Jackson, a senior in Maryland?s Turf and Golf Course Management program. ?It?s definitely a good feeling. It tastes good, it?s actually edible, and we did it ourselves.?

Through garden-based education, the Wisconsin School Garden Network - a project borne out of WSGI - is improving the health and wellbeing of Wisconsin?s youth. The network will provide technical assistance to 200 educational garden program sites throughout the state as well as gardening training and educational resources for more than 2,000 schoolteachers, early-care providers, parents and community educators.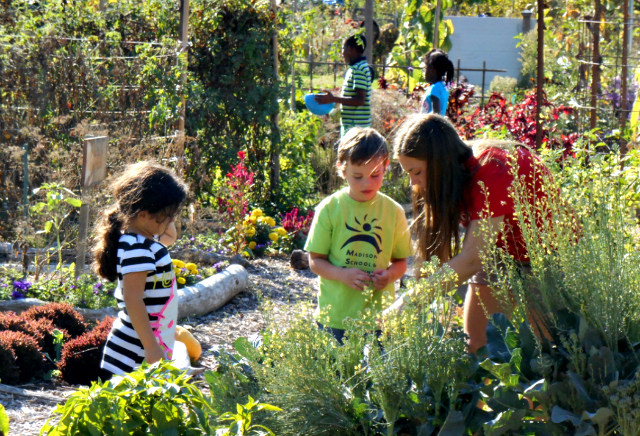 Not only was there a ?Rutgers tomato? variety, but it was ubiquitous in food production for several years. The original tomato was the product of a true ?Garden State? partnership between the university in New Brunswick, N.J., and the Campbell Soup Company, based in Camden, N.J.
?The Rutgers variety of the tomato was released in 1934 and was the most popular in the world,? Orton said. ?It occupied 60 percent of the world?s tomato acreage in the 1950s.?
Since its launch, the Product Center has helped develop 455 businesses and projects, leading to nearly 1,300 new jobs. In their 12 years, the Product Center has aided everyone from first-time entrepreneurs to established companies and professional growers.