Tom Dienhart, BTN.com Senior Writer,

July 11, 2016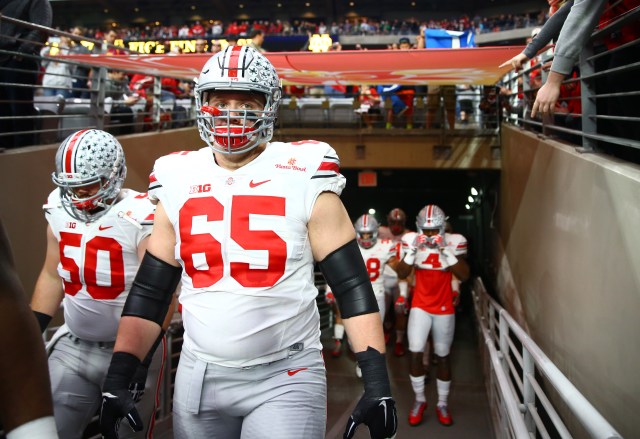 Football is won in the trenches. Without a good line, an offense has little chance for success-no matter how many five-star running backs are on the roster.
[ MORE: Top 7 quarterbacks | Top 10 wide receivers | Top 10 running backs | Full unit rankings ]
And no one in the Big Ten is better at getting a push than Ohio State?s Pat Elflein. He heads my list of the top 10 offensive linemen in the Big Ten.
1. Pat Elflein, G, Ohio State, Sr. He eschewed a chance to turn pro to be the anchor of a rebuilt Buckeye line that will have three new starters. Elflein moves from guard to center and projects as a first-round pick. He?s Rambo in cleats.
2. Dan Feeney, G, Indiana, Sr. Many felt he was IU?s top blocker last year–not left tackle Jason Spriggs, who was a second-round pick in April. Feeney is a physical beast at guard who plays with a defensive mentality. The ultimate tough guy.
3. Brian Allen, C, Michigan State, Jr. A versatile blocker who was a guard last season, Allen must be a leader for a Spartan front that lost three starters, including brother Jack (center) and stud left tackle Jack Conklin. A classic brawler.
4. Dan Voltz, G, Wisconsin, Sr. He has been a center but is being asked to line up at guard this season with the emergence of Michael Deiter in the pivot for a Badger line that should be much better than last season. Voltz is coming off a knee injury but looks primed for big things.
5. Billy Price, G, Ohio State, Jr. He?s entering his third season as a starter and will line up next to C Pat Elflein to form a potent 1-2 punch. One of the strongest Buckeyes, Price must help open holes for a running back corps that lost Ezekiel Elliott early to the NFL.
6. Mason Cole, C, Michigan, Jr. This is a special talent, as Cole became the first true freshman in school annals to start a season at left tackle in 2014. Now, Mason is moving to center to replace Graham Glasgow-the lone starter gone from up front in Ann Arbor.
7. Sean Welsh, C, Iowa, Jr. A versatile blocker, Welsh has played guard and tackle but looks to work in the pivot in 2016 after making the move in the spring. Welsh is one of three starters back up front for the Hawkeyes. He?s smart, tough and technically sound for a program that?s a factory for offensive linemen.
8. Erik Magnuson, T, Michigan, Sr. He is one of four seniors projected to start up front for the Wolverines, penciled in at right tackle. Magnuson is a physical force and a relentless blocker in the run game. Can you say ?road grader??
9. Jonah Pirsig, T, Minnesota, Sr. The Gopher line has something to prove. And, it begins with Pirsig, who made strides in the spring for a new line coach. At 6-9, 316, Pirsig is a sun blocker at right tackle. He was the only Minnesota lineman to start each game in 2015.
10. Blake Hance, T, Northwestern, So. He excelled as a redshirt freshman in 2015 playing the key left tackle spot. And it was Hance?s push in the ground game that helped Justin Jackson finish second in the Big Ten in rushing with 1,418 yards. The future looks bright for Hance.
***
Email Tom Dienhart using the form below.
And if you want to leave a comment on this post, use the box below. All comments need to be approved by a moderator.