BTN.com LiveBIG Staff,

July 7, 2016

Sitting in the shadow of our nation?s capital, the University of Maryland shines as a beacon of scholarship and innovation inside the beltway and out.

Since its earliest years as the first agricultural research university in the U.S., the Terps have long been forerunners in the fields of entrepreneurship and sustainability. Today, the school is home to one of the largest public university research parks (M Square) and a groundbreaking Office of Sustainability that has become a pacesetter for eco-consciousness at the university level. Home to six Nobel laureates (four faculty and two alumni), the school has a diverse pool of alums that includes journalist Connie Chung, Google co-founder Sergey Brin, and the incomparable Jim Henson.

Though you may hear Maryland fans on game day screaming ?Fear the Turtle?, take a few minutes and get to know the turtle by checking out some of our favorite UMD stories from the vaults.

?[Maryland Day] is an invitation to the community to see what the university?s all about,? said Josh Turskey, a sophomore majoring in architecture and the current vice president of Terps Against Hunger. ?We?re opening our doors and our arms and saying, ?Come be a part of our community.? ?Terps Against Hunger has a similar mission,? he added. ?We really want to engage the community.?

A person?s college years are typically thought of as a time of personal exploration and experimentation, and rightly so. But a corollary of that impression is that most people don?t expect college students to make a big impact on the world until well after graduation, when they?ve truly ?found themselves.? At the University of Maryland, students have turned that notion on its head with the Do Good Challenge.

That would be the College Park Dream Team. Now in its fourth year, the program pairs area youth with law enforcement officers from three local departments for a series of basketball games to foster positive relationships and encourage dialogue between them.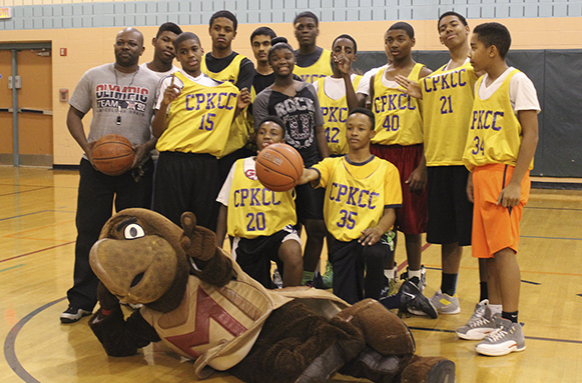 ?In South Africa alone, two rhinos are killed every day by poachers,? says V.S. Subrahmanian, professor of computer science and director of the Center for Digital International Government at the University of Maryland. ?Every single living thing on this planet contributes and gives back to our earth in many different ways. Rhinos are one important part of the ecosystem.?
Thanks in part to Subrahmanian and his team, the tide is turning in the war on poachers. Utilizing a two-pronged approach of targeted surveillance-drone flights and predictive analytics, they have brought about a dramatic decrease in killings.
Since Terp Vets began, the organization has led small groups of incoming veteran students on weekend trips for boating and camping, and provided campus tours as well.
?We do a variety of activities to help the veteran participants transition into academic and student life,? Arata said.
By John Tolley