BTN.com LiveBIG Staff,

July 2, 2016

During the 1950s, millions of American children got caught up in the Davy Crockett craze. Driven by the iconic Disney series starring Fess Parker, American cities and towns were soon crawling with kids sporting coonskin caps and toting long, toy rifles.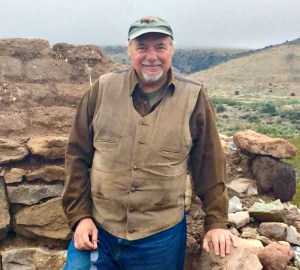 Though most other children outgrew that trend, Paul Andrew Hutton never really did.
?I just got hooked on everything about Davy Crockett and then the West,? Hutton said. ?I read everything about it that I could as a kid.?
Over the next several decades, he turned that passion into a career filled with accolades and achievements. He wrote and edited award-winning, commercially successful books. He served as executive director of the Western History Association for 15 years and president of the Western Writers of America for another two years. And while juggling all that, he taught students at the University of New Mexico as a professor of American Western history.
Hutton got his first taste of true historical scholarship as a high school student in Indianapolis. He excelled in that subject above all others and served as president of the history club there. Yet college was not a foregone conclusion for him.
?I was kind of a poor kid,? he said. ?My parents couldn?t send me to just any college. But I was fortunate to be in Indiana, where you could go to the state university and get a first-class education [at low cost].?
While there, his love of history and the American West was further cemented.
?I considered becoming a lawyer, but I loved history so much that I thought that?s what I should do,? he said. ?And I had great teachers. We had a very strong history department.?
While there, Hutton worked with one of the all-time greats of American Western history, Oscar Osburn Winther, on his honors senior thesis. Unfortunately, Winther passed away before Hutton finished, so Indiana professor Martin Ridge took his place as thesis director, and eventually became his academic mentor.
Because of the quality of the history department and his professors, as well as the inexpensive yet strong in-state education he received, Hutton wound up staying at Indiana to earn his bachelors, masters and doctorate in history.
?It meant my graduate work went quicker,? he added. ?I actually had a job long before many of my other friends at graduate schools around the country.?
He didn?t leave Bloomington immediately, however. He landed his first job through Ridge as editorial assistant at the Journal of American History, which is published to this day at IU. Not long after, he submitted his own works on history to a variety of publications - and much to his delight, many of them got accepted.
?My two first articles said it all about how my career was going to go,? he said. ?The first one was in the Western Historical Quarterly, which was a great coup for me in the academic world. And the second article, which actually grew out of that first one, was published in TV Guide. At that time, it was the largest circulation magazine in the world, and it paid $1,500 for that article back in 1977.?
His breakthrough book was Phil Sheridan and His Army in 1985. This historical account of the cavalry general who served in the Civil War and campaigns against the Native Americans won the the Ray Allen Billington Prize from the Organization of American Historians, the Evans Biography Award and the Spur Award from Western Writers of America.
He?s since written countless articles and books that delve into American history - particularly that of the exploration and settlement of the West. Also, he?s been involved in one way or another in more than 150 TV documentaries on networks like PBS, A&E and the History Channel.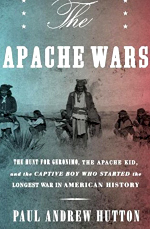 Most recently, Hutton published The Apache Wars: The Hunt for Geronimo, the Apache Kid, and the Captive Boy Who Started the Longest War in American History. It?s a serious, compelling historical work that?s also performed well commercially. It sold around 15,000 copies in a single month, he said. (For more on Hutton's book and other authors connected to the Big Ten, check out our summer reading list.)
Hutton has experienced that tension between popular history and academic credibility throughout his career, and he?s found his colleagues tend to look down their noses at the former.
?They have a name for it: ?David McCullough history,?? said Hutton, referring to the best-selling non-fiction writer. ?To me, David McCullough is magnificent. He?s everything that?s right with history. I?ve often joked that my colleagues are most impressed by a book they can?t understand. That drives me nuts.
?Because I benefited so much from a state education and always taught at a state university, I kind of view it as my job to communicate history to the broadest possible audience,? he added.
[btn-post-package align=center]