BTN.com staff,

June 26, 2016

[btn-post-package]Doffing cap and gown, thousands of Big Ten students recently made one of the biggest transitions of their lives. These newly-minted college graduates are poised to face the challenges of an ever-changing world beyond campus.

If an education from one of the best universities in the nation wasn?t enough, they also received valued advice from that bastion of the baccalaureate - the commencement speaker - as a parting gift. And this year?s speakers brought both gravitas and levity to graduation days around the Big Ten.

From a crusading clinician to the leader of the free world, these addresses are filled with guidance and encouragement for students of any age, delivered by people who are at the top of their respective games. Below are a few of the best pearl of wisdom we gleaned from this year?s B1G commencements:
Northwestern University: Seth Meyers (NU alumnus; host, Late Night with Seth Meyers)
?I love this school. I truly believe I would never have been on Saturday Night Live and would never have hosted a talk show if it hadn?t been for time at Northwestern, because when I performed in the Mee-Ow Show and people laughed, I thought I just might possibly be funny because these people are smart.
?You?ve been surrounded by the best for the last four years, and there?s no better favor you can give yourself than continuing to do that. Every success I?ve had in my life has been thanks to the people around me.?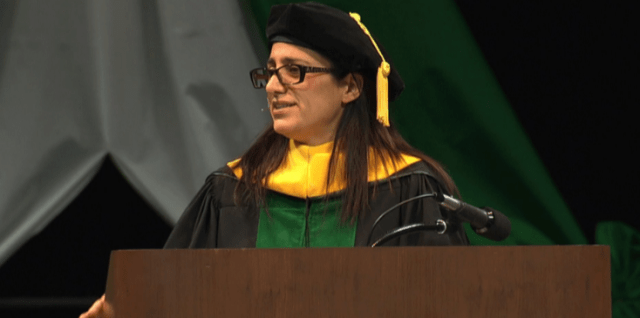 Michigan State University: Dr. Mona Hanna-Attisha (MSU pediatrician; Flint Water Crisis whistleblower)
?We didn?t hope for the best. We didn?t wait our turn. We didn?t wait to be called on. We kept talking. We kept our hands up. We put them in the faces of those who refused to see, who refused to hear. And at times, it was not easy to raise my hand. I was scared and I felt sick. But when you are fighting for your community, fighting for the future of your children, you do not put your hand down.?
Rutgers University: President Barack Obama
?Is it any wonder that I am optimistic? Throughout our history, a new generation of Americans has reached up and bent the arc of history in the direction of more freedom, and more opportunity, and more justice. And, Class of 2016, it is your turn now to shape our nation?s destiny, as well as your own.?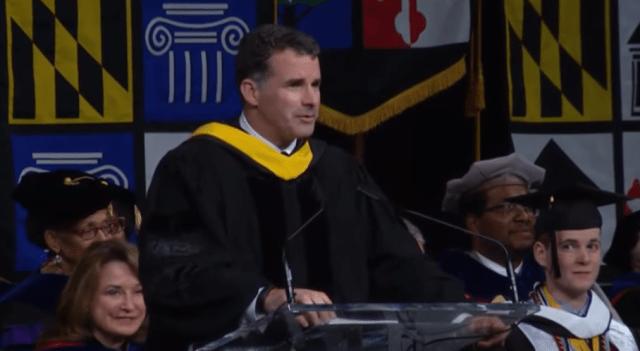 University of Maryland: Kevin Plank (UMD alumnus; founder, Under Armour)
?What I want to talk about today is a single word, but it?s more than that. It?s an entity. It?s a force. What I want to talk to you about today is passion ? It?s not a hashtag. It?s defined by conviction. And it?s the single most important thing you can have going forward. Passion means finding a way.?
University of Wisconsin: Russell Wilson (UW graduate; quarterback, Seattle Seahawks)
?I?ve learned that the difference isn?t the way that people handle themselves when things go well? The moments that really matter are the moments when life tells you no. That?s what I wanted to focus on today. What do you do when life tells you no? When life tells you no, find a way to keep things in perspective. That doesn?t make the painful moments any less painful. But it does mean you don?t have to live forever in the pain. You don?t have to live forever in that no. Because if you know what you?re capable of, if you?re always prepared, and you keep things in perspective, then life has a way of turning a no into yes. That?s what brought me to University of Wisconsin.?