Tom Dienhart, BTN.com Senior Writer,

June 22, 2016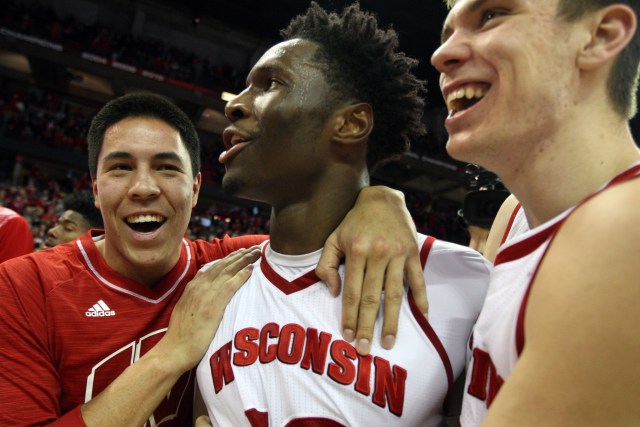 Earlier this week, the Big Ten released the 2016-17 men?s basketball league schedule. And, as usual, some teams have more challenging draws than others. And that could impact the league race.
Most early forecasts have Indiana, Michigan State and Wisconsin at the top. After that, Purdue and Michigan look primed to make a push. And Maryland, Illinois, Iowa, Penn State, Northwestern and Ohio State could make moves. Still, the Hoosiers, Spartans and Badgers are the teams to beat ? at least in late June.
Indiana, the defending Big Ten champ, lost Yogi Ferrell and Troy Williams, but Thomas Bryant, James Blackmon Jr., and Robert Johnson, among others, are back. Michigan State has lost NBA first-round talent in Deyonta Davis and Denzel Valentine, however it returns building blocks along with maybe the best recruiting class in America. Wisconsin welcomes back all of its key pieces from a Sweet 16 team, led by Nigel Hayes, Bronson Koenig and Ethan Happ as Greg Gard continues to put his stamp on the team.
Knowing all that, here's a look at each team's 2016-17 schedule.
My take: If Indiana or Wisconsin is gonna win the Big Ten, it will have to earn it. Michigan State's path is a bit easier. What do you think?
ILLINOIS
Double-Plays: Iowa, Maryland, Michigan, Northwestern, Penn State
Home Only: Michigan State, Minnesota, Ohio State, Wisconsin
Road Only: Indiana, Nebraska, Purdue, Rutgers
***
INDIANA
Double-Plays: Michigan, Northwestern, Penn State, Purdue, Wisconsin
Home Only: Illinois, Michigan State, Nebraska, Rutgers
Road Only: Iowa, Maryland, Minnesota, Ohio State
***
IOWA
Double-Plays: Illinois, Maryland, Nebraska, Purdue, Rutgers
Home Only: Indiana, Michigan, Ohio State, Penn State
Road Only: Michigan State, Minnesota, Northwestern, Wisconsin
***
MARYLAND
Double-Plays: Illinois, Iowa, Minnesota, Ohio State, Rutgers
Home Only: Indiana, Michigan State, Nebraska, Purdue
Road Only: Michigan, Northwestern, Penn State, Wisconsin
***
MICHIGAN
Double-Plays: Illinois, Indiana, Michigan State, Nebraska, Wisconsin
Home Only: Maryland, Ohio State, Penn State, Purdue
Road Only: Iowa, Minnesota, Northwestern, Rutgers
***
MICHIGAN STATE
Double-Plays: Michigan, Minnesota, Nebraska, Ohio State, Purdue
Home Only: Iowa, Northwestern, Rutgers, Wisconsin
Road Only: Illinois, Indiana, Maryland, Penn State
MINNESOTA
Double-Plays: Maryland, Michigan State, Ohio State, Penn State, Wisconsin
Home Only: Indiana, Iowa, Michigan, Nebraska
Road Only: Illinois, Northwestern, Purdue, Rutgers
***
NEBRASKA
Double-Plays: Iowa, Michigan, Michigan State, Northwestern, Ohio State
Home Only: Illinois, Penn State, Purdue, Wisconsin
Road Only: Indiana, Maryland, Minnesota, Rutgers
***
NORTHWESTERN
Double-Plays: Illinois, Indiana, Nebraska, Purdue, Rutgers
Home Only: Iowa, Maryland, Michigan, Minnesota
Road Only: Michigan State, Ohio State, Penn State, Wisconsin
***
OHIO STATE
Double-Plays: Maryland, Michigan State, Minnesota, Nebraska, Wisconsin
Home Only: Indiana, Northwestern, Purdue, Rutgers
Road Only: Illinois, Iowa, Michigan, Penn State
***
PENN STATE
Double-Plays: Illinois, Indiana, Minnesota, Purdue, Rutgers
Home Only: Maryland, Michigan State, Northwestern, Ohio State
Road Only: Iowa, Michigan, Nebraska, Wisconsin
***
PURDUE
Double-Plays: Indiana, Iowa, Michigan State, Northwestern, Penn State
Home Only: Illinois, Minnesota, Rutgers, Wisconsin
Road Only: Maryland, Michigan, Nebraska, Ohio State
***
RUTGERS
Double-Plays: Iowa, Maryland, Northwestern, Penn State, Wisconsin
Home Only: Illinois, Michigan, Minnesota, Nebraska
Road Only: Indiana, Michigan State, Ohio State, Purdue
***
WISCONSIN
Double-Plays: Indiana, Michigan, Minnesota, Ohio State, Rutgers
Home Only: Iowa, Maryland, Northwestern, Penn State
Road Only: Illinois, Michigan State, Nebraska, Purdue