Tom Dienhart, BTN.com Senior Writer,

June 21, 2016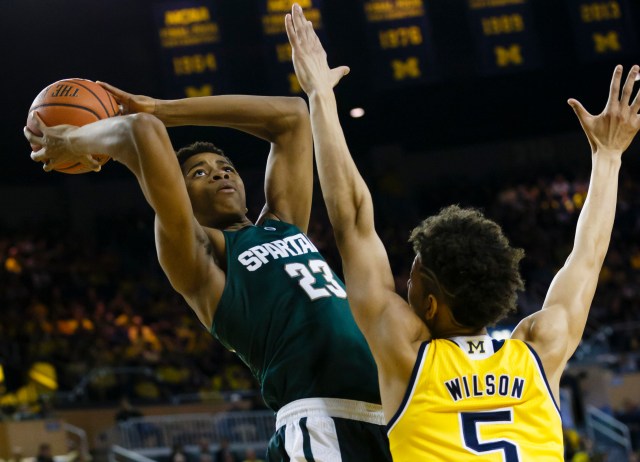 LSU?s Ben Simmons looks like the clear No. 1 overall pick in the 2016 NBA draft, which takes place on Thursday night.
[ MORE: Watch D'Angelo Russell show sense of humor in commercial ]
But where could Big Ten players get selected? It looks like Michigan State?s Deyonta Davis will be the first Big Ten player picked, followed closely by teammate Denzel Valentine. After that?
Check out some recent mock drafts.
Bleacherreport.com
No. 13 Suns Deyonta Davis, Michigan State
No. 16 Celtics Denzel Valentine, Michigan State
No. 23 Celtics Caris LeVert, Michigan
***
CBSSports.com
No. 9 Deyonta Davis, Michigan State
No. 19 Denzel Valentine, Michigan State
No. 43 A.J. Hammons, Purdue
No. 51 Caris LeVert, Michigan
No. 57 Jake Layman, Maryland
No. 58 Yogi Ferrell, Indiana
***
DraftExpress.com
No. 16 Celtics Deyonta Davis, Michigan State
No. 22 Hornets Denzel Valentine, Michigan State
No. 29 Spurs Diamond Stone, Maryland
No. 45 Celtics A.J. Hammons, Purdue
No. 45 Mavericks Robert Carter, Maryland
No. 48 Bulls Caris LeVert, Michigan
No. 51 Celtics Jake Layman, Maryland
***
ESPN
No. 16 Celtics Deyonta Davis, Michigan State
No. 22 Hornets Denzel Valentine, Michigan State
***
FOXSports.com
No. 9 Raptors Deyonta Davis, Michigan State
No. 18 Pistons Denzel Valentine, Michigan State
No. 27 Raptors Diamond Stone, Maryland
***
NBA.com
No. 10 Bucks Deyonta Davis, Michigan State
No. 16 Celtics Denzel Valentine, Michigan State
No. 21 Hawks Diamond Stone, Maryland
***
NBADraftnet.com
No. 13 Suns Deyonta Davis, Michigan State
No. 18 Pistons Denzel Valentine, Michigan State
No. 32 Lakers Diamond Stone, Maryland
No. 34 Suns Caris LeVert, Michigan
No. 54 Hawks Jarrod Uthoff, Iowa
No. 57 Grizzlies Robert Carter, Maryland
No. 58 Celtics A.J. Hammons, Purdue