BTN.com LiveBIG Staff,

June 18, 2016

Student-athletes can usually look forward to a break from school and sports during the summer months. And while a handful of Huskers recently got a breather from lectures and practices, the work they performed instead was at least as challenging - and rewarding.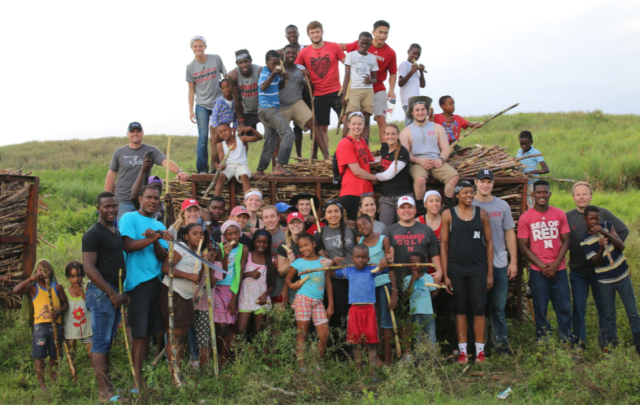 About 20 student-athletes traveled to the small village of Las Pajas in the Dominican Republic for a few weeks out of last month to take part in the NoFilter program. Operated by Stacey Burling and Jordan Wilson, both Life Skills coordinators at the University of Nebraska?s Athletics Department, NoFilter started last year with a service trip to Guatemala.
?On our inaugural trip to Guatemala, we collaborated with the Center for Civic Engagement on campus,? Wilson said. ?They had a pre-existing partnership with Constru Casa, a non-profit focused on providing basic housing and support programs to the poorest communities in Guatemala. We choose to work with Constru Casa to customize a playground/amphitheater building project that met a need at a local elementary school.?
?While reflecting on the impact we made in Guatemala, we began to envision the impact our group could make in different communities across the globe,? Burling added. ?Since we change the location and organization we work with every year, our biggest challenge is finding the perfect fit. In order to maximize our time abroad, we knew that we needed to stay in the geographical area of Latin America and the Caribbean. Ultimately, we decided on the Dominican Republic, and fell into a partnership with Courts for Kids.?
The Dominican Republic was also the ?perfect fit? for Huskers volleyball player Briana Holman. She was already familiar with that country, having taken a family vacation there before. While there on that trip, they left the resort to see what the non-tourist areas looked like. Holman recalled being shocked by the poverty she witnessed, and those memories remained clear in her mind when she applied to go back with NoFilter at the beginning of this year.
?As soon as I heard where they were going, I hopped right on it,? Holman said.
Unfortunately, they experienced significant rainfall much of the time they spent there, she added. That initially limited the work they could do in building a playground in Las Pajas, but Holman and others made lemonade out of lemons, spending their weather-induced downtime teaching the children of the village the intricacies of their respective sports.
?It was pretty chill,? she said. ?I got to teach them how to hold their arms, how to pass, stuff like that.?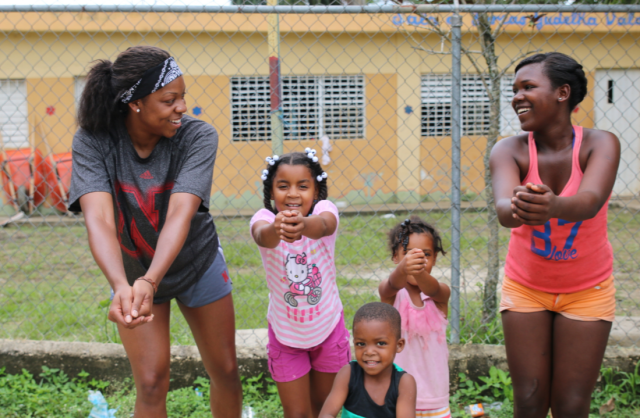 And when it was time to head back to Lincoln, Holman found herself unexpectedly moved.
?I got really close to this little 6-year-old girl,? she said. ?It was really hard to say goodbye. I didn?t think it would be that hard, but when we got on the bus to go back to the city, I started to cry.?
Those kinds of deep interactions and emotional connections are a common outcome of the NoFilter experience, Wilson said.
?One of the things the student-athletes have said that we found most surprising was how much of an impact the trip had on them personally,? she explained. ?Having participated in these trips before, we knew that the outcome would be life-changing. However, the student-athletes were so focused on what they were doing for the community that at the time they didn?t realize what the community was doing for them.?
[btn-post-package]?The tagline of the NoFilter program is ?Open Your Mind, Change Your View, Leave Your Mark,?? Burling said. ?Our goal is to have each student-athlete understand that regardless of where they are in the world, we all have different experiences and circumstances that have shaped our lives. The student-athletes come back thinking about the possibilities, wanting to do more, see more and explore more. They have a newfound enthusiasm and appreciation for what the world has to offer.?
Holman?s mindset following the trip is a testament to that.
?It altered my perception on life,? she said. ?There are bigger problems than our day-to-day struggles. Now, when I get down or I?m tense or find myself complaining, I say to myself, ?There are people who don?t have all the things that I do.??
By Brian Summerfield