BTN.com LiveBIG Staff,

June 17, 2016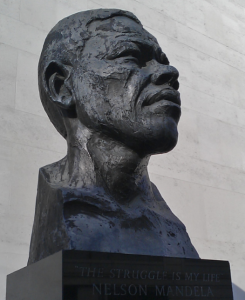 Rebel. Prisoner. Leader.
Nelson Mandela was all of these things and more. He led the fight against the injustice of the South African apartheid state and was jailed for nearly three decades because of it. Then, shortly after he was freed, he became the father of the ?new? South Africa when he was democratically elected as president of the ?rainbow nation.?
Though he passed on in 2013, Mandela?s name and legacy endure both in his home country and around the world, thanks in part to programs like the Mandela Washington Fellowship for Young African Leaders.
Several Big Ten universities are participating in the Mandela Washington Fellowship as hosts to many of the 1,000 African students who are in the U.S. this summer to study. They?re organized into three academic tracks:
Business and Entrepreneurship Institutes, which serve Fellows who want to join the private sector or to start their own business ventures in Africa. Northwestern, Purdue, Rutgers and Iowa are host universities in this track.
[btn-post-package]Civic Leadership Institutes, designed for Fellows who plan to work in organizations centered on nongovernmental aid, community development and volunteer work. Indiana, Rutgers and Illinois are among the universities in this track.
Public Management Institutes, for Fellows planning careers in government, regional or international organizations, or think tanks. Universities in this track include Ohio State, Illinois, Minnesota and Wisconsin.
Welcome to the Mandela Washington Fellows from BTN LiveBIG and the Big Ten!