BTN.com staff,

June 5, 2016

Alexis Crockett is a born Buckeye, in every sense. A native of Macedonia, Ohio, Crockett?s parents met at Ohio State, two of her aunts attended the university, and the family loved taking in college football Saturdays in Columbus.

So when it came time for Crockett to select a university, the decision couldn?t have been easier.

?I actually only applied to Ohio State,? she explained. ?Even going into high school, that was the only school on my radar. I just grew up in a Buckeye family. We watched football on Saturday and basketball in the spring. It was always my plan to go to Ohio State.?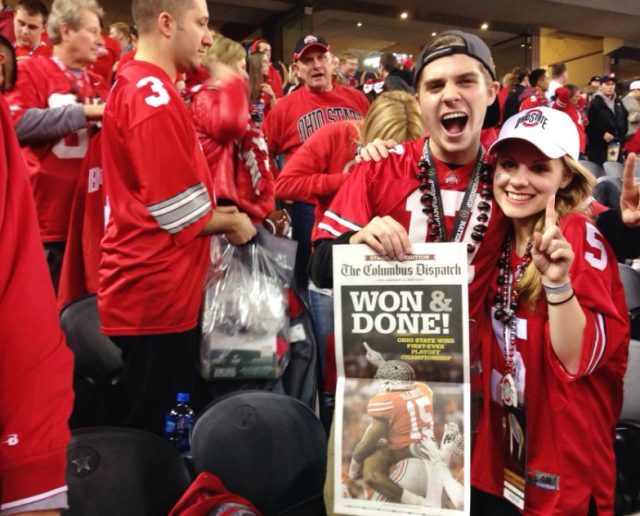 However, Crockett?s career goals and aspirations are taking her far beyond the boundaries of the Buckeye State. She was recently named one of 15 Churchill Scholars for the coming academic year. As such, she?ll get the opportunity to study at the University of Cambridge in the United Kingdom this fall and next spring.
A psychology and neuroscience major, Crockett developed an incredible collegiate resume to earn the prestigious scholarship for American students in STEM fields. She enrolled in almost every neuroscience course at OSU on her way to a perfect transcript - with the exception of one A-.
That said, it took her some time to find her academic niche.
?I really thought I wanted to be a psychologist, and I worked in a psychology lab and did some research,? Crockett said. ?I realized that I was still interested in psychology and mental illness, but I wanted to approach it from a more basic science background.
?I sent out e-mails to a bunch of different people that did work in neuroscience and mental illness,? she added. ?One of the professors, Dr. Wenk, had an opening in his lab. And he studied neuro-inflammation and its relationship with aging and Alzheimer?s. I just thought it was fascinating how this completely separate component of the body, the immune system, could be involved in the workings of the brain and how we think and feel.?
Gary Wenk, a professor of psychology and neuroscience at OSU who also served as Crockett?s adviser, welcomed her into his lab when she was just a sophomore. She quickly proved her mettle, and Wenk allowed her to pursue an independent study focusing on the neural mechanisms underlying depression.
It proved an unforgettable experience for Crockett.
?The most defining component of my time at Ohio State was working in the lab with Dr. Wenk,? she said. ?He had the faith in me, as an undergraduate, to take on what was probably the work of a graduate student ? That was really what I felt set me apart.?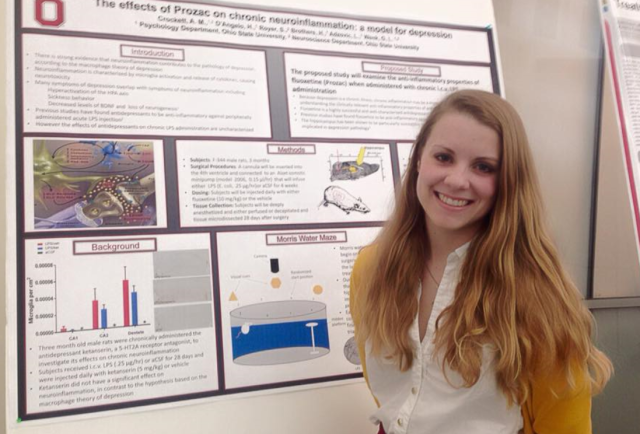 When she wasn?t in the lab, studying or cheering on the Buckeyes, Crockett was volunteering to help others. She spent significant time assisting with Alzheimer?s patients and visitors at a mental hospital. Crockett greatly valued the chance to get firsthand experience with the issues that she was studying and give her time to the people who could one day benefit her research.
Crockett also entered college as an Eminence Fellow, an award for incoming freshmen at Ohio State who have demonstrated outstanding leadership, service and academics. And that opened the door for her to help out local schoolchildren with the STEM disciplines and college readiness.
?For about a year, myself and another fellow were going to chemistry classes at a high school and tried to expose students to the idea that there is more to science than just what they are learning in school - just biology, just chemistry, just physics,? Crockett explained. ?The other fellow was an engineer, so he talked a lot about all the types of engineering that they could do.
?I talked about psychology and neuroscience,? she added. ?[I] told them that just because they don?t learn about it in high school, it doesn?t mean these scientific areas are not an option. I didn?t learn about neuroscience in high school. It was kind of luck that I decided to teach myself AP psychology and realize that it was really, really interesting and that?s what I wanted to do.?
In the fall, Crockett will take off for the U.K. and begin her pursuit of a master?s in physiology at Cambridge. Included in that experience will be the opportunity to research genetics and the peripheral immune system, which might play a key role in depression.
And that?s not the only way she?s expanding her horizons.
?I?m planning on running a marathon in Greece,? Crockett said. ?I?ve never done any long-distance running. I did track and soccer in high school, but I?ve never really ran more than five miles. So I started training for that, and I?m really excited.?
Even as Crockett goes on several new adventures on the other side of the world, her heart will remain in O-H-I-O.
[btn-post-package]?There is nothing that compares to fall at Ohio State, and the excitement of the football games and seeing thousands of Ohio State alumni coming down to campus,? she said. ?That?s another thing I plan to do next year. I want to find an OSU alumni association or some bar that is connected to Ohio State and watch the games there.?
By Jason Dorow