John Tolley,

May 26, 2016

Two artists sit in a paint-festooned studio surrounded by works of art in various stages of completion. It?s a casual setting; there?s coffee and easy conversation between the two as they weave in and out of topics. They discuss color, artistic discovery, passion, mysticism and the finer points of Herbie Hancock.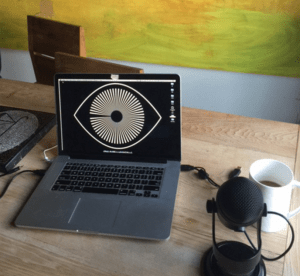 ?After the first minute or two, most people forget they are speaking into a microphone and we just chat,? said Brian Alfred, Brooklyn-based artist and creator of the Sound & Vision podcast. ?I?d like to think I also set them at ease. The fact that I am a fellow artist, I think, makes it easy for them to converse in a direct and natural way.?
Alfred, an assistant professor of art at Penn State, created Sound & Vision as a natural extension of the conversations he?d had with his colleagues and friends in the arts community. The series explores not only the myriad aspects of inspiration and creation in the visual arts, but also the role and influence of music on that medium.
?I always had a parallel life in music,? said Alfred, who started listening to podcasts to pass the time while commuting from his Brooklyn studio to Happy Valley. ?When I started making animations, music became more integrated into my work in a direct way with them scoring the animations. It was a great way for me to keep involved in music and also keep collaborating with other artists.?
Alfred?s love affair with art began at an early age, and eventually led him to Penn State, where he earned his Bachelor of Fine Arts. A lifelong painter, he became more committed to the subject while still an undergrad.
As he pursued his master?s degree in New York, Alfred started to experiment with collage work and animation by using various computer programs to workshop painting ideas. As he describes it, ?I just became interested in the idea of making moving paintings.?
New York remains his artistic base of operations, but a twist of fate brought Alfred back to Penn State a few years ago. And he was pleasantly surprised by the experience.
?I came back to cover for my old professor when she went on sabbatical and really loved teaching,? he explained. ?Penn State has so many great resources in the arts: theatre, music, the Palmer Museum, just so many events and opportunities. And it has a wonderful interdisciplinary program where you can really have a dialogue between many fields. That?s the appeal over traditional art school. There are so many opportunities in so many fields to take advantage of.?
As for the future, Alfred plans to continue growing Sound & Vision, expanding on the theme of artistic dialogue he found in the university setting. He?s quick to note that while the touring lifestyle of most musicians makes scheduling tricky, he hopes to soon add influential electronic musicians and even sound artists to the list of guests he?s interviewed.
[btn-post-package]?In my artwork, I am interested in what place says about who we are as a people,? Alfred said of the connectivity of music and the visual arts. ?[Music] can really take you to the feeling of a place. One advantage music has is there is really no visual constriction. It can speak to you and yet allows you to visualize a setting completely of your own imagination.?
By John Tolley