Tom Dienhart, BTN.com Senior Writer,

May 25, 2016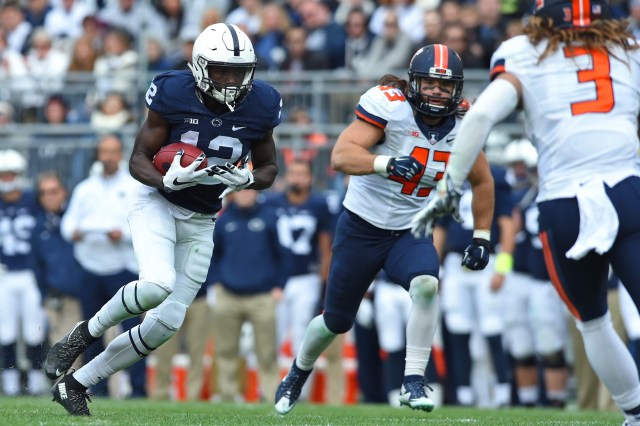 Thirteen schools are in action. And there are some top matches on deck in the second week of action highlighted by two rivalry games.
The Iowa-Iowa State battle for the Cy-Hawk trophy always is a humdinger. This year, the Cyclones led by new coach Matt Campbell come to Iowa City. He had some top offenses at Toledo and is a rising star. Know this: Iowa boss Kirk Ferentz is just 8-9 vs. Iowa State.
Finally! Penn State and Pitt are playing! Penn State leads the all-time series, 50-42-4. Pitt won the last meeting, taking a 12-0 decision in the Steel City in 2000. Prior to that, the Nittany Lions had won seven in a row.
Here's a look at my Best of Week 2.
Game of the week: Finally, Pitt and Penn State are playing. Too bad this isn?t an annual affair. But that?s a story for another day. Let?s enjoy the renewal of this fierce rivalry, as the Nittany Lions trek west to play the Panthers. Penn State leads the all-time series, 50-42-4. Pitt won the last meeting, way back in 2000, taking a 12-0 decision at home. Prior to that, the Nittany Lions had won seven in a row.
Best quarterback matchup: This is a good one, as Tulsa?s Dane Evans locks up with Ohio State?s J.T. Barrett. Evans was No. 8 in the nation last season in passing yards with 4,332 along with 25 touchdown passes. Barrett began last year behind Cardale Jones before assuming command late in the season. In 2014, Barrett was the Big Ten?s top signal-caller and helped lead the Buckeyes to an 11-1 record before suffering an injury before the team's national title run. He will be one of the best in the nation.
Best head coach matchup: Let?s go with Illinois State?s Brock Spack vs. Northwestern?s Pat Fitzgerald, a clash of former All-Big Ten linebackers. Spack is one of the top coaches in the FCS ranks, compiling a 56-29 overall mark with three playoff appearances and a trip to the national title game in 2014. Fitzgerald is an all-time great player and coach at his alma mater coming off a 10-win season. Fitzgerald is the all-time winningest coach in Northwestern history with 70 wins. And his 36 Big Ten wins are the most in school history.
Best coordinator matchup: North Carolina DC Gene Chizik vs. Illinois OC Garrick McGee. Chizik has an impressive resume, leading Auburn to the national title in 2011 during a run from 2009-12. Before that successful stint on the Plains, Chizik earned his chops as a boffo DC for Auburn and Texas. McGee was tabbed by new Illinois coach Lovie Smith to run his attack. McGee has been a coordinator at Louisville, Arkansas and Northwestern, showing a bright, creative mind and an ability to build offenses around the strength of his personnel. McGee also was head coach at UAB from 2012-13.
Upset alert: The visit from Cincinnati will be tough for Purdue. UC was the first opponent for Darrell Hazell at Purdue back in 2013 ? and the Bearcats throttled the Boilermakers, 42-7, in Cincinnati. The Bearcats are well coached under Tommy Tuberville, who has taken the Bearcats to bowls in each of his three seasons in the Queen City. Still, the Boilermakers may have a shot to ambush UC if both lines have come together and the quarterback play is solid.
Other notes:
North Carolina?s visit to Illinois will be a great test for the new staff in Champaign. Last year, the Illini waded into Kenan Stadium and got thumped, 48-14. That was a very good UNC squad that finished 11-3 and won the ACC Coastal Division.
Michigan welcomes Central Florida and new coach Scott Frost, a former Nebraska QB who was OC at Oregon. The schools never have met.
Wyoming comes to Nebraska. The Huskers are 7-0 all-time vs. the Cowboys, taking a 38-14 decision at Laramie in 2011 and a 37-34 win in 2013 in Lincoln. : Wyoming is led by former Husker player and assistant Craig Bohl, who has gone just 6-18 in two seasons in Laramie.
Ohio State and Tulsa never have met.
Purdue is 1-1 vs. Cincinnati with both games in the Queen City. The Boilers won, 19-14 in 2001 and lost 42-7 in 2013.
Maryland is 4-0 all-time vs. Florida International with all four encounters coming since 2006. The Terps last won 43-10 in 2013 in College Park. Maryland played at Miami in 2007 and won 26-10, the lone meeting at FIU. Former Illinois coach Ron Turner is in his fourth season leading FIU, sporting a 10-26 mark.
There are three games vs. FCS foes: Illinois State at Northwestern; Howard at Rutgers; Indiana State at Minnesota. There also are two MAC foes on tap: Ball State at Indiana and Akron at Wisconsin.
Michigan State is off.
***
Ranking Week 2 Games
1. Penn State at Pitt
2. Iowa State at Iowa
3. North Carolina at Illinois
4. Central Florida at Michigan
5. Wyoming at Nebraska
6. Cincinnati at Purdue
7. Illinois State at Northwestern
8. Maryland at Florida International
9. Tulsa at Ohio State
10. Ball State at Indiana
11. Akron at Wisconsin
12. Indiana State at Minnesota
13. Howard at Rutgers
***
Email Tom Dienhart using the form below.
And if you want to leave a comment on this post, use the box below. All comments need to be approved by a moderator.