Tom Dienhart, BTN.com Senior Writer,

May 24, 2016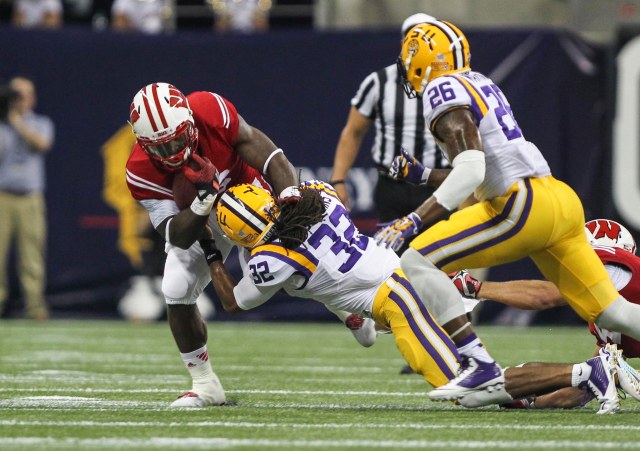 Not a lot of pizzazz in the first week of the season, as all 14 teams are in action over a three-day period. But there is one marquee clash: LSU vs. Wisconsin at iconic Lambeau Field.
[ MORE: View the complete Week 1 Big Ten schedule ]
Aside from that, there are no big-time matchups. In fact, four teams are playing FCS schools, with Furman at Michigan State; Murray State at Illinois; Howard at Maryland; Eastern Kentucky at Purdue.
Here is a look at the Best of Week 1.
Game of the week: LSU vs. Wisconsin at Green Bay. No Big Ten team has a more daunting season opener, as the Badgers take on LSU in historic Lambeau Field. These teams opened vs. each other in 2014, as the Tigers took a 28-24 win at Houston. LSU is 3-0 all-time vs. the Badgers. Adding spice to this opener: Former Wisconsin DC Dave Aranda is now running the Bayou Bengal defense.
Best quarterback matchup: Nothing jumps out. Let?s go with Western Michigan?s Zach Terrell vs. Northwestern?s Clayton Thorson. Terrell was No. 23 in the nation in passing yards last year with 3,510 to go along with 29 TDs. Thorson had modest numbers in his first season as a starter last year but still led the Wildcats to a 10-win season. He could be poised for a breakout season.
Best head coach matchup: I like Fresno State?s Tim DeRuyter vs. Nebraska?s Mike Riley. Each guy is proven. DeRuyter has done a good job, notching a 29-23 mark in four seasons on the job with three bowls. But the Bulldogs failed to reach the postseason last year. Riley is coming off a tough 6-7 debut filled with many tough losses but looks primed for a break out after a 3-1 finish and bowl win vs. UCLA.
Best coordinator matchup: It will be good theater to watch former Wisconsin defensive coordinator and current LSU DC Dave Aranda face his former team. He pushed the buttons on one of the top defenses in the nation the last few years in Madison. Joe Rudolph is the Wisconsin OC, but head coach Paul Chryst runs the attack. Chryst and Aranda know how each other operates. Who has the edge?
Upset alert: Northwestern should be careful vs. Western Michigan visits Ryan Field. P.J. Fleck is an up-and-coming coaching fireball who has taken the Broncos to back-to-back bowls and 8-5 record, including the MAC West crown last fall. Fleck played at Northern Illinois and is a native of the state, so you know the 35-year old would love to topple the Wildcats.
***
Ranking Week 1 games
1. LSU vs. Wisconsin at Green Bay, Wis.
2. Oregon State at Minnesota (Sept. 1)
3. Rutgers at Washington
4. Fresno State at Nebraska
5. Western Michigan at Northwestern
6. Indiana at Florida International (Sept. 1)
7. Bowling Green at Ohio State
8. Hawaii at Michigan
9. Kent State at Penn State
10. Miami (Ohio) at Iowa
11. Furman at Michigan State (Sept. 2)
12. Murray State at Illinois
13. Howard at Maryland
14. Eastern Kentucky at Purdue