BTN.com staff, BTN.com LiveBIG Staff,

May 22, 2016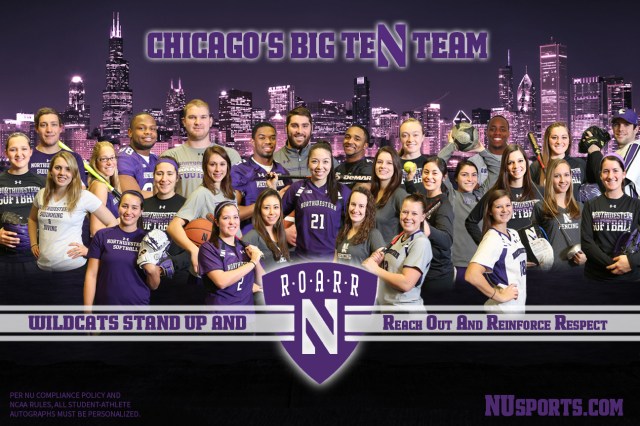 College sports fans live for gamedays: tailgating on a crisp autumn afternoon, jumping for joy after a game-winning buzzer-beater, seeing the go-ahead goal or run scored in a tight contest.
While the spectacle of sport is what draws the fans, the things student-athletes do off the field often proves to be much more valuable.
Marisa Bast got such an opportunity to make a difference three years ago. At the time a rising senior and third baseman on the Northwestern softball team, Bast was searching for a field-study subject for NU?s undergraduate leadership certificate program. Initially, nothing she found really stuck.
A chat with Maureen Palchak, Northwestern?s assistant athletic director for community relations, changed all that.
?She asked me if I had any interest in this whole idea of anti-bullying,? Bast said. ?I told her ?You know what, I do, but I don?t know if it?s something that lights my fire.? And I told her I?d sleep on it.?
?Then she told me about this story where a bunch of the football guys went to visit a kid at this school who was getting bullied. They walked around with him, they ate lunch with him and then, all of a sudden, this kid who was getting bullied became the cool kid on campus. It kind of inspired me and it made me realize the position that we have as Northwestern students to go into the community and make a difference. I reflected back on memories that I pushed away from my childhood. I was bullied as a kid, and I realized that this would be the perfect thing for me.?
Bast and Palchak started meeting weekly to do research about bullying and talk to parents, teachers and school psychologists. Without a real framework in place yet, Bast e-mailed the Northwestern athletics community to see if her peers would help out with the initiative. The buy-in was incredible, and roughly 30 other student-athletes showed interest in the project.
Soon enough, Bast and the NU athletic department established Stand Up and ROARR (Reach Out and Reinforce Respect), a program for Wildcat student-athletes to visit Chicagoland schools to engage in meaningful conversations about respect and provide a curriculum for bullying. The participants hit the ground running.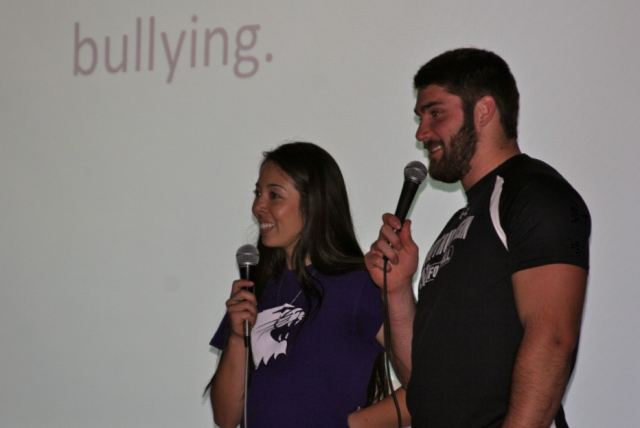 ?When we were building the curriculum for this, we had this open Google doc,? Bast said, ?and we?d just throw articles, things we saw in the media and games that we thought would be helpful in delivering our message. We really wanted our message to be less about bullying in general, and more about civility and kindness and friendship and overall respect for one another.
?We wanted everybody to understand that bullying isn?t just beating each other up. It?s hiding behind your computer screen and typing mean things to each other. It could be in terms of something more emotional. We know that things are going to happen at these schools and people aren?t going to like each other. But you don?t need to bully somebody. You can just respect each other and go your separate ways.?
Three years in, Stand Up and ROARR is still going strong. Several dozen student-athletes are involved with the program and visit third- through eighth-graders to promote friendlier academic environments by talking about their own experiences with bullying and arranging activities for the kids.
?We?ll split them up into groups and we?ll just say okay, find three things that you have in common with one another. We won?t give them any context other than that,? Bast said. ?We want them to get specific? That?s how friendships start.?
Bast, who was a 2014 finalist for NCAA Woman of the Year, recently returned to Evanston for an event held by NU for Life, Northwestern?s professional development program for student-athletes. While there, she saw that a diverse group of student-athletes are still heavily invested in what was once just a field study.
[btn-post-package]?They?re taking it so much further then I ever imagined it would go,? she said. ?It?s really awesome to see it growing and under different leadership. I wanted it to be sustainable, but coming back after graduating and seeing people still excited about it two years later ? My eyes teared up.?
How was Stand Up and ROARR and its vast impact made possible? Bast gives all the credit to her alma mater.
?There really is no ceiling for a Northwestern University student,? she said. ?I don?t think that if I was at any other university, I would?ve been able to accomplish the things that I did. I?m really thankful for all of the people who allowed me to pursue things I wanted to. Instead of calling me crazy and shutting me down, they said, ?You?re crazy,? and then opened the doors for me.?
By Jason Dorow