BTN.com staff,

May 19, 2016

Imagine you?re highly skilled in software coding or the finer aspects of machine learning. You?d be a sought-after commodity in today?s employment market, and the odds of finding a fulfilling job that allows you to make a good living would be pretty good.

Now imagine you live in Kenya or Bangladesh. Though there might be opportunities available to you in those countries, it?s just as likely that you?ll find yourself in a job in which you?re over-skilled or doing something completely removed from your talents. Furthermore, there are many others in a similar situation throughout the country, creating a ripple effect of inefficiency throughout the local workforce.

But it doesn?t have to be this way. That?s where the algorithms created by Dr. Lav Varshney and his team at the University of Illinois Coordinated Science Lab come in.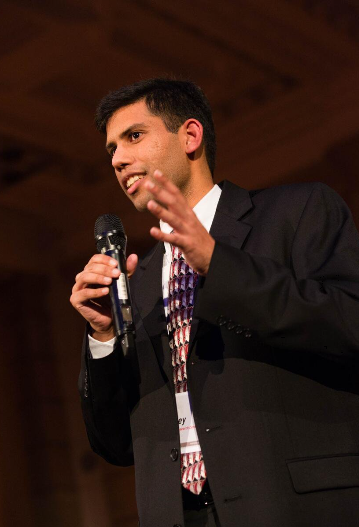 ?A main difficulty is matching work to workers in the best possible way, to maximize the number of tasks that can be done by qualified people,? said Varshney, an assistant professor of computer and electrical engineering at Illinois. ?We develop algorithms that are able to do this nearly optimally, while also maintaining the freedom of choice that people like in work.?
The genesis of the idea to apply sophisticated mathematics to the job market came while Varshney was working at IBM optimizing their internal crowdsourcing platform. With help from colleagues at the University of Texas, a set of algorithms was developed to address problems the technology giant faced. And those algorithms, Varshney noted, apply to a whole host of crowdsourcing platforms and freelance markets.
Through a former intern, Varshney was made aware of Samasource, a non-profit tech company whose mission, according to their website, is ?to lift people out of poverty by connecting them to dignified digital work.?
With partners like Wal-Mart, Google and Microsoft, Samasource is at the forefront of its field. In Kenya, Uganda, India and Haiti, the company has made a positive impact on the lives of more than 31,000 people by providing them with job training for the digital workplace.
?I reached out to Samasource when it seemed like our algorithms would be effective for their platform,? Varshney explained. ?Using data that they provided, we showed that if our algorithms were used in their system, the turnaround time for work could be shortened considerably, allowing them to complete more work overall and, therefore, uplift more people out of poverty.?
This was exactly the kind of experience Varshney sought when he chose his field of study.
?I was initially drawn to engineering because of its potential to make an impact in the world,? he said, ?and electrical engineering in particular, since it is so intellectually diverse - in a sense, the ?liberal arts? of engineering.?
[btn-post-package]In addition to the work he?s done with Samasource, Varshney has applied mathematical formalism to a variety of diverse information systems, from socio-technical to neurobiological. He?s currently working on a project that deals with the issue of ?mismatched crowdsourcing,? which involves using speech- recognition technologies to better connect people across language barriers.
If that wasn?t enough, he?s also developing a mathematical theory of creativity, seeking to determine the fundamental limits of how creative a system can be, whether it is human, machine or a hybrid of the two.
According to Varshney, this kind of diverse thinking is supported and encouraged by the University of Illinois.
?Urbana-Champaign is a really wonderful environment,? he said, ?with really great colleagues, students and general intellectual ethos. The university really supports this.?
By John Tolley