BTN.com staff,

May 13, 2016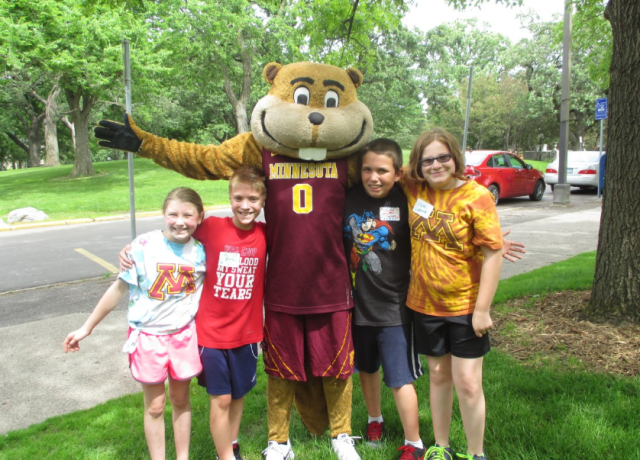 Communication is often just the first challenge for children who stutter. Beating the emotional complications that can accompany stuttering can be a much greater obstacle.
?A huge part of managing stuttering is dealing with all the attitudes and emotions that surround stuttering because kids often get negative reactions from other kids and adults,? said Linda Hinderscheit, a clinical specialist of speech-language pathology at the University of Minnesota. ?So they learn to fear speaking situations, and it can really take a hit to their self-confidence and their self-esteem.?
In order to help youth who stutter conquer those difficulties, Hinderscheit and Erin Bodner, another speech language pathologist who got her master?s degree at Minnesota, helped establish the University of Minnesota Kids Who Stutter (UMKWS) camp in 2009.
The weeklong camp takes place in mid-June, right after the end of the academic year, and it has two sessions, one for third- through fifth-graders and one for middle school kids. The 10-15 children involved in each session get to go bowling, tour popular spots on campus such as The Raptor Center and the Weisman Art Museum, and participate in activities and discussions designed to boost their morale
?They work on small-group activities that are centered around exploring their attitudes and emotions about stuttering. In that small group, they develop a skit that they put on for parents and other family members at the end of the week,? Hinderscheit explained. ?They also do things like draw your stutter, where they can draw a picture about what their stuttering means to them. Then we post those during a reception as an art gallery.
?One day we have a carnival on the front lawn of our building, and they tie-dye T-shirts,? she added. ?They have an obstacle course, Goldy Gopher pays a visit, and we?ll make sno-cones. We wrap up each day with a large group discussion where again they are talking in a larger group with all the kids together about some aspects of being a kid who stutters.?
On the final day of camp, the kids always go to McDonald?s and order their own meal. It may sound routine, but for the campers, it?s usually an exhilarating experience.
?Some of the kids have never ordered food for themselves before,? Hiderscheit said. ?They often say that it was an amazing experience for them to realize they could order for themselves and get the food they wanted.?
The camp has developed into much more than a weeklong event too. The university started offshoots of the camp for teenagers and college students who stutter. When these groups meet, they tackle many of the social challenges unique to high school and college, like group projects, class presentations and meeting with professors.
Hinderscheit and Bodner serve as leaders for the UMKWS camp, but speech-language pathology graduate students chip in too by creating activities and directing small-group discussions. And their contribution to the camp could help further their area of study, Hinderscheit said.
[btn-post-package]?I think what they get out of this experience is different from what SLP students have gotten historically,? she explained. ?Our field has spent so much time concentrating on the speech that we really as a field haven?t done justice to all of the emotions and attitudes that go along with being a person who stutters. I think it?s really good for students to get that experience and realize that it?s so much more than working on just the words that come out of the kids? mouths.?
In the end, it always comes back to the children. And Hinderscheit has seen through the kids? words that this camp means the world to them.
?I?ve been a speech-language pathologist for over 30 years,? Hinderscheit said. ?I?ve been involved with stuttering in the past 15 years or so - and with this camp in the last eight - but it is the best thing I?ve ever done professionally.
?At the end of the camp, the kids are saying, ?This is the best camp ever. I?m going to come again next year.? It has really convinced me that this is a huge need in our profession ? [the kids] need to meet other people to realize there are other people who are dealing with the same things they are, and there is a way to do that and still live a very happy, successful life.?
By Jason Dorow