BTN Communications,

May 9, 2016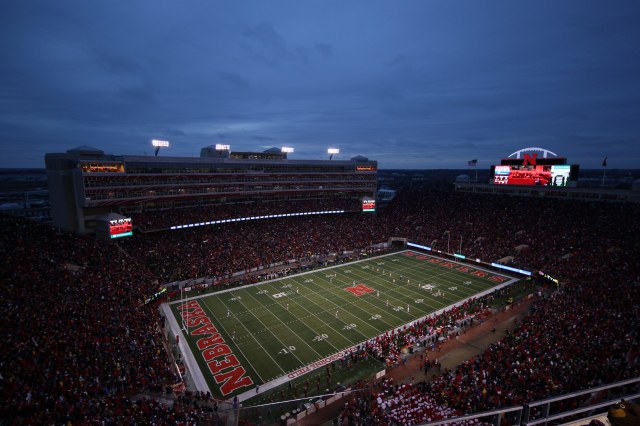 BTN today announced a loaded 2016 Saturday primetime football schedule that will feature the 2015 Big Ten Champion and College Football Playoff semifinalist Michigan State Spartans twice, the conference?s 2015 West Division Champion Iowa Hawkeyes twice and perennial power Nebraska three times among its 10 games across nine key Saturday nights. Of the 10 games, seven feature teams that finished ranked in the final AP Top 25 poll.
| Date | Time (ET) | Matchup |
| --- | --- | --- |
| Saturday, Sept. 3 | 8:00 PM | Fresno State at Nebraska |
| Saturday, Sept. 10 | 7:30 PM | Iowa State at Iowa |
| Saturday, Sept. 10 | 7:30 PM | North Carolina at Illinois |
| Saturday, Sept. 17 | 8:00 PM | Duke at Northwestern |
| Saturday, Sept. 24 | 7:30 PM | Nebraska at Northwestern |
| Saturday, Oct. 1 | 8:00 PM | Michigan State at Indiana |
| Saturday, Oct. 22 | 7:30 PM | Michigan State at Maryland |
| Saturday, Nov. 5 | 7:30 PM | Iowa at Penn State |
| Saturday, Nov. 12 | 7:30 PM | Minnesota at Nebraska |
| Saturday, Nov. 19 | 8:00 PM | Penn State at Rutgers |
BTN?s Saturday primetime slate begins on Sept. 3 at 8 p.m. ET when Fresno State travels to Nebraska. Up next on Sept. 10 are pair of games, featuring Iowa State at Iowa in the battle for the Cy-Hawk Trophy at 7:30 p.m. ET and a rematch between Illinois and North Carolina at 7:30 p.m. ET. Coming off a 10-win season, Northwestern will host Duke in Evanston on Sept. 17 at 8 p.m. ET. The Wildcats look to make it two in a row over the Blue Devils after a 19-10 win in Durham in 2015.
The first of BTN?s conference matchups in primetime features Nebraska at Northwestern on Sept. 24 at 7:30 p.m. ET. Two of the last three matchups between the teams have been decided in the final quarter, with the Wildcats winning 30-28 in 2015 at Nebraska and finishing the season ranked No. 23 in the final AP Poll.
On Oct. 1 at 8 p.m. ET, Michigan State visits Indiana for a Big Ten East Division battle. The Spartans finished last season No. 6 in the AP poll after capturing the Big Ten crown in a thrilling victory over Iowa. Indiana appeared in a bowl game for the first time since 2007, but will need to replace all-Big Ten quarterback Nate Sudfeld.
The Spartans will also be featured in primetime on Oct. 22 at 7:30 p.m. ET, when they head to Maryland to take on the Terrapins. D.J. Durkin will face a stiff test in his primetime debut as Maryland?s head coach, but returns All-American kick and punt returner Will Likely to help with the challenge.
On Nov. 5, the Iowa Hawkeyes head to Happy Valley to take on Penn State at 7:30 p.m. ET in the first meeting between the two teams since 2012, when the Nittany Lions won 38-14. The Hawkeyes are coming off a 12-0 regular season and Big Ten West Championship and welcome back all-Big Ten quarterback C.J. Beathard to a team that finished ranked No. 9.
November will feature two other primetime conference matchups, including Minnesota at Nebraska in Tracy Claeys? first full season as a head coach on Nov. 12 at 7:30 p.m. ET and Penn State continuing its budding rivalry with Rutgers and new coach Chris Ash on Nov. 19 at 8:00 p.m. ET.
Also confirmed for the 2016 schedule are Oregon State at Minnesota on Thursday, Sept. 1, and Furman at Michigan State on Friday, Sept. 2.
Television arrangements for the entire slate of games on BTN will be announced at a later date.