BTN.com staff,

May 5, 2016

If you took all the children in Ohio who don?t have regular access to food and brought them to Columbus, you would be able to fill Ohio Stadium six times over and still have a line outside.

Bruce McPheron, Ohio State?s interim executive vice president and provost, shared that factoid at the inaugural Buckeye Summit in mid-April. More than 600 researchers, students and alumni gathered in Columbus for the day-long dialogue about tackling the issue of food insecurity at home and abroad.

Attendees participated in roundtable discussions and listened to presentations from keynote speakers. Additionally, 39 percent of the people there committed to take individual action to combat food insecurity after the summit. The university will be pulling its weight too. In order to help feed approximately 800 million malnourished people around the world, Ohio State committed to investing $125 million over the next five years to food security-related efforts.

Thomas Rosenberger, a senior in OSU?s Fisher College of Business, attended the summit with other student leaders. Rosenberger helped start the Buckeye Food Alliance, a food pantry on campus and. He said the way people look at and use food were primary takeaways from the event.

?In the United States, we have a ton of food, plenty of food to feed everybody,? Rosenberger said. ?But the way the food system works, when you go to the grocery store, if the fruit or veggies you?re looking at buying have some kind of blemish, those are still perfectly good to eat, but you?re probably not going to buy them. So they go to waste.?

[btn-post-package]According to the Buckeye Summit?s website, at least one quarter of food grown, processed or transported in the US is wasted each year. The hosts of the summit made that incredibly clear to attendees by putting unfamiliar foods right in front of them.

?They had at the summit, on the tables, a basket of all different kinds of fruits and veggies,? Rosenberger said. ?We were looking at that and we all noticed, ?Do you know what to do with that? I could not make a meal out of that. I have no idea what to do with those things.??

During the summit, Rosenberger and other attendees also discussed creating classes and new educational components about the food system and nutrition at Ohio State because awareness of the issue on college campuses is not as great as it should be.

It was not that long ago that Rosenberger first encountered the cruel reality of food insecurity. He said that he read an article, as a sophomore, about Michigan State?s food pantry. Recognizing how prevalent malnutrition is for college students, he decided to take action.

?I started looking around here at Ohio State to see if there was an organization I could get involved with to address the issue here and help out,? he said. ?When I was looking around, I pretty quickly found that we just didn?t have anything like that. So in talking to some of my roommates, we decided we?d take it upon ourselves to start something like that here.?

Thus, the Buckeye Food Alliance was born. Rosenberger and four of his roommates created a full business plan for a food pantry on campus, pitched the plan to the university, got the school to commit resources to the project and then found a location on campus to house the pantry.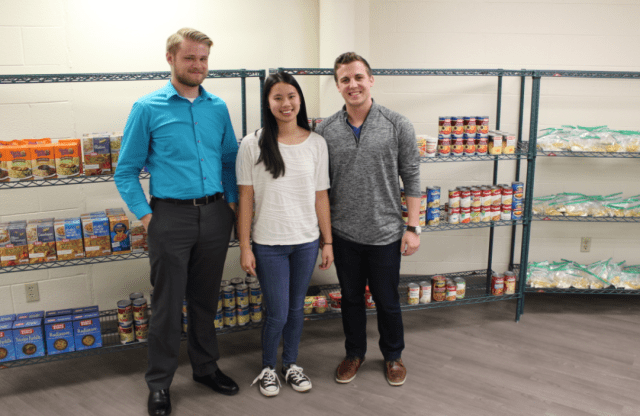 More than two years after they came up with the idea, the pantry opened its doors March 30. The group currently gathers most of its goods from food drives, which are frequently hosted by university departments, student organizations, local churches and residence halls. In several months, the pantry will be eligible to become an agency partner of the Mid-Ohio Food Bank and purchase food for just 9 cents per pound.
With more partnerships and outreach, Rosenberger believes the Buckeye Food Alliance could make a big difference for his fellow students. According to studies he cited, 19 percent of undergraduates at Ohio State fall into the low food-security category.
Rosenberger said the extent of this issue - not just in impoverished areas, but also on college campuses - is what struck him most during this process.
?The biggest thing I?ve learned is the size of the problem,? he said. ?Feeding America helps close to 3 or 4 million college students every year. As compared to the general population, we don?t really think about college campuses in that respect, but it?s a huge problem here.?
By Jason Dorow