Sean Merriman, BTN.com web editor,

May 4, 2016

Before he takes the field for every football game, DaeSean Hamilton makes it a point to tap his left bicep five times.

The Penn State wide receiver wears No. 5 on the football field, but touching the "DKH" tattoo on his arm has a much deeper meaning than the number he wears on his back.

"DKH" stands for Darius Kendall Hamilton, DaeSean?s 23-year-old brother, who was diagnosed with nonverbal autism at a very young age. The tattoo is a reminder of an inseparable bond between brothers, one in which the younger Hamilton has served as a mentor and role model for the older Hamilton since DaeSean was five years old.

Growing up, DaeSean would get his older brother ready for school, make sure he got on the school bus, and accompany him home after school was finished. Once home, the two brothers would play games together like peek-a-boo and hide-and-seek. And then it was movie time before the two went to bed in a shared room in their Fredericksburg, Virginia, home.

?We would always watch the Disney channel together before bed,? DaeSean said. ?'The Lion King.' Timon and Pumbaa on VHS. We both loved it.?

DaeSean would do all of this with his older brother, knowing Darius would never be able to hear or understand a word he said.

?He?s been through a lot, but he always has a smile on his face, no matter what,? DaeSean said. ?He?s the happiest person I know.?

Because of Darius' inability to speak, the two brothers communicate through sign language. As a boy, DaeSean picked it up watching Darius use sign language with their parents, Madgeline and Johnie Hamilton. Both mom and dad worked serving in the United States Marines, so DaeSean became a main communicator with his brother, especially when their older sister left for college and when the two boys stayed with their grandmother.

?It was a lot of responsibility for 'Sean," Madgeline Hamilton said of her youngest boy. ?But he would work with Darius and get him to accomplish things because Darius looked up to him.

?It really is a special relationship between those two.?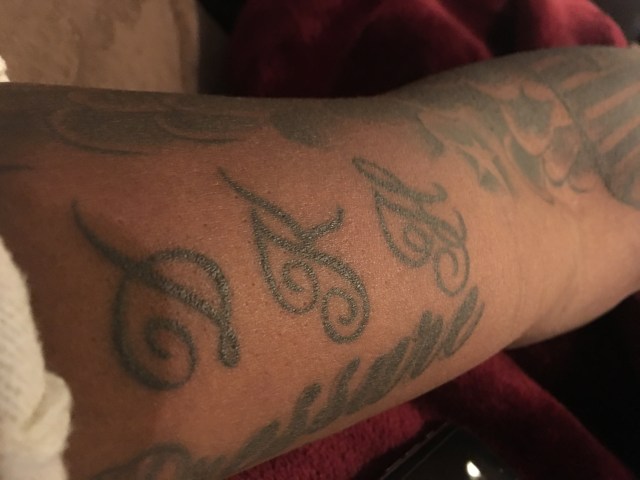 ***
DaeSean began playing football when he was in grade school. He recalls his first practice, his first game, where he played, and his first touchdown catch.
But DaeSean?s most vivid memory during that time period doesn?t involve football at all. He was 10 years old and his mother was working on the computer when her doctor called. DaeSean had noticed for a while that his mother was not acting like herself. She was very short with her answers. She was clearly bothered by something, a state her son was not used to seeing her in.
When that call came, it was that moment when DaeSean?s world would get turned upside down.
"Do you have cancer, Mom?? the boy asked.
?Yes, I do son,? the mother replied. ?But I don?t want you to worry about it.?
Looking back today, the mother recalls, ?I was shocked, but I wasn?t going to hide it from him."
Diagnosed with breast cancer, Madgeline had multiple surgeries, which she tried to schedule around DaeSean?s football games.
?I didn?t want to keep it from him, but at the same time, I didn?t want him to get so worried about it,? Madgeline said. ?That is a lot for a 10-year-old boy to handle.?
Little did Madgeline know that DaeSean?s reaction would be one that has stuck with him to this very day.
?I told her to just fight, and that she is going to get through it,? DaeSean recalled. ?She had to keep her faith, and in return, I always kept my faith that she would get better.?
The next couple of years would be challenging as DaeSean took on more responsibilities in the house with his mother in and out of treatment. He worked with Darius on a daily basis in teaching him basic life skills such as how to tie his shoes, how to take a bath, and how to get dressed by himself. DaeSean and Darius would ride the bus to school together until high school when they each attended separate schools. Still, DaeSean made sure his older brother got to school on time and then picked him up every day.
?It really was incredible to see how strong he was with everything going on in his life at that point,? Madgeline said of DaeSean. ?He didn?t get down, he didn?t change who he was. If anything, he really stepped it up during that time.?
***
When he entered high school, football would provide DaeSean structure as he made the Mountain View High School varsity football team as a freshman. While many of his friends would do a bit of everything, DaeSean remembers there was family and there was football. Those two things took precedence over anything else even when playing time his first year was hard to come by.
?Sure, there were distractions, but I always made sure I knew in the back of my mind that there are plenty of people who weren?t as fortunate as me,? DaeSean said. ?Things were tough, but I always remained humble and knew I couldn?t get too down on myself.?
His sophomore year, Lou Sorrentino took over as the school?s varsity football coach. At his previous job at Hylton High, Sorrentino coached Dion Butler, who had an All-Big Ten career at Penn State from 2005-2009. Sorrentino saw a little of Butler in DaeSean and had a vision to construct his offense around Hamilton.
?I remember when I got there, we sat down a laid out a plan of what the future looked like for DaeSean,? Sorrentino said. ?I told him that the best teams I?ve coached were the ones where the most talented players were also the hardest workers, and he took that to heart.?
DaeSean blossomed as a junior, developing into one of the top players in his area at both wide receiver and defensive back, using an exceptional combination of skill and knowledge of the game.
?He was very talented, but what made him stand out above the rest was how bright he was,? Sorrentino said. ?He didn?t have a big ego to the point where that was ever going to be a problem.
?DaeSean really saw the big picture. Part of that was his intelligence, and the other part was that he was raised the right way.?
College coaches took notice. Scholarship offers came in from Virginia Tech, West Virginia, Miami (FL), and others. But when then-Penn State head coach Bill O?Brien made the trip to Fredericksburg to visit DaeSean and his family, everything changed for DaeSean.
Like DaeSean, O?Brien also helped raise a young male with special needs. O'Brien's son Jack suffers from a rare neurological disorder known as Lissencephaly. This disorder results in lack of cognitive development and is associated with frequent seizures, some of which can last a few seconds, others of which go on for minutes at a time. Jack cannot walk, talk or feed himself.
O?Brien told DaeSean about his son Jack and showed off pictures. DaeSean told O'Brien about his brother and best friend Darius. Both stories share one common theme: Perspective, and a love for family that is strong enough to overcome anything in life.
?They made a connection right there,? Madgeline Hamilton said. ?DaeSean could really relate to that.?
O?Brien was barely out of the house when DaeSean and his parents knew that Penn State was the right place for him. He took his official visit to Happy Valley several weeks later and committed on the spot.
?It was the honesty from the Penn State coaches that Sean fell in love with,? Madgeline Hamilton said. ?Coach O?Brien had a vision about how he was looking to build his program and where he saw Sean playing.
?He came in as a boy, but I knew that under these coaches? watch, he would leave Penn State as a man.?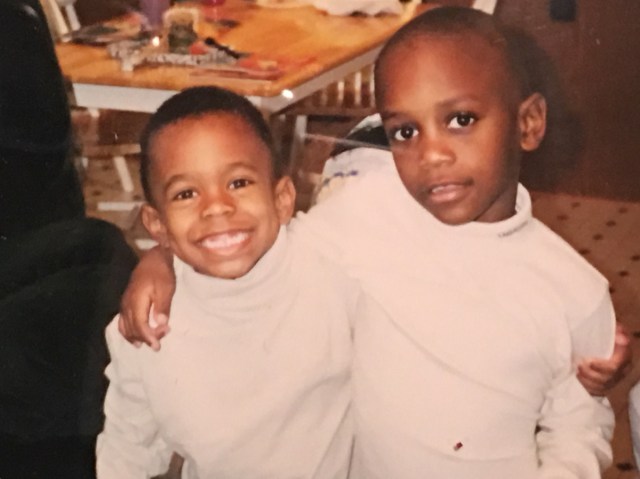 ***
It was a hot day in the summer of 2013 when DaeSean delivered the difficult news to his brother. DaeSean knew Darius couldn?t understand the words coming out of his mouth, but DaeSean said them anyway.
He was leaving home for college.
?That was really tough,? DaeSean recalls. ?Obviously it was hard on him, but to leave someone who you?ve spent every day of your life with up to that point? That?s not easy.?
With DaeSean at Penn State, Madgeline Hamiltion remembers Darius sitting by the door and staring out the window for hours, waiting for his best friend to come back.
?He would cry at times, and as a parent, it was difficult to see just because you knew how close those two were,? Madgeline said as she took a deep breath in attempt to hold back her tears. ?DaeSean taught Darius how to have fun. He is the reason Darius always has a smile on his face.?
Hamilton arrived at Penn State looking to prove himself to a new coaching staff in a program that was in flux and just two years beyond the Penn State child sex abuse scandal that rocked the school. In football, the Nittany Lions were hit with a four-year postseason ban and the loss of 40 initial scholarships in a five-year span. It was a challenging time for any player at Penn State, but Hamilton impressed the coaches early on before a wrist injury forced him to redshirt as a true freshman.
Back home, his high school coach followed DaeSean closely.
?The sitting out process is something that humbles you somewhat and can really make you hungry and can make you appreciate what your goals are,? Sorrentino said. ?DaeSean had something taken away from him, and instead of sitting back and pouting, he took a step up, rehabbed and then came out working harder than ever.?
Hamilton got healthy and returned with a bang, hauling in 11 catches for 165 yards in a 26-24 win over Central Florida in Penn State's season opener in Dublin, Ireland. In one memorable game, he set two school freshman records for receiving yards and receptions.
?It was that game when I realized I could compete at this level,' DaeSean said. "I always envisioned it, but it wasn?t until then that I really knew it.?
That season, Hamilton went on to lead the Big Ten in receptions (82) and earned All-Big Ten honors. The following season, he caught 45 passes and tripled his touchdown total (six).
When he wasn?t busy running by opposing Big Ten defenses, DaeSean called back home as often as he could, checking up on his parents and brother. His mother, now cancer-free, spent her time taking care of Darius.
***
That brings us to where we are today. Hamilton is set to enter his junior season at Penn State next fall. Expectations are high for both him and the Nittany Lions in their third season under James Franklin.
The Hamilton family will make it a point to attend as many games as possible this season, and when he?s feeling up to it, Darius will tag along as well, dressed in Penn State gear from head to toe.
?It?s the best feeling, knowing I?m playing and Darius is watching me,? DaeSean said. ?He is the reason I play this game.?
Two brothers. Two best friends. Darius has given DaeSean a purpose, and an understanding that there is much more to life than the game of football. And while the younger brother has NFL dreams like so many other college football players do, he also has a backup plan that won't surprise anyone who knows him.
?He?s always wanted to work with special needs children,? Madgeline Hamilton said. ?He is studying communications, and if you know Sean, you know he has a gift of communicating with others, just like he has with Darius throughout his entire life.
?What more could you want in life than to be able to share that gift with others??