Sean Merriman, BTN.com web editor,

May 3, 2016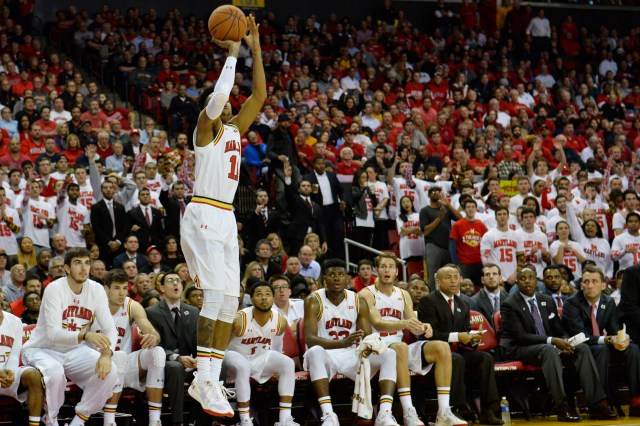 The Big Ten and Big East Conferences have officially announced the matchups for the second annual Gavitt Tipoff Games.
The Gavitt Tipoff Games is an annual early-season series played between the two conferences and named in honor of Dave Gavitt, founder of the BIG EAST and basketball visionary. The series consists of eight men's basketball games and will be played on Monday, Nov. 14-Friday, Nov. 18 this upcoming season.
This marks the second year of the series, which will span a total of eight years, with games played at home sites.
Below is the complete schedule and some fun notes to get you ready for the 2016 Gavitt Tipoff Games.
*Start times and specific television assignments will be announced at a later date.
Monday, Nov. 14, 2016
Villanova @ Purdue
1. Villanova, the defending national champion, only had two seniors on its 2014-15 roster in Ryan Arcidiacono and Daniel Ochefu.
2. Purdue is set to return three of its four leading scorers, assuming Caleb Swanigan comes back for his sophomore season. He has entered his name into the 2016 NBA Draft, but has not hired an agent.
3. The last time these two teams played was in 2012, when Villanova defeated Purdue, 89-81, in the semifinals of the 2K Sports Classic.
***
Tuesday, Nov. 15, 2016
Maryland @ Georgetown
1. Melo Trimble has declared for the 2016 NBA Draft, but has not hired an agent. If he decides to leave early, the Terrapins must replace all five starters from their 2015-16 team, which finished 27-9 and advanced to the Sweet 16.
2. Georgetown missed the NCAA Tournament last season for the second time in the past seven years.
3. These two old rivals played in last year's Gavitt Tipoff Games, with Maryland pulling off a 75-71 win behind 24 points from Melo Trimble.
Wisconsin @ Creighton
1. Pending Nigel Hayes' NBA draft decision, the Badgers are set to return every major contributor from this past year's Sweet 16 team.
2. Creighton leading scorer Maurice Watson Jr. (14.1 ppg in 2015-16) will join Kansas State transfer Marcus Foster to form what should be one of the top backcourts in the nation.
3. The last time Wisconsin and Creighton played one another was back in 2012, with Creighton pulling off an 84-74 victory over the Badgers.
***
Wednesday, Nov. 16, 2016
Northwestern @ Butler
1. The Wildcats are expected to get a major boost next season when Vic Law returns after missing the entire 2015-16 season due to injury.
2. Butler has made the NCAA Tournament in eight of the past nine years, including back-to-back national runner-ups in 2010 and 2011.
3. The Wildcats and Bulldogs played in 2014, with Butler defeating Northwestern, 65-56.
***
Thursday, Nov. 17, 2016
Providence @ Ohio State
1. Ohio State is expected to return all five starters from this past year's team, which went 21-14 overall and 11-7 in Big Ten play.
2. Providence must find a way to replace All-American guard Kris Dunn, who is expected to be a top 10 pick in the upcoming NBA Draft.
3. Providence has advanced past the second round of the NCAA Tournament just once (1997) in the past 29 years.
Rutgers @ DePaul
1. Rutgers guard Corey Sanders has declared for the NBA Draft, but has not hired an agent. If he decides to return to Rutgers, he should be one of the top guards in the conference.
2. DePaul has not appeared in the NCAA Tournament since 2004, when it advanced to the second round before losing to No. 2-seeded UConn.
3. Rutgers, formally of the Big East Conference, used to play DePaul on a regular basis. The last time these two programs played one another was in the first round of the 2013 Big East Tournament. Rutgers won the game by a final score of 76-57.
Seton Hall @ Iowa
1. Iowa junior guard Peter Jok has declared for the 2016 NBA Draft, but has not hired an agent. If he does choose to leave early and go to the NBA, the Hawkeyes will have to replace their entire starting lineup.
2. Seton Hall made its first NCAA Tournament appearance this past season since back in 2006 under then-head coach Louis Orr.
3. Iowa is set to welcome four-star prospect Tyler Cook as part of the Hawkeyes' 2016 recruiting class. Cook is the No. 2-ranked player in the state of Missouri, according to ESPN.com.
***
Friday, Nov. 18, 2016
St. John?s @ Minnesota
1. Minnesota is set to welcome one of the Big Ten's top recruiting classes, easily the best class in Richard Pitino's short stint in Minneapolis.
2. St. John's recently added former Michigan State transfer Marvin Clark Jr. to its program.
3. These two programs played just two years ago, with the Red Storm beating Minnesota 70-61 in the 2014 NIT Season Tip-Off semifinals.