BTN.com LiveBIG Staff,

April 29, 2016

Part carnival. Part expo. All fun. It?s Maryland Day, which happens tomorrow at the University of Maryland?s campus in College Park.
Along with games, activities and entertainment, Maryland Day features information about a variety of student-run organizations at the university. And Terps Against Hunger, fresh off of its win in Maryland?s annual Do Good Challenge, is looking to make another big splash at the event tomorrow.
?[Maryland Day] is an invitation to the community to see what the university?s all about,? said Josh Turskey, a sophomore majoring in architecture and the current vice president of Terps Against Hunger. ?We?re opening our doors and our arms and saying, ?Come be a part of our community.?
?Terps Against Hunger has a similar mission,? he added. ?We really want to engage the community.?
To do that, Turskey and other student volunteers will operate three different tables within their station during Maryland Day. One will have educational materials on Terps Against Hunger, for those who want to support or get involved with the organization. Another will serve as a packing station for preparing healthy meals for families in need. And a third will educate attendees on the problem of hunger in the local community and beyond.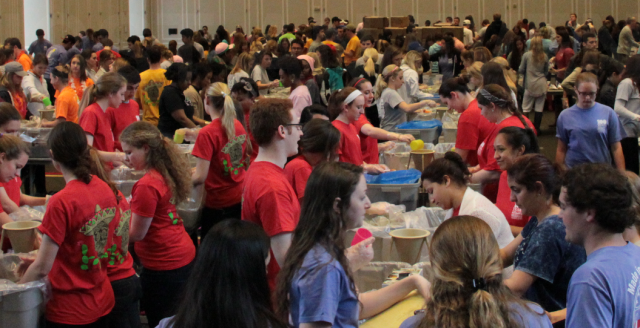 Turskey is deeply committed to fighting hunger insecurity. His interest in the cause extends back to when he was high school in Sykesville, Md.
?I went to a very similar packing event during my freshman year when I was 14,? he said. ?While there, I came across some statistics. For example, every five seconds, a child dies from hunger. That?s such a significant number. It really stuck with me.?
He started a not-for-profit to address this problem while he was still in high school. But when Turskey came to College Park, he wasn?t aware of Terps Against Hunger, nor was he actively seeking to join any such organization. Like many new college students, his mind was on getting settled in his new surroundings.
However, during his first few weeks, he saw a familiar sight while strolling through a book fair on campus: a food packet on display. That?s how he found out about Terps Against Hunger, and he got involved with the group soon after that.
Now, Turskey spends about 20-25 hours a week on variety of tasks for the organization, ranging from food-packing events to service trips to Baltimore and Washington, D.C., where he and fellow students personally prepare and serve meals to those in need.
?We want to connect with the people we serve so we can serve them better,? he said.
[btn-post-package]It?s a big commitment on top of his studies - one that will likely grow as 2016 progresses. Terps Against Hunger is on track to pack more than a million meals this year. And, about one week after Maryland Day, Turskey will assume his new role as president of the organization. Additionally, he plans to get more involved with the Washington, D.C., chapter of its parent organization, Kids Against Hunger.
?Hunger has been put on my heart,? Turskey said. ?It?s a cause I want to continue to serve.?
By Brian Summerfield