BTN.com staff,

April 25, 2016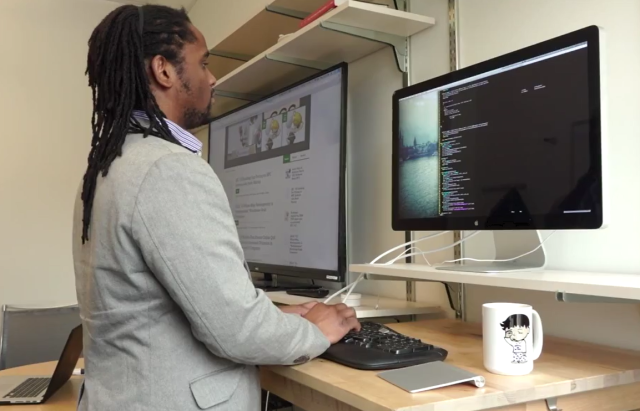 Thanks to Jason Mars, ?Siri? could get a whole lot more effective in the years to come.
An assistant professor of computer science at the University of Michigan, Mars and his team of researchers built their own intelligent assistant, named Sirius, which features voice-command and image-matching capabilities. They released Sirius in March 2015 to the rest of the world so other researchers could examine how to improve intelligent assistants too.
?We designed an open platform for intelligent assistants like Siri, Cortana, Google Now,? Mars said. ?And it made a really nice splash. These kinds of infrastructures were locked up at companies like Apple and Microsoft and Google, and the world didn?t have an end-to-end application that provided the similar kinds of technology.?
Through the development of Sirius and other research, Mars and his team made several discoveries. Perhaps most importantly, they found that intelligent assistants are extremely inefficient compared to basic search engines. And because they require massive data centers to operate, an immense amount of energy will be needed to match future worldwide growth in intelligent-assistant use.
?We used what we built to study how future datacenters should work,? he explained. ?If you had as many people using Siri or Cortana as you had people using Web search, it turns out that our datacenter infrastructure wouldn?t be able to support that kind of load. And indeed, we would have to change [what] we have in the system from a hardware standpoint.?
Luckily, Sirius was just the beginning for Mars. In January, he received a CAREER grant from the National Science Foundation for his project ?Advancing the Frontier in System Architectures for Artificially Intelligent Services and Applications.? Mars hopes that the grant will enable his team of researchers, which includes undergraduates, graduates and Ph.D. candidates, to make intelligent assistants more efficient and intelligent.
In the CAREER proposal, Mars suggested expanding upon Sirius by jumping from its original three artificial-intelligence engines to 11 components working together in a new assistant, known as DeepSirius. This new technology would not only recognize voice, but also could offer personalized summaries of articles and determine the mood of the user by analyzing texts.
?What we wanted to do was build an ecosystem that used deep learning as the kind of fundamental algorithm to enable many, many different applications,? he explained, ?from face recognition, speech recognition, image classification [and] object recognition to a host of sentiment analysis and various matching-language processing algorithms,? he said.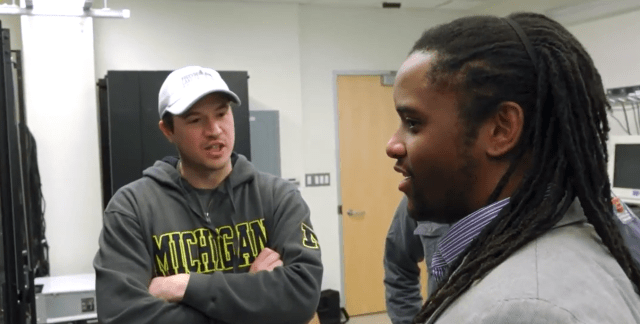 Mars has always been interested in computers and technology. He said that playing with robotics and computer games as a kid stimulated his passion for the field.
?I played a lot of computer games on these old computers ? games like Doom and Quake where you can create these things called modifications, and you can kind of adapt the game to be what you envision and create new kinds of variations on the game.
Then I discovered that the way to really go deeper with that is to learn how to program and learn computer programming,? he added. ?I knew well before I went to undergrad that I would do computer science.?
Mars got his bachelor?s degree at the University of Pittsburgh and then earned both his masters and Ph.D. in computer science from the University of Virginia. However he received much more than an education while in Charlottesville. That was where he met his life partner, Lingjia Tang.
?I joined the University of Virginia?s Ph.D. program and we met super early on,? Mars said. ?We started working together in grad school. It made a lot of sense. We do the same kind of research. Some folks were like, ?Won?t you guys fight and compete and all that?? And I was like ?Look dude, if we were not working together, we would be competing way more than working together on the same goal.?
[btn-post-package]?And the thing is we have complementary strengths,? he added. ?Lingjia is super careful about making sure all the details are covered and things make sense and we have a lot of evidence. I tend to be super-playful and looking at all the weird, crazy, out-of-the-box stuff. We kind of have this really nice, complementary style.?
Mars and Tang have stayed together since they met at Virginia. The couple spent one year together working at the University of California-San Diego before Michigan came calling in 2013.
Now, they have the perfect setup.
?We co-author all of our papers,? Mars explained. ?When we get a big paper, we celebrate together. If we get a big rejection, we despair together.
?It?s really worked out. Michigan is literally the best place in the world for the kind of research I do.?
By Jason Dorow