BTN.com staff,

April 14, 2016

As we get into the home stretch of the 2016 presidential primaries, it seems nearly certain that we?re close to seeing history in the making: For the first time, a woman will be nominated for the head of the ticket of one of the two major political parties.

Whether former Secretary of State, U.S. Senator and First Lady Hillary Clinton wins or not, she?ll have accomplished something important: showing young women that the highest office in the United States isn?t out of reach for them. And that?s the kind of message Rutgers University?s Teach a Girl to Lead project aims to deliver as well.

The initiative was started by Rutgers? Center for American Women and Politics and Eagleton Institute of Politics to make female public leadership more visible to youth and motivate young girls to follow in the footsteps of women politicians - and perhaps chase their own term in the Oval Office.

Jean Sinzdak, the associate director of CAWP and program director for Teach a Girl to Lead, said the program is primarily Web-based, and offers lesson plans, classroom supplies, activities, a database of books and films on women in politics, and links to videos of elected women leaders discussing their time in office.

?It started a couple years ago,? she explained, ?but it came out of this idea that we?ve always done public-education programs and all kinds of efforts to get more women involved in politics with college women and high-school girls. But we really have to start even younger to find ways to teach schoolkids about women?s public leadership.?

Though they?re the intended audience, the groups accessing this array of resources include ?teachers, educators, leaders of youth organizations, and parents and other adults that are in the lives of children to inspire them,? Sinzdak said.

?We wanted to have a place that ? makes it really easy for them to incorporate public leadership and civic engagement into the work that they are already doing,? she added.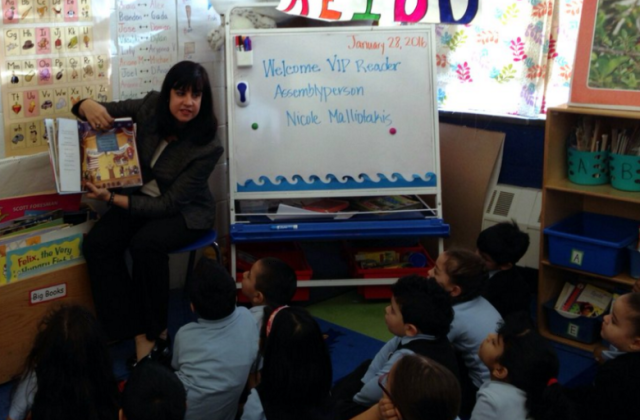 Teach a Girl to Lead?s most recent project involved sharing ?Grace for President? with boys and girls around the country. ?Grace for President? is a children?s book that tells the story of a young girl who, after discovering that every U.S. President has been a man, decides to run for class president and wins.
?It?s a great book because it teaches kids about campaigning, running for office and the Presidency,? Sinzdak said, ?but it also teaches kids about the electoral college, which is interesting because you wouldn?t think that a kid?s book could do that in a really fun way. We sent it to every woman state legislator, member of Congress and governor in the country, so almost 2,000 people.?
The female public officials who received the book were asked to hold reading days at local elementary schools to share the story and discuss their work in civic engagement with the kids. Many of the officials read to students on or around President?s Day or during Women?s History Month in March. With multiple women running high-profile campaigns for president this year - Clinton for the Democrats, Carly Fiorina for the Republicans - it was the perfect situation for the project.
?Nothing is more helpful than seeing other women and hearing their stories and being able to ask them questions,? Sinzdak said. ?It was a great and easy way to connect elected women directly with schoolchildren around the topic of civic engagement and running for office.?
The Teach a Girl to Lead website has numerous other resources, including a ?leaders lineup? map with contact information for women elected officials from around the country who have offered to speak to children about civic engagement and female public leadership.
[btn-post-package]Rutgers students have pitched in on the project too. The student interns attended Teach a Girl to Lead programs, and they tracked down many of the nationwide events and locations - including historic sites and field trip ideas - listed on the website. And graduate students are chipping in to create new lesson plans and expand upon the ones already in place.
Thanks to student involvement, a wealth of resources, and several existing and potential alliances, Sinzdak is confident that there?s a bright future for Teach a Girl to Lead.
?We?re part of a larger group of organizations that do not want to see civic engagement fall by the wayside,? Sinzdak said. ?Politics can get a bad rap these days because of partisanship and negative press and attention, but it really is a wonderful and very effective way to make a difference in your community. And we really want to help teach kids that and see the value of it.?
By Jason Dorow