Tom Dienhart, BTN.com Senior Writer,

April 13, 2016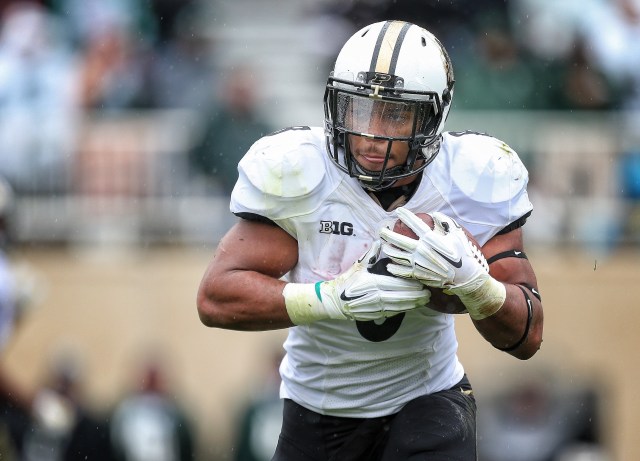 No Big Ten staff underwent more change after 2015 than Purdue, where Darrell Hazell has five new assistants and another who is in a new role. And that one assistant whose job has changed is Terry Malone, who was hired as the tight ends coach in 2015 and promoted to offensive coordinator this year.
[ MORE: Watch the Purdue spring game at 1 p.m. ET Saturday on BTN2Go ]
It?s a nice move by Hazell as Malone brings a familiarity with the roster and vast experience to the job after John Shoop was fired following 2015. Malone has coordinated offenses at Bowling Green and Michigan. While with the Wolverines, Malone helped the program win the 1997 national title. He also worked in the NFL from 2002-14 with the Saints as tight end coach, earning a Super Bowl ring in 2009 with Purdue legend Drew Brees.
Malone was promoted to coordinator at Michigan in 2002 under Lloyd Carr. In 2003, Malone was named a finalist for the Broyles Award, as the Wolverines tied for 12th nationally in scoring and 15th in total offense while setting school records in every passing category. Michigan led the Big Ten in passing for the first time since 1948 and set school marks for total yards en route to the conference title. Malone was on the last Wolverine staff to win a Big Ten title, doing so in 2004.
I caught up with Malone this week to see how the Boilermaker offense was coming together after the attack ranked 11th overall in the Big Ten (368.6 ypg) last year, ninth in scoring (25.1 ppg) and No. 13 in rushing (131.3 ypg).
Q: How is the offense developing?
A: I am very pleased. The guys are working very hard, paying attention to details. What you love in spring practice is when you make some corrections and you see guys try to get it corrected the next day-not making the same mistake twice. That?s what I?m seeing with this group. They are taking coaching and advancing and not staying in the same spot.
Q: How will your scheme be different than last year?s offense?
A: It will be quite different. We are going to be a West Coast passing team with gap blocking mixed in with some zone blocking. It?s significantly different.
Q: Is this David Blough?s quarterback job to lose?
A: There is great competition at that spot. David is holding on to it. And he is getting better every day. He is getting better. He?s a young guy and has a lot to learn and a lot to get better at. He is improving. You can see it. He?s really throwing the ball well. Elijah (Sindelar) is another young guy who is competing and has a terrific skill set.
Q: When will you pick a starter?
A: I don?t think that is very important. Having competition all the time is good. Life is about competition. There is nothing comfortable about it. Once you are named a starter, what does that mean? You have to go out the next day and practice and compete.
Q: Purdue was once known as the ?cradle of quarterbacks.? How key is it to get stability from the spot?
A: That stabilizes everything else you want to do when you have one quarterback who gives you consistent effort and production each week. It is hard when your quarterback is inconsistent or you are switching guys in and out. We are working on it. Right now, we are in the beginning phases of getting that in order. Our guys are competing and have the ability.
Q: How are the wideouts looking?
A: We will miss Danny (Anthrop). But we have a veteran group of receivers. The guy who has really come to light is Cameron Posey. He has had a great spring practice so far. He has shown some suddenness and get-open-ability. He has caught the ball well. I am pleased with Greg Phillips. He has developed into a really good slot receiver. Bilal Marshall is a guy who is bigger and a good target. He has shown a lot of good stuff.
Q: Are you happy with the running backs?
A: Markell Jones is an outstanding player. What separates him from other guys is he?s a really football smart. He has great sense. He understands protections and blocking schemes. He has a great feel for the game. When you a have that combined with his talent, it makes for a special young man.
Q: The blocking has struggled in recent years. Is the line coming together?
A: Like most teams, we don?t have enough numbers. You used to have 16 guys every spring and then add five guys in the fall. That?s not the case anymore. We have had injuries knock our numbers down in the spring. So instead of trying to build a two-deep, we are cross-training guys to get them ready to play. The guys we have are working hard and getting better, but I wish we had more numbers.
Q: Is the line your biggest concern?
A: I think so. There is not a whole lot you can do. You have what you have and keep your fingers crossed that everyone stays healthy. If so, we can have a really good unit. If we get dinged up, it?s gonna be a bit of a challenge. We will do what we can do best. When you make your decisions on offense, it starts with what your quarterback can handle and the line can handle.
Q: What will be your strength on offense?
A: I think we have to be able to mix it up. It is imperative that we don?t become one-dimensional. We are counting on our passing game to help our run game out of our play-action. If we can be two-dimensional no matter the down-and-distance, it gives us the edge. If not, it?s tough sledding.
Q: Who has influenced you?
A: I have been coaching a long time. I have had a lot of people impact me. One of the early guys who impacted me on offense was Dan Henning at Boston College. He taught me how to coach a system and not just plays, blend your run and pass games. Lloyd Carr is a tremendous influence. His disciplined approach, emphasis on toughness and doing things the right way every day has made a big impression. And Sean Payton with his offensive game plan and mind certainly touched me, too. I learned a lot of football from Sean.
***
Want to read a few more of my recent Q&A with new coaching appointees in the Big Ten? Check out these links:
[display-posts tag="big-ten-qa" posts_per_page="4"]
***
Email Tom Dienhart using the form below.
And if you want to leave a comment on this post, use the box below. All comments need to be approved by a moderator.