Tom Dienhart, BTN.com Senior Writer,

April 11, 2016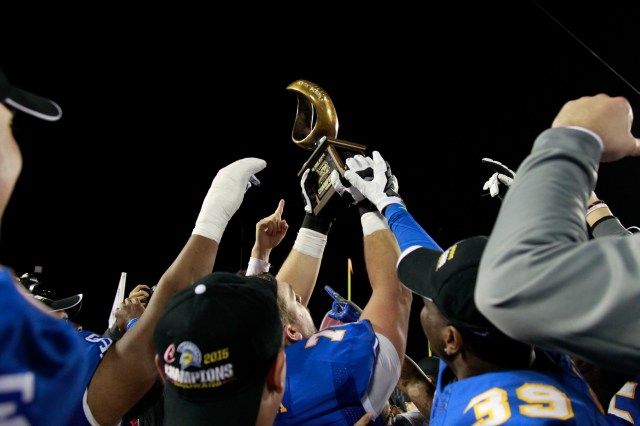 This just in from the ?What On God?s Green Earth Took So Long? department: According to an ESPN report, the NCAA has approved a ban on the creation of new bowls until 2019-at the earliest.
Can I get an "amen"?
This is about 10 years too late. But, at least this day has arrived, as the bowl excess has ended ? for now. You see, it isn?t true: If a little is good, more is better.
Look, I love blocking, tackling, eye black, neck rolls, chicken wings and marching bands as much as the next cargo-shorts-wearing American. But, the bowl system has gotten obese to the point of being pathetic. It's like watching an episode of ?My 600 Pound Life.? I cried each time I read about the creation of another Who-Gives-A-Crap Bowl between the fourth-place MAC team and the fifth-place Sun Belt squad. Even worse: Being told by TV honks that the game being played in Hoboken on a Tuesday in December at 4 p.m. ET really mattered.
How fat and grotesque had the bowl season gotten? Last year, there were a record 41 bowls. Now, some quick math: There are 128 FBS schools, so that means 82 of them played in a bowl. That comes to 64 percent. By comparison, 19 percent of the 351 Division I men's basketball teams make the NCAA tournament.
Here is an idea, one I've brought up many times before: Why not just let every FBS school schedule a 13th game? End the bowl charade and just keep the four-team playoff that was hatched two years ago. That?s all that matters.
This year, Austin, Texas, Myrtle Beach, South Carolina, and Charleston, South Carolina, reportedly wanted to get into the bowl business. It surely only would have been a matter of time before Terre Haute, Indiana, Pueblo, Colorado, and Bakersfield, California, got in on this hot action.
Mercifully, we have reached that point where the NCAA FINALLY is pushing away from the bowl buffet ? at least for a bit. But why stop there? Why not kill some bowls? Hey, I already have a list of the ones I?d deep-six. Just email or call if you need help. No charge. I'm just doing my duty to make this great sport better.
Don?t think bowl contraction is a good idea? Want proof? I present the glory of the 2015 The AutoNation Cure Bowl, which pitted 5-7 San Jose State vs. 5-7 Georgia State.
Why was this played? Who thought this was a good idea? Did someone make money? Did the players make ?memories for a lifetime? at pie-eating contests, karaoke battles and bowling events in the leading up to the game?
San Jose State rallied to win, 27-16. And I?m still quivering.
Bowls have totally lost their point, becoming as meaningful as that 1992 T-Ball participation trophy that sits in a box in the basement by your Thomas the Tank Engine. Bowls have gone from being rewards for seasons of glory to made-for-TV events dreamed up by cable TV execs in board rooms between sips of VOSS and catered lunches of chicken salad on a croissant. It's all about filling a TV schedule. After all, you can only show so many lumberjack competitions and poker tourneys. What America really needs is Middle Tennessee vs. Buffalo battling in a bowl in Aruba. If a ?bowl? label is slapped on it and promoted enough, the public will think it is a big deal, right?
For now, the cork has been put in the bowl spigot. And for that, we can be grateful. More isn?t better. It?s true.
***
Email Tom Dienhart using the form below.
And if you want to leave a comment on this post, use the box below. All comments need to be approved by a moderator.