BTN.com staff,

April 10, 2016

Sometimes the smallest things can make big differences. The sway of a bridge or building caused by wind is barely perceptible for most people, for instance, but Ryan Harne sees a major potential source of energy in what few others even notice.

An assistant professor in Ohio State?s department of mechanical and aerospace engineering, Harne has studied vibration-energy harvesting for several years. His research examines how the movements of large structures, like skyscrapers and bridges, could translate into usable energy.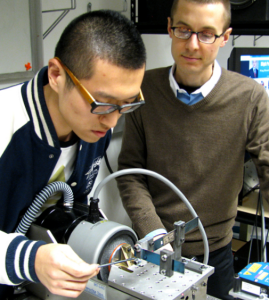 ?If a bridge weakens steadily over time due to swaying, nowadays it?s quite common to go ahead and either retrofit those large structures with sensors or to build them new with a large network of these monitoring sensors,? Harne said. ?The trouble is, how do you power those sensors?
?You don?t want to send someone out every couple months replacing batteries,? he added. ?And there are many bridges that aren?t powered and they don?t have lines, at least easily accessible where all these sensors are going to be. So the thought is that these sensors don?t require much power, so can we use the vibrations of that bridge itself.?
There are many applications for this energy source, too. Harne said harvesting ocean-wave energy is already in practice, one of his colleagues is looking into pacemaker energy harvesters, and vibrations could be used for ecological monitoring.
?There are some people looking into wildlife tracking where you need tags on animals, but a battery is probably not going to work,? he said. ?And, of course, you can?t monitor bird migration with a line attached to a bird somewhere. However, birds do vibrate, and a lot of wildlife move around. So, if you can catch the energy, you can convert it into electricity to power that tracking sensor.?
Vibration-energy harvesting actually isn?t that new of a concept. The field has grown for 25 years, according to Harne, but that growth has been slowed by several challenges that kept the technology from hitting the market.
The amount of energy that can be acquired through vibrations is rather limited, and thus the technology probably could not power more than a tracking monitor or sensor. Still, Harne believes continued experimentation with producing energy through vibrations will lead to a breakthrough.
?We need something that?s sustainable,? he said. ?So if we have a self-powered sensor, that would be the wiser solution. I think we?re approaching some tipping points.?
Before starting at Ohio State, Harne studied at Virginia Tech, where he earned his bachelor?s, master?s and doctoral degrees in mechanical engineering. From 2012 to 2015, Harne was a research fellow at the University of Michigan, where he developed a prototype, tree-like structure, with branches that capture energy when they vibrate.
Upon his arrival in Columbus, Harne helped launch, and became director of, Ohio State?s laboratory of sound and vibration research. He then recruited a handful of undergraduate students to join the lab and assist in this research.
[btn-post-package]Harne and the students don?t actually create sensors, but they experiment and design proof-of-concept devices, which could develop the understanding for how to make the sensors. Harne emphasizes the importance of hands-on skills and generating intuition in his lab.
?I really want the people on my team to have the greatest opportunities available to them in their profession in whatever they do,? he said. ?And to realize that, they need the broadest skillset and greatest amount of engineering understanding.?
Although the laboratory has only been around for nine months, the group has already done plenty of research outside vibration-energy harvesting. They have submitted patent applications for two other projects, one of which involves materials for noise control, which could be used in cars and other vehicles.
As long as the lab continues to innovate and students show interest in this research, Harne isn?t going anywhere.
?We?re making a lot of headway here in a very short period of time,? he said. ?And that?s because I love this job, and I?m looking forward to loving it for a long time.?
By Jason Dorow