Brent Yarina, BTN.com Senior Editor,

April 5, 2016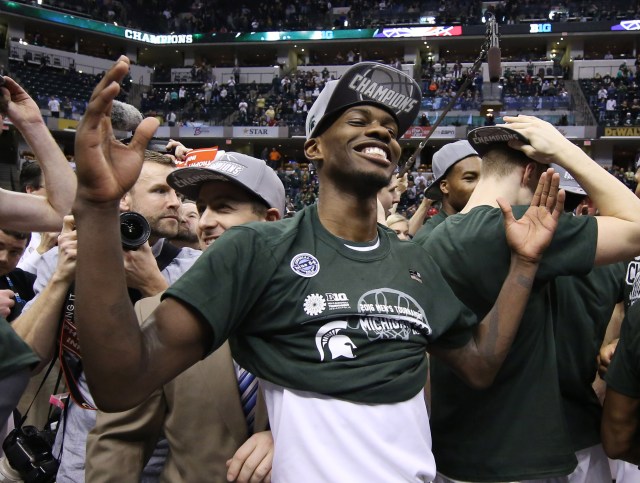 The 2015-16 men's college basketball season came to a thrilling close Monday night, which means it's time to scour the web for the inevitable way-too-early 2016-17 top 25 polls.
We took a look a seven insanely early rankings below, and the Big Ten fares quite well.
Take all of this for what it's worth – not a lot – because there are so many unknowns, starting with several to-be-determined NBA draft decisions.
BleacherReport.com
5. Michigan State
11. Indiana
12. Wisconsin
20. Purdue
CBSSports.com
6. Michigan State
12. Indiana
13. Maryland
15. Wisconsin
ESPN.com
8. Indiana
9. Wisconsin
13. Michigan State
14. Maryland
16. Purdue
NBCSports.com
5. Michigan State
11. Wisconsin
16. Maryland
21. Indiana
SportingNews.com
6. Michigan State
9. Wisconsin
10. Indiana
18. Purdue
25. Maryland
USA Today
7. Michigan State
17. Wisconsin
18. Indiana
Yahoo!
5. Michigan State
9. Indiana
13. Wisconsin
***
A couple quick thoughts:
1. Wisconsin is underrated, perhaps vastly so. The Badgers could return everyone, including stars Ethan Happ, Nigel Hayes and Bronson Koenig, plus they welcome two heralded recruits (Brevin Pretzl and Andy Van Vliet) who can be instant contributors. Add it all up, and that seems like a top 5-ish team.
2. Don't forget about Michigan? No, the Wolverines shouldn't be listed in every poll, but John Beilein returns a lot of talent, headlined by point guard Derrick Walton Jr. In other words, don't be surprised if Michigan is a top 25 team next season.