BTN.com staff,

April 2, 2016

Have you ever left your house and forgotten whether you locked the front door or fed your dog? Or perhaps you can?t remember where you left your wallet?

A group of Northwestern students teamed up to help you answer all of those questions, no matter where you are. And their solution to the problem is pretty cool, too.

Jackie Wu, the 25-year-old CEO of Eighty Nine Robotics, holds bachelor?s and master?s degrees from Northwestern. He first envisioned his ?Rook? - a fly-from-anywhere drone for the home - in Fall 2014, when he began his master of Science in Robotics at NU.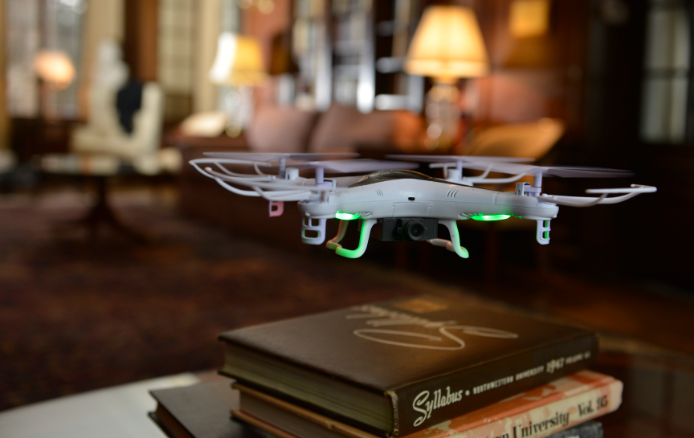 ?I came into this program knowing that I wanted to start a robotics company, a tech company,? he explained. ?I just didn?t know what idea. I sat down and wrote ideas out, and number 89 was an indoor home drone. I looked around in the market, and no one else in 2014 was doing it. Still, no one else in the world is doing this.?
After proving the legitimacy of the concept, and assembling a team of Northwestern undergraduates studying everything from computer engineering to film, Wu and Rook got the big break they needed. Eighty Nine Robotics received a seed grant from The Garage, Northwestern?s new incubator for ideas, innovation and entrepreneurship.
The Garage is a workspace for all Northwestern students, but its main focus is providing the resources, services and funding for student start-ups to thrive. Eighty Nine Robotics has received accounting help, legal and marketing advice, assistance with investor pitches and storage room - all free from The Garage.
Connor Regan, Eighty Nine Robotics? marketing manager, just wrapped up his undergraduate studies at Northwestern. He said all of the team members collectively spend about 100 hours at The Garage each week.
?The Garage is the first space where everyone - no matter what you study, no matter what you do at Northwestern - can come together and work on entrepreneurship,? he added. ?It feels good to work alongside other people who are working on these ideas.?
Rook took off rather quickly, thanks in large part to support from The Garage, and the team of nine students finished a prototype in January. In addition to being the first fly-from-anywhere drone, it has sensors for collision avoidance, voice-command capabilities and a wireless base for charging.
[btn-post-package]Eighty Nine Robotics has primarily billed Rook as a home-security product, capable of providing live video anywhere in the house at any time. But it?s got many other potential uses. Several real estate companies inquired about using Rook to show houses and apartments through virtual tours, and Wu said the company is also exploring the potential for adding games to the device.
?We?re hoping that Rook can be used for kids to gain exposure to robotics, to drones, to this kind of stuff,? Wu said. ?And so we are developing this software platform that has cartoon figures that kids will like, and they can easily control it. By doing this, Rook moves forward.?
With a bunch of potential uses and a relatively low price-point - the drone is expected to retail between $200-250 - Rook gained even more traction when Eighty Nine Robotics started a fundraising campaign in February.
?We launched an Indiegogo and we hit our goal [$20,000] on the second day of the public launch, which was awesome,? Wu said. ?That?s the minimum goal needed for us to actually go to China [for manufacturing] and get this things started.?
About 60 percent of Rook?s more than 350 backers on Indiegogo are Americans, but Wu said they?ve received contributions from people in 38 different countries and territories. The startup raised more than $50,000 before the end of the campaign.
The worldwide attention on the small student-run business in The Garage lead to Eighty Nine Robotics making Inc.?s list of ?16 Coolest College Startups of 2016.?
They might not be a start-up for long, though. Eighty Nine Robotics expects to start shipping Rook before the end of the year, and Wu said they hope to eventually sell their home drone via online retail.
In order to make that happen, Wu and his team of undergrads are spending nearly every night at The Garage, where approximately 50 other development teams and student startups are striving for similar success.
?I think stimulating student entrepreneurship, lowering those barriers to entry, and having a bunch of smart kids in various areas, like media marketing, hardware engineering, software engineering and economics, coming together and launching profitable companies ? I think that is they way of the economic future,? Wu said.
By Jason Dorow