Tom Dienhart, BTN.com Senior Writer,

March 30, 2016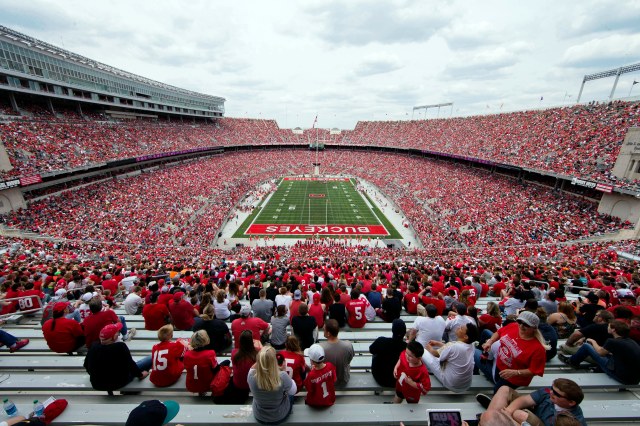 Ohio Stadium already is a palatial venue. And the iconic stadium is about to become more palatial.
As part of a $42 million Ohio Stadium renovation that will remove 2,600 seats in B-deck and convert that seating area into new loge boxes, Ohio Stadium's capacity starting with the 2018 season will dwindle to 102,854 fans.
***
This should jack up Michigan State fans: A spring football photo gallery.
***
Speaking of Michigan State, how could Illinois? hiring of Lovie Smith hurt the Spartans? Well, MSU has made a habit of invading the Land of Lincoln for talent. But, it may be more difficult to cull talent from the state with Smith at the helm of the Illini.
Mike Griffith of Mlive.com notes that the Spartans signed five players out of Illinois in the 2016 class, including four of the top 10 according to the 247Sports composite rankings. Michigan State has signed 10 players from Illinois in the past three years, and the state ranks a distant third (14 players) behind Michigan and Ohio for number of players signed in Mark Dantonio's 10 years as the Spartans' head coach. Still, getting players from Illinois to East Lansing may be more difficult.
***
What does Lovie Smith in Champaign mean for Northwestern? InsideNU.com takes a look.
Anyone who grew up watching the Bears is going to have a tie to Smith that no other coach can match. No one is sure how much that selling point is going to be worth, but we do know that Smith and his staff are going to have a full year to play with it while Pat Fitzgerald is recruiting nationally. The Smith dynamic could tip the scales toward Illinois, if he can have some quick success on the field.
***
You won?t know your Big Ten hoops transfers without a scorecard ? or this piece from Bill Landis of Cleveland.com. Thanks!
***
Much has been discussed about Rutgers? new power-spread offense. The school used to be pro-style under Kyle Flood. What will the biggest differences between the two schemes? NJ.com takes a look. This could be a lot of fun.
The power spread scheme being implemented by new offensive coordinator Drew Mehringer operates at a breakneck pace, especially compared to the deliberate pro-style offense Rutgers has used in the past. NJ.com says Rutgers will no longer huddle. Instead, players sprint to the line after each play and look to the sideline for the call to be signaled.
"Everything is kind of on the fly," QB Chris Laviano said. "There is a lot on our plate as well as stuff that's called in from the sideline. It's just a different type of offense."
***
Check this out: Wisconsin plans to give ILB Leon Jacobs some work at tailback.
"We're looking to get back to the physicality on offense that defined Wisconsin in the past," said RB coach John Settle said.
At 6'2", 233 lbs., Jacobs would provide just that. As a linebacker, Jacobs compiled 45 tackles over the past three seasons, but missed most of 2015 with a toe injury. A junior last season, the Badgers were hopeful Jacobs would be given a medical redshirt by the NCAA. Settle and OC Joe Rudolph both noted Wisconsin's depth at inside linebacker played a large role in the position switch. Chris Orr and TJ Edwards impressed last season in their freshmen campaigns, and Jack Cichy became one of the defense's top playmakers.
***
Wisconsin hoops is in the news, as long-time assistant Gary Close is moving on to pursue other opportunities.
Having spent the last 13 seasons coaching at Wisconsin, Close is a 29-year veteran of Division I basketball. During his time in Madison, the Badgers made the NCAA tournament all 13 years, including back-to-back Final Four appearances in 2014 and 2015, and the national championship game in 2015 for the first time at UW since 1941. Close's tenure at UW included two Big Ten regular season championships and three Big Ten tournament titles.
***
We learned earlier in spring drills that Michigan is using Jabrill Peppers at linebacker a lot. Well, that hasn?t changed as the schools preps for Friday?s spring game, according to Mlive.com. This move makes sense when you consider the versatility of Peppers.
"He's probably 70 (percent at linebacker)-30 (percent elsewhere)," DC Don Brown said. "He's doing a lot of things. You won't see it all on display Friday (in the spring game), that's for sure.
"But he's doing enough stuff that keeps his plate full. There's no question about that."
In Brown's defense, the SAM linebacker — traditionally — has been a player who can help against the run, make plays in the opposition's backfield and spread out to cover tight ends or slot receivers.
***
Email Tom Dienhart using the form below.
And if you want to leave a comment on this post, use the box below. All comments need to be approved by a moderator.