Jon Crispin, BTN men's basketball analyst,

March 21, 2016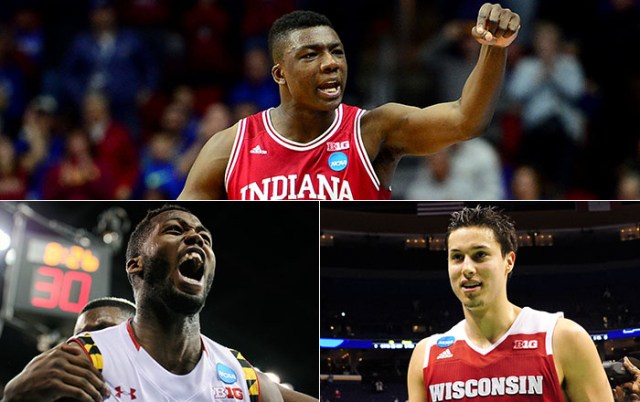 And then there were three.
[ MORE: View interactive NCAA tourney bracket ]
A trio of Big Ten teams are in the Sweet 16, starting Thursday night, including reigning national runner-up Wisconsin, which is making its third consecutive regional semifinal appearance and nation's best fifth in the last six seasons.
Big Ten regular season champ Indiana and Maryland join Wisconsin in the Sweet 16; with victories Friday night, the Hoosiers and the Badgers would meet Sunday in Philadelphia with a Final Four berth on the line.
Here are a few thoughts on the three remaining Big Ten teams, and what they have to do to advance.
INDIANA
Region: East
Sweet 16 opponent: No. 1 North Carolina
Game info: 9:57 p.m. ET, Friday (TBS)
Tom Crean has had to deal with a lot this season. First, there are the on-going pressures that come from being the head coach of one of the greatest basketball programs in the history of the game. The expectations will always be high, regardless of the circumstances. It?s a pressure that comes with the territory. Then there are the injuries. Losing James Blackmon Jr. for the season did not make this team better. It did bring out the best in the players that remained. I always say, good teams respond well to adversity; great teams get better when faced with adversity. Somehow, the Hoosiers found a way to improve when dealt a few tough blows. Even when Robert Johnson went out with an ankle injury, the Hoosiers responded by picking up two huge wins, at Iowa and vs. Maryland, to win the outright Big Ten crown.
For the Hoosiers to advance, they?ve got to remember who they are at all times vs. North Carolina. Indiana is an adequate defensive team, one that relies on the pressure it puts on opponents with an offensive attack that forces the defense to chase the play and cover multiple perimeter threats. The consistent attack has not been the issue as of late. IU has been the aggressor in the games they have won, and that is the recipe for its success. The key for the Hoosiers will be to take care of the basketball, limit careless turnovers and minimize easy basket opportunities created by gambling for loose balls, rebounds and steals. Troy Williams can single-handedly win some games with his playmaking ability, but, on this stage, making the simple play and simplifying the attack will go a long way. With injuries to Johnson and Morgan, expect to see much more of O.G. Anunoby who in my opinion is the biggest difference maker on the team. Attacking for 40 minutes and forcing UNC to play on their heels (no pun intended) will put the Hoosiers in a position to win and advance.
***
MARYLAND
Region: South
Sweet 16 opponent: No. 1 Kansas
Game info: 9:40 p.m. ET, Thursday (CBS)
The Terps entered the NCAA Tournament with a lot of questions to answer. With talent, length, depth and experience and the look of an NBA roster, you?d think this team would be one of the clear-cut favorites. This season has been a challenge for Mark Turgeon, Melo Trimble and crew. While the Terrapins are one of the most balanced teams in the Big Ten, they struggled to reach their potential on a consistent level. The Big Ten tournament semifinal matchup vs. eventual champ Michigan State gave me hope for Maryland and what they could achieve in the NCAA Tournament. There were struggles at times to score on the offensive end, but the defense and intensity with which they played was championship caliber.
For the Terps to get past No. 1 overall seed Kansas and make a run for the Final Four, the defense needs to be stifling in the half court and second chance points cannot be an option for a very aggressive Kansas front line. Additionally, Trimble and the versatile ball handlers (Rasheed Sulaimon, Jake Layman and Robert Carter) have to find opportunities in transition. Against Hawaii, Maryland went on a decisive 14-0 run that sealed what had been a close game. It was one or two stops that led to baskets in transition and a couple of steals that led to run-outs and open perimeter jump shots. Couple a few of those runs with grinding halfcourt execution, and the Terps would quickly become one of my favorites to win in Houston. When they get out and run, they seem to have fun. Positive body language and finding joy on the court is a key to their success.
***
WISCONSIN
Region: East
Sweet 16 opponent: No. 6 Notre Dame
Game info: 7:27 p.m. ET, Friday (TBS)
The Badgers continue to shock the college basketball world by refusing to go away and get ready for next season. They truly believe that they can make a third consecutive run to the Final Four, and it?s hard to argue with them when you look at who they?ve beaten along the way. With wins over Michigan State, Maryland, Indiana, Iowa, Pitt and Xavier, there?s no reason for them to lack belief in themselves as a unit. The style of play may be a bit of a grind, but we are only seeing the beginning of what is to come under Greg Gard. Taking over the program in mid-December as the interim coach, Gard has only been able to install a portion of what he?d like to see from this team. At the moment, the Badgers know what works for them. As they develop over the next few years, we?ll see Wisconsin attack more as players will have a better understanding of the options and goals of the offense.
For the Badgers to get by Notre Dame, they have to stay in their lane and stick to the course. Wisconsin is not a team that will get out and run and try to maximize possessions, yet it will take the opportunities when they are presented. It is not the type of team that will gamble a lot on defense, either, as its goal is to force opponents to be as efficient as possible on the offensive end of the floor. Offensively, the Badgers have to be efficient and apply pressure to the defense at every position. In watching the past few games for the Badgers, I put a lot of the pressure on Nigel Hayes. Hayes tends to float at times on offense, which makes it easier for his man to cover him. If he is more aggressive without the ball, he will not only put himself in better position to make plays, score and get to the foul line, he?ll help create better spacing on offense, which will open up opportunities for Ethan Happ, Bronson Koenig and Vitto Brown. Hayes can be the key for this team so long as he puts the effort in when he does not have the ball. It sounds simple enough, and that?s how it should be. The Badgers have found success focusing on getting better every night out. They have taken care of what they can control and all the credit goes to Gard for sticking to the plan and trusting the process in one of the most difficult situations one could imagine: a 3-month audition. Clearly, he nailed it and got the part.