BTN.com LiveBIG Staff,

March 13, 2016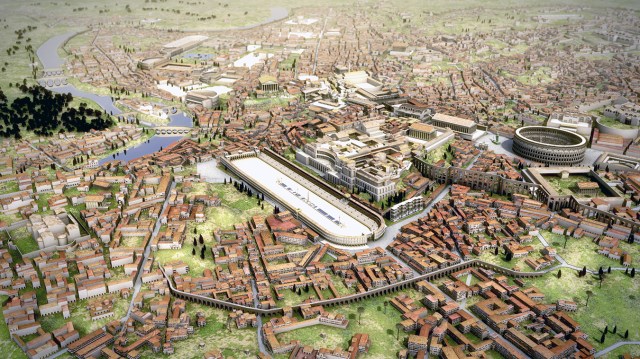 Rome wasn?t built in a day. Neither, for that matter, was ?Rome Reborn.?
This initiative to create a realistic virtual replication of Ancient Rome is the brainchild of Bernard Frischer, a professor at Indiana University?s School of Informatics and Computing. And the impressive result is due to innovative ideas and hard work carried out through his career.
Frischer came up with the idea back in 1974 shortly after he?d arrived in ?The Eternal City? as an academic fellow at the American Academy of Rome.
With his classics academic background, Frischer was fascinated by the monuments of antiquity he saw during his many tours around the city. But the inspirational spark for what would one day become Rome Reborn came when he first glimpsed a large, detailed model of the ancient imperial capital. Held in a large gallery, visitors could walk around the perimeter of this scaled-down reconstruction from a surrounding balcony and examine it from a variety of perspectives.
?It was breathtaking,? he said.
[btn-post-package]The concept of virtual reality was still largely in the realm of science fiction. However, Frischer?s family owned and operated movie theaters, and he?d studied electronic music and photography. Consequently, he possessed an intuitive understanding of both multimedia presentations and the potential of technology, and at that time he formulated a loose vision for Rome Reborn.
Shortly after his stint in Rome, Frischer came across other early examples of how to use new technical platforms to create simulated environments. One of these was the Aspen Movie Map, a virtual replication of Aspen, Colo., created by a team at MIT.
As he continued exploring these novel technologies and concepts, he also joined the faculty at UCLA, where he would teach for nearly three decades. During his time there, he formally began the Rome Reborn project and became a founding member of an entirely new academic field: virtual heritage.
Frischer believes this discipline will grow in both the academic and public sector, and Indiana University apparently agrees, as it lured him out of retirement with an opportunity to start a virtual heritage doctoral program there.
?It?s not just creating virtual 3-D photocopies of ancient objects,? Frischer said of virtual heritage. ?We want to create some sense of what it looked like when it was new. You have to ask very detailed questions about design, and these are often questions no one?s ever had to ask before.?
Virtual heritage not only offers an engaging tool to educate people about historic objects and environments, but also provides opportunities for what Frischer calls ?simpiricism.? A portmanteau of empiricism and simulation, the term refers to researchers being able to verify characteristics of a building or work of art from the distant past by digitally recreating it.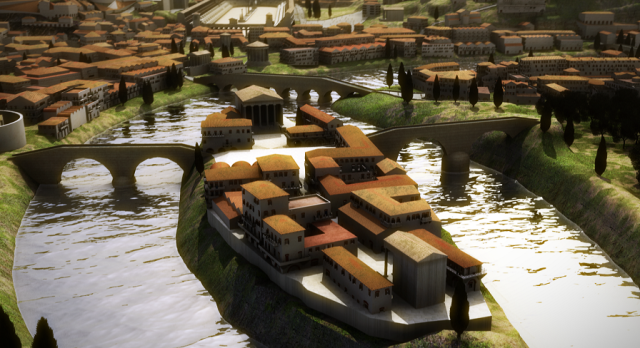 The Rome Reborn project in particular has boosted the field of archaeology by expanding its scope beyond individual artifacts or small sites to cover an entire city, Frischer said.
?Ninety-nine percent of the work done in Roman archaeology has focused on a single monument,? he explained. ?People spend decades studying a single structure or something, but not how the part fits into the larger whole. We have made some discoveries [about ancient Rome], but I think we?ve only scratched the surface.?
Moreover, the quality of the simulation of ancient Rome has expanded and improved as technologies have gotten more advanced and less expensive.
?The price has gone way down in the past 30 years,? Frischer said. ?Drones have come into play. We?ve made models of hundreds of ancient statues. All of these things can be done quickly and don?t cost that much, and the results are much better.?
Plus, the availability and affordability of cutting-edge technology mean that in the not-too-distant future, literally millions of people will be able to explore this simulation in a way that?s not too far off from the Star Trek ?Holodeck.?
Frischer pointed to the recent breakthroughs of virtual reality company Oculus Rift as an example of how these environments will be made more realistic, interactive and accessible.
?That helped scale the VR technology and bring it to the consumer level,? he said. ?It?s going to finally make it possible for Rome Reborn out to the people of the world as an interactive, immersive, 3-D experience. When that happens, our mission will be fulfilled.?
By Brian Summerfield