BTN.com LiveBIG Staff,

March 12, 2016

In the weeks following the revelation last fall that the water supply of Flint, Mich., contained lead, the University of Michigan and Michigan State communities made herculean contributions in dealing with the initial public health crisis. Now, members of both institutions are turning their attention to finding lasting solutions for residents of the city.

Marty Kaufman, chair of the Earth and Resource Science Department at the University of Michigan?s Flint campus, is one of those people. He headed up a research project through the university?s Geographic Information Center that identified and mapped out the locations of lead pipes in Flint, working from city records that were often handwritten.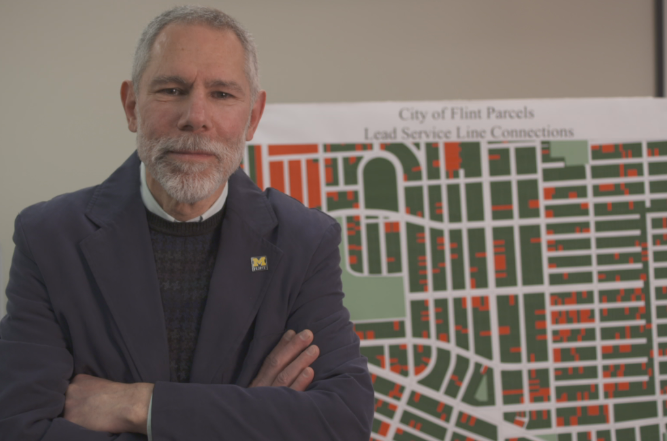 ?We can take information on specific locations, and we can put those on maps and look at relationships between different things,? he said. ?It?s not just finding where pipes are. [We] correlate the locations of lead pipes with high levels [of lead poisoning] in children or in water that people are finding in their testing.?
Getting that information was a challenge from the get-go, as Kaufman discovered the record-keeping system for the water pipes wasn?t exactly cutting-edge.
?When we went to the Water Department, the first thing they showed us was 45,000 index cards - three-by-fives, like the old card catalogues we had in the library when I was in elementary school,? Kaufman said. ?They were written in pencil, some of them were smudged, and a lot of the address information was missing. We said, ?Well, we can?t use those.??
However, some of that information had been transferred over to parcel maps, and included numeric codes relating to pipe materials and service lines. Kaufman said there were 240 of those maps, and each one had to be examined to provide a more complete picture of Flint?s water system.
?We knitted together all 240 files,? he added. ?We referenced them to an existing parcel database and then we transferred the codes from the image files into the database. Once they were in a database, that gave us the capability of looking at that information in context with other information.?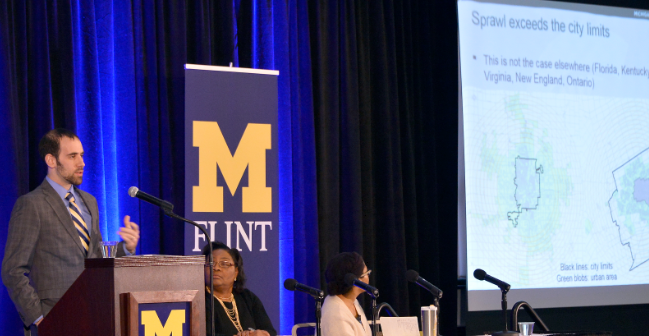 Much of the valuable ?other information? came from researcher Rick Sadler, a geographer and assistant professor in the MSU College of Human Medicine Division of Public Health.
As someone working in the highly specialized field of medical geography, he was able to geo-code the residences of all the children who tested positive for elevated lead levels. That required getting into some minute detail, he said.
?Here in Flint, we have zip codes that run from the middle of the city, basically in a wedge, all the way out into rural farmland,? Sadler explained. ?So you could live in that zip code and it might have a very poor health index, but if you live in the rural or the exurban part of it, it?s not going to represent you well. There are smaller geographic units that you need to consider. What I did in the lead mapping is similar to what you see when you look at a weather map. It?s like the intensity of snowfall or rain.?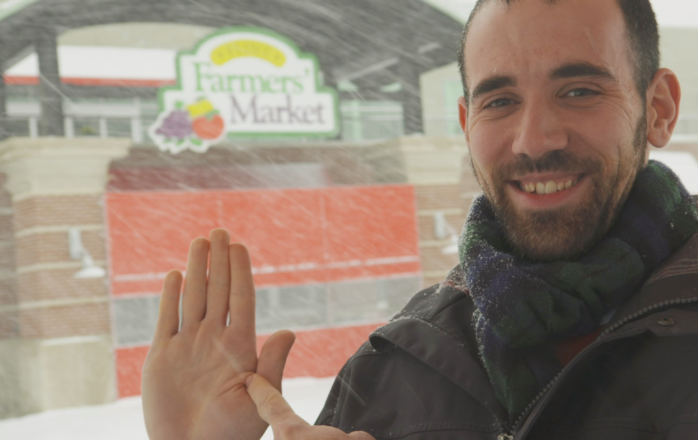 That?s a great start, but Kaufman said there are still thousands of properties in the city that have no reliable data about service lines. Moreover, there are more than 15,000 homes in Flint built prior to 1930 - a key year, he explained, because those houses are likely to have water brought in through pipes with lead materials.
They?ve got a long way to go, but Kaufman and his team intend to work on this issue until it?s solved.
?Our driving force is to help anybody who is trying to help return Flint to a situation where people can have confidence in their water again,? he said. ?It?s part of our core mission at the university and the reason why this center exists. We set this up in order to help people solve problems, especially environmental problems.?
Sadler is also committed to continuing to assist in Flint?s recovery, and not just within the confines of his academic discipline.
?I do a lot of work with the Edible Flint local food collaborative,? he said. ?That?s naturally community-based. The whole goal of that organization is to help people start gardens and grow their own healthy local food.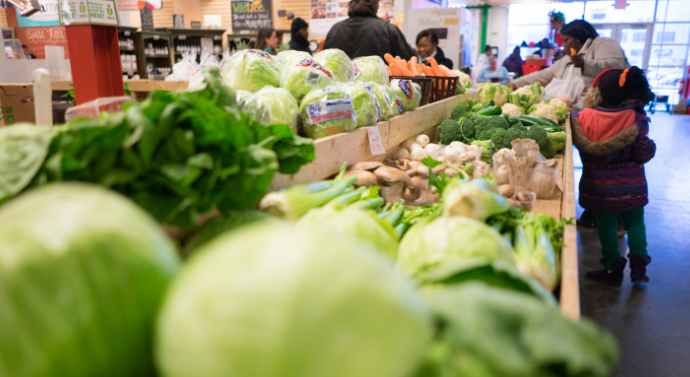 ?We?re talking about sustainable solutions, and having nutrition easily available is definitely a part of it. I?m also an urban geographer, and so a lot of what I look at is how policies create these problems. What caused this was not just bad local governance or some one-time decision that made all of these dominoes fall. It was the fact that since the 1950s, Michigan cities have been struggling to incorporate suburban territory to share tax bases, to keep their education systems modern. We invest in new park systems and police services and educational systems outside our central cities, and we basically just duplicate things that already exist. Likewise with the water system.?
According to Sadler, the development and sprawl over time led to a fragmentation of water systems, and not only in Flint. Some of these have been well-maintained and -funded, but others have fallen into disrepair and mismanagement. He said to avoid seeing crises like this one play out elsewhere, politicians, public officials, developers and other key leaders should approach the expansion of infrastructure with rational solutions that are made to last.
?If we want to talk about long-term solutions, we need to look at ways that our government and education systems inherently create disadvantages for kids who live in central cities,? Sadler explained.
[btn-post-package]In Flint, the turnaround will ultimately come from a combination of the city?s resiliency and the toughness of its residents, as well as long-term support from institutions like Michigan State and the University of Michigan.
?It?s a community with a long, proud history of social action,? Kaufman said. ?This is a community that?s down but not out. That part of the psychology is important for the recovery. You can see that when trucks come to deliver water, and people are coming out [to help]. We?ve got university students out there with people from the community. It?s a very united effort.?
Get more information about UM and MSU?s initial response to the water crisis, and watch a one-minute video to see how they?re working with the community on the recovery.
To donate to the cause, go to flintkids.org.
By Brian Summerfield