Brent Yarina, BTN.com Senior Editor,

March 6, 2016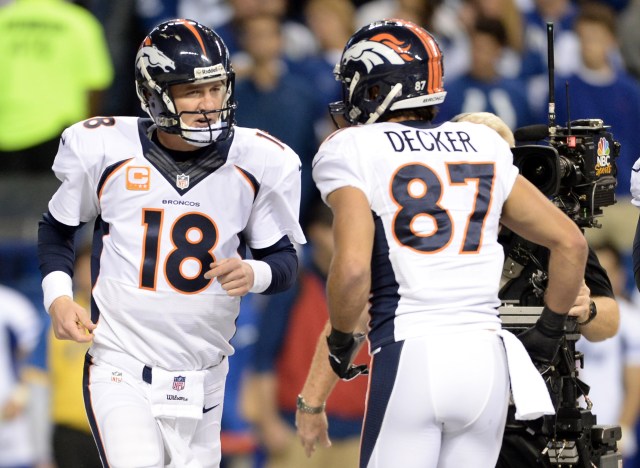 It's official: Future NFL Hall of Fame quarterback Peyton Manning has retired.
The former Indianapolis and Denver signal-caller made the announcement Sunday, nearly one month after leading the Broncos to Super Bowl 50.
Manning finishes his career with a laundry list of NFL records, including all-time touchdown passes (539).
For a little fun, and to put a Big Ten perspective on Manning's retirement, let's take a look at the Big Ten names who caught at least one of the quarterback's 539 career scoring strikes.
Dallas Clark (Iowa): 44
Eric Decker (Minnesota): 24
Ken Dilger (Illinois): 7
Anthony Gonzalez (Ohio State): 7
Blair White (Michigan State): 5
Owen Daniels (Wisconsin): 3
Ben Utecht (Minnesota): 2
Lance Ball (Maryland) caught one Manning touchdown pass, as well, but he played for the Terrapins before they entered the Big Ten.
***
BY THE NUMBERS
92: TD catches by Big Ten names.
17%: The percentage of Manning's total TD passes to Big Ten names.
7: Number of Big Ten names to catch at least one Manning TD pass.
6: Big Ten teams with at least one player to catch a Manning TD pass.
2: Number of players (Marvin Harrison – 112; Reggie Wayne – 67) who caught more Manning TD passes than Dallas Clark (44).
***
One final factoid: Former Michigan State WR Bennie Fowler was on the receiving end of Manning's final NFL "pass." If you recall, it was Fowler who caught the two-point conversion with 3:08 left in Super Bowl 50. Two-point conversion plays don't count in the stats, however, so Fowler was not credited with a catch.
So it's official I caught p money's last pass wow what a blessing shoutout to the sheriff on a great career !

— Bennie Fowler (@Beanzz16) March 6, 2016