BTN.com staff,

March 5, 2016
As a captain and guard on the Wolverines basketball team, David Merritt was the kind of selfless team player who helped others look good. And today, this 26-year-old University of Michigan alumnus is still helping others look good - and positively impacting young people?s lives in the process.
Merritt is the founder of a new clothing line called Merit, which produces apparel with an understated tone. Many of Merit?s offerings have themes relating to his home city of Detroit - appropriate given that the company?s sales go toward helping underprivileged students in that city.
Twenty percent of Merit?s proceeds go to a group he started that gives inner-city students a chance to go to college. In addition to life-skills instruction, the program has funded $5,000 scholarships for several Detroit high schoolers so far.
?We didn?t just want to raise money for them,? Merritt said. ?We wanted to actually help them. It?s pretty exciting. We have great students. It?s just been a tremendous experience. The kids have really enjoyed it. They?ve been able to build meaningful relationships with mentors.?
Indeed, Merritt?s group has engaged the kids for the past four years, offering workshops and mentoring programs to prepare them for college and beyond.
?We have always had a really big passion for young people,? said Merritt, who added that he got inspiration for the program from ?growing up in Detroit and just seeing how blessed and fortunate I was, with parents that taught me values.?
Merritt?s father, Andrew, started the Straight Gate International Church, serving as a pastor and, now, a bishop. David followed in his footsteps, becoming a pastor at the Detroit church.
Growing up in the Detroit area, Merritt knew he was one of the lucky ones.
?I had peers who didn?t have those same opportunities,? he explained.
To help his fledgling program succeed, Merritt tapped into the organization of another former Wolverine hoops star. He partnered with the Jalen Rose Leadership Academy - a Detroit charter high school - to find participants.
Each of the 22 students who originally applied were allowed into the initial program. Now, four years later, most have already been accepted into college, and Merritt expects the rest will make the journey to higher education.
The program also leverages Merritt?s Michigan connections to provide real-life experience for the kids in the group.
[btn-post-package]?We want to provide resources and opportunities,? he said. ?It?s centered on exposure to higher education. We have project-based workshops that we develop with companies, with non-profit organizations. Primarily, they go up to Ann Arbor, they are presented with a project, and then share what they learn.
?U of M students mentor in the program,? he added. ?Most of the workshops have happened on campus or the surrounding Ann Arbor area. And the university has put on workshops.?
Merritt said the most important part of the program is letting the kids know they have people looking out for them. Every student is paired with a mentor, who gives them advice and helps with key decisions for their future.
?Just being there and showing students that you care is so important,? he said. ?And we?ve fulfilled every promise we?ve made. We say we?re going to have a workshop, and we have them. We say we?ll have a $5,000 scholarship if they stay, and we get that for them.?
As for the fashion line, Merritt said it?s an ever-evolving operation.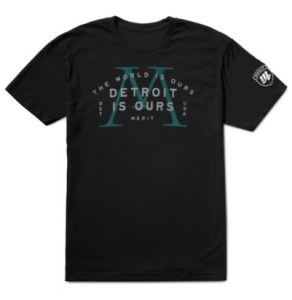 ?I?m in more of a pre-direction role,? he said. ?I come up with concepts and vision for product, then work with people who can make it happen. Honestly, we?re still figuring it out.?
Staying on top of the clothing industry is not always easy, so he just trust his instincts on what is fashionable.
?Now it?s about muted and less graphics and not necessarily knowing where your shirt is from,? Merritt said. ?But we try to use messages in [such] a way that it?s still stylish. We?ve been fortunate where our customers give high marks on our quality, so that?s been great.?
By Matthew Wood