Brent Yarina, BTN.com Senior Editor,

February 29, 2016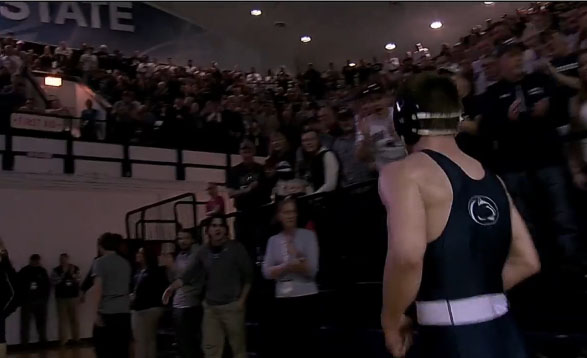 The Big Ten Conference announced the preliminary seeds for the 2016 Big Ten Wrestling Championships, which are set for March 5-6 at Iowa.
Five schools boast at least one top-seeded wrestler, with Penn State leading the way with four.
Nebraska and Penn State will bring a seeded wrestler in each of the 10 weight classes, while Iowa, Ohio State and Rutgers each boast a seeded grappler in nine classes.
The pre-seeds, as voted on by the conference?s coaches, rank the top eight wrestlers in eight weight classes, along with all 14 starters in two weight classes due to the Big Ten receiving nine or more NCAA Championships qualifier allocations in those classes.
For more information on the 2016 Big Ten Wrestling Championships, visit the Big Ten Championships Central page on Iowa?s website HERE. The complete list of Big Ten Championships pre-seeds can be found below.
125 lbs.
1. Nathan Tomasello, OSU
2. Thomas Gilman, IOWA
3. Nico Megaludis, PSU
4. Tim Lambert, NEB
5. Elijah Oliver, IND
6. Johnny Jimenez, WIS
7. Conor Youtsey, MICH
8. Sean McCabe, RU
133 lbs.
1. Zane Richards, ILL
2. Cory Clark, IOWA
3. Jordan Conaway, PSU
4. Geoff Alexander, MD
5. Eric Montoya, NEB
6. Ryan Taylor, WIS
7. Johnni DiJulius, OSU
8. Rossi Bruno, MICH
9. Dom Malone, NU
10. Anthony Giraldo, RU
11. Luke Welch, PUR
12. Garth Yenter, MSU
13. Alonzo Shepherd, IND
14. Sam Brancale, MINN
141 lbs.
1. Micah Jordan, OSU
2. Tommy Thorn, MINN
3. Anthony Ashnault, RU
4. Jameson Oster, NU
5. Javier Gasca III, MSU
6. Anthony Abidin, NEB
7. Danny Sabatello, PUR
8. Jimmy Gulibon, PSU
149 lbs.
1. Zain Retherford, PSU
2. Brandon Sorensen, IOWA
3. Jake Sueflohn, NEB
4. Jason Tsirtsis, NU
5. Alec Pantaleo, MICH
6. Alex Griffin, PUR
7. Andrew Crone, WIS
8. Jake Short, MINN
157 lbs.
1. Jason Nolf, PSU
2. Isaiah Martinez, ILL
3. Richie Lewis, RU
4. Jake Ryan, OSU
5. Edwin Cooper, Jr., IOWA
6. Brian Murphy, MICH
7. Tyler Berger, NEB
8. Lou Mascola, MD
165 lbs.
1. Isaac Jordan, WIS
2. Bo Jordan, OSU
3. Steven Rodrigues, ILL
4. Anthony Perrotti, RU
5. Chad Welch, PUR
6. Austin Wilson, NEB
7. Geno Morelli, PSU
8. Patrick Rhoads, IOWA
174 lbs.
1. Bo Nickal, PSU
2. Alex Meyer, IOWA
3. Zach Brunson, ILL
4. Myles Martin, OSU
5. Nathan Jackson, IND
6. Micah Barnes, NEB
7. Nick Wanzek, MINN
8. Ricky Robertson, WIS
9. Phil Bakuckas, RU
10. Mitch Sliga, NU
11. Aaron Calderon, MICH
12. Josh Snook, MD
13. Shane Shadaia, MSU
14. Andrew Hoselton, PUR
184 lbs.
1. Dom Abounader, MICH
2. Matt McCutcheon, PSU
3. Sam Brooks, IOWA
4. TJ Dudley, NEB
5. Nick Gravina, RU
6. Kenny Courts, OSU
7. Jeff Koepke, ILL
8. Ryan Christensen, WIS
197 lbs.
1. Morgan McIntosh, PSU
2. Brett Pfarr, MINN
3. Nathan Burak, IOWA
4. Max Huntley, MICH
5. Aaron Studebaker, NEB
6. Mark Martin, OSU
7. Hayden Hrymack, RU
8. Jacob Cooper, MSU
285 lbs.
1. Adam Coon, MICH
2. Kyle Snyder, OSU
3. Sam Stoll, IOWA
4. Billy Smith, RU
5. Michael Kroells, MINN
6. Collin Jensen, NEB
7. Brooks Black, ILL
8. Nick Nevills, PSU