BTN.com staff,

February 21, 2016
In 1962, Ken Coleman arrived at the campus of The Ohio State University with a big dream: to graduate and find a job as a math teacher.
It might not seem all that audacious today, but this was the early 1960s, and Coleman was a young African-American man living in the town of Centralia in downstate Illinois. And neither his mother, a maid, nor his father, a day laborer, graduated high school.
Still, none of those things kept Coleman from chasing his dreams - which, as it turned out, went well beyond becoming a math teacher. Because of his experience as a student at Ohio State, he took a very different career path, one that led to him becoming a Silicon Valley icon.
?I like to say I was raised in a small town in central Illinois, and I grew up at Ohio State,? said Coleman, chairman of the board for Saama Technologies, a leading data-science solutions company.
During his senior year in high school, Coleman took a typing class so he could crank out his term papers at OSU. When he came to Columbus, his typing skills led to a job as a keypunch operator at the university?s research center, which eventually landed him a role as a computer operator.
?That caused me to fall in love with computers,? he said. ?Coming to Ohio State really opened my eyes to possibilities I hadn?t even dreamed of before.?
Coleman earned his bachelors and masters degrees from OSU before serving as a captain in the U.S. Air Force. After the military, he proceeded to play a role in several important technology companies at critical times. He was at Hewlett-Packard when it exploded onto the personal-computing scene. Then, he went to Activision, the first video game software company, where he ran product development. After that, he helped grow Silicon Graphics? value from $10 million to $3.5 billion while pioneering 3-D graphics.
In addition to his education in and experience with technology at Ohio State, he credits his professional success to perseverance, which he said is a critical characteristic for anyone who wants to accomplish great things.
?I?ve never figured out a substitute for hard work,? Coleman said. ?Also, especially if you?re a minority, don?t expect life to be fair and don?t let yourself off the hook. There will be plenty of natural and non-natural barriers that will want to derail your career, and the challenge is to not use those as an excuse for not being successful. That?s life, and you have to overcome it. So persevere, make no excuses.?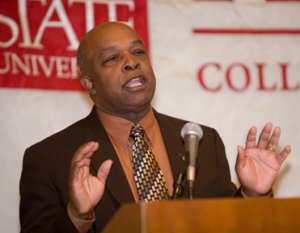 Throughout his career, Coleman has been one of the most active OSU alums in the country. He?s served on alumni association and president?s advisory boards, in addition to co-sponsoring and co-hosting a group of students who make annual trips to Silicon Valley.
Right now, he?s currently a member of the dean?s advisory council for Ohio State?s Fisher College of Business. And he recently played key roles in fundraising efforts for Fisher and attracting an upscale hotel to campus.
?I?ve been on about everything you can be on in one way or another,? Coleman said with a laugh.
And Coleman?s continuing to bring good things to Columbus: He announced last June that Saama Technologies would add operations in the region to continue to serve major clients in the insurance, consumer packaged goods (CPG), healthcare, life sciences, food, high-tech and retail industries.
When asked why the company?s expansion in Ohio is such a good move, Coleman explained how several factors came together.
?I had this relationship with Ohio State, and I?ve always wanted to do something in central Ohio,? he said. ?I think there is a lot of talent there. Having spent my career in the technology industry, one of the criteria for having a successful organization anywhere is to be around a great research institution, and Ohio State is one of them.?
The Columbus area also has evolved into a hub for data analytics, and Coleman also likes its geographic proximity to cities such as New York, Chicago, Washington, D.C., and Atlanta.
[btn-post-package]As the head of Saama, there are certainly business goals Coleman seeks to accomplish with this expansion. But in a deeper, more personal sense, he wants to create new, lasting opportunities for people.
?I feel like I?ve made a positive impact on individuals? lives and careers,? he explained. ?At the end of the day, that?s all that really matters. That will be your legacy; how did you impact the world? Not how much money you had. It?s about how many people you impacted in a positive manner, and if those people go off and do great things.?
By Adam Fluck