BTN.com staff,

February 19, 2016

How are you spending this weekend? If your answer to that question is dancing without stopping for two straight days, there?s a good chance you?re a Penn State student participating in the giant annual dance marathon - a.k.a, THON - to raise awareness of and funding for treatment of children?s cancer.
And if you?re planning to spend the weekend resting after a grueling relay run across Central Pennsylvania, you?re likely a PSU alum or another member of the Nittany Lions community supporting the same cause as the THON dancers through Hope Express.
From 6 p.m. on Friday, Feb. 19, until 4 p.m. on Sunday, Feb. 21, THON participants will be wearing their boogie shoes and shaking their groove things in the Bryce Jordan Center in State College, Pa. At previous years? events, they?ve raised several million dollars for the Four Diamonds organization, which fills in the funding gaps that insurance leaves for cancer patients at the Penn State Hershey Children?s Hospital. This financial support enables families to focus on supporting and caring for their sick child.
Several activities keep the dancers? energy and motivation high during those two days, such as a pep rally with Penn State athletes cheering on their fellow students. One of the most moving of these events takes place right at the beginning, when relay runners from Hope Express arrive from the children?s hospital in Hershey, Pa., more than 100 miles away to hand-deliver notes of encouragement from the patients there.
Now in its 10th year, Hope Express was established by Penn State alums Hank Angus and his wife, Connie. The two were first introduced to the Four Diamonds Fund for cancer research after their son Gabe was diagnosed with leukemia in 2004.
?We were clueless about the Fund,? Hank said. ?[Gabe] was admitted [to the hospital] in really bad shape. The next day, we met with a social worker who told us we would not have to worry about a bill. It just blew my mind.?
That information arrived before the Anguses found out the boy needed treatments for his immune system that would have cost $10,000 per month.
?Thank God for Four Diamonds,? Hank added.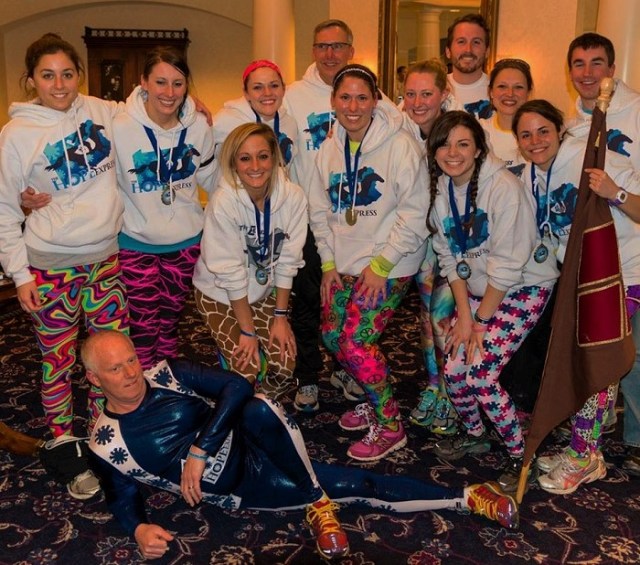 In February 2006, a few weeks before attending their first THON, Hank told his wife about an idea he?d had to run to the event site, which was about 100 miles away from where they lived. He?d just started training for a marathon at 47, and found that long-distance running helped clear his mind.
Connie talked her husband out of this idea, but the couple agreed that they wanted to get more involved with THON somehow, and the loose idea of a long running event stayed with them.
After taking part in THON 2006 and seeing the intense spirit and revelry behind it, the Anguses sat in their car in a state of awe. Before starting the trip home, they both turned to each other and said, ?We need to get that run together.?
[btn-post-package]What they came up with was a relay run modeled on the old U.S. Pony Express, which would allow the children at the hospital and their families to express their regards to the students at THON via a personal note or letter.
More broadly, the rationale behind Hope Express is to tie the families and activities at the Penn State Hershey Medical Center more closely to THON and get additional funding for children with cancer. Ten percent of the proceeds from the run go to the Four Diamonds Fund, and last year that amount exceeded $150,000.
?I knew if we didn?t do something totally insane, people wouldn?t know about it,? Hank said. ?What keeps me up at night is that a child with cancer?s parents can?t afford treatment ? If we can do our part, the kids can get treated through Four Diamonds.?
This father of three has spent several months getting 56 runners ready for the 2016 event. These participants are all part of what Hank calls ?The Four Diamonds Family,? which includes Penn State and Hope Express alums, cancer survivors and their family members. Many of them have logged as much as 20 miles a week in preparation, and they often run over hilly terrain in the dark to simulate the conditions of the 135-mile relay route.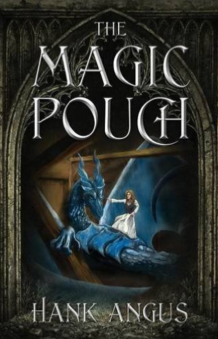 This year?s Hope Express will be a special one for Angus. He recently published a book called ?The Magic Pouch,? a fictional depiction of an entire town banding together to destroy an evil witch called Cancer. In the story, which is aimed at younger readers but accessible for anyone, the magic pouches contain a potion that cures sick children. Angus said they represent the backpacks full of inspirational notes that each Hope Express runner will carry to THON.
?Every step is for the kids,? he added. ?It?s really, really emotional. It?s a new kind of tired [for the runners]. We are up almost as long as the THON dancers - about 40 hours - so we get little to no sleep.?
Along with the cause they support, that?s an important similarity between Hope Express and THON. Putting that much into a single event creates an intense connection among participants.
?The biggest excitement is seeing the runners bond as a team,? Angus said. ?I never know when it will happen along the route, but it always does.?
Donate to Hope Express/Four Diamonds fund.
By Meg Sullivan