BTN.com staff,

January 30, 2016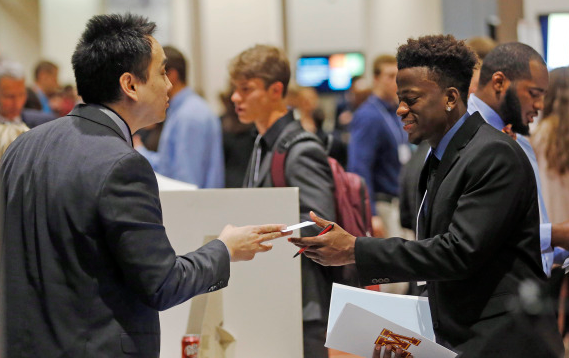 If you heard the terms ?student-athletes? and ?Pro Day? in the same sentence, you?d probably think of 40-yard-dash times, vertical-leap measurements and Wonderlic scores.
But at the University of Minnesota, the Pro Day for student-athletes involves polishing up résumés, compiling references and putting on business-formal attire. In other words, it would be recognizable to any regular professional who?s ever attended a career fair or recruiting event.
Minnesota?s Pro Day was the brainchild of Gophers swimmer Ben Bravence. Like most of his fellow student-athletes, Bravence knew he wouldn?t be doing his sport for a living after graduating college. Yet he found that most job fairs were held at times that conflicted with practices or competitions, making them next to impossible to attend.
?I noticed we weren?t really given chances to network and go to internship fairs because of athletics,? said Bravence, a senior majoring in finance. ?We just didn?t have the opportunity.?
After developing the idea for a career fair designed for people like him at Minnesota, he went to Peyton Owens, assistant athletic director for Student-Athlete Development, in April 2014 to see how to make it a reality.
?I told him it has to be student-driven,? Owens said. ?He doubled back maybe two weeks later. He talked about what he saw as the vision and pulled a lot from what he saw with the institutional career fair, but also what he saw with his college.?
Six months later, Pro Day was born. It was held on a Monday, usually a slower day of practice and games for student-athletes.
?It was a great turnout,? Bravence recalled. ?We got 45 companies across the Twin Cities to come out - some really good names, like Target and Cargill.?
This past year?s event in November was even bigger, drawing 55 companies, about 60 percent of which came back from the year before. It also included a program for freshmen, which Bravence said was a great way for the younger athletes to start thinking about what they might want to be doing after school.
?It was really to give them tips to network and navigate the fair,? he added.
The freshman component of the fair has been a huge success. The upperclassmen get the first hour of the event to speak with companies before the youngsters are unleashed. The frosh have a chance to start planning their futures early while also getting a much-needed look into the experience of networking and searching for jobs.
Owens said employers like that approach because it also breathes new life into the event.
?It has been a tremendous benefit to our freshmen,? he explained. ?We focused in on what they can do to speak to their brand identity and also [ask] questions to get more insight. Some of them have already stopped in to see what they can do. A lot of them are coming in to see how they can improve their resumes.?
Bravence hopes the program gives a leg up to the students who might not be thinking to the future.
?When I was a freshman, I didn?t really do anything,? he said. ?Didn?t go to any career fairs or do any informational interviews or anything.?
Bravence, who also serves as president of Minnesota?s Student-Athlete Advisory Committee, said he relishes the leadership role he?s been able to take with the program. As he graduates this year, he?s looking to the future and how to make Pro Day even bigger.
[btn-post-package]?I would definitely like to see more non-profits there,? he said. ?Also, we?ve been lucky to have Minnesota Law School there. I want more of that. I?d love to see other grad schools there because so many student athletes go to grad schools before beginning their careers. And we?re always looking to have more local companies.?
Owens said he couldn?t be more proud of what Bravence has brought to his fellow student athletes.
?This is everything that we embody,? he said. ?We want them to be leaders inside the lines of play, but also outside the lines. That?s what he did. He saw a need, then he came and filled it.?
By Matthew Wood