Tom Dienhart, BTN.com Senior Writer,

January 26, 2016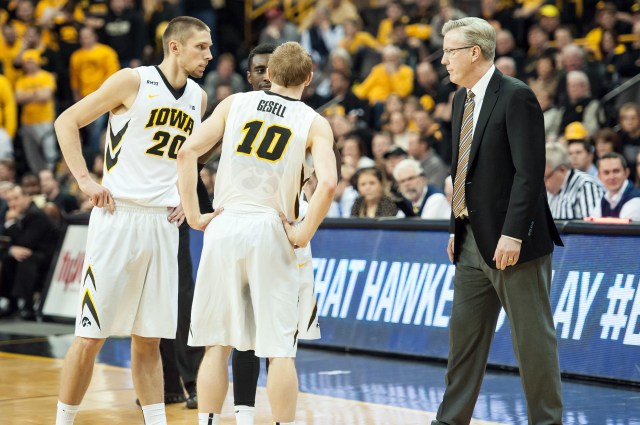 The 2015-16 school year for Iowa is shaping up to be one for the ages.
[ MORE: Power Rankings: Iowa comes in at No. 1 | Player Rankings: Peter Jok enters the list | Game Rankings: Iowa-Maryland tops week's slate ]
The football team started it all, jumping out to a school-best 12-0 before finishing 12-2, dropping the Big Ten title game to Michigan State and the Rose Bowl to Stanford. It was Iowa?s first Rose Bowl since the 1990 season. Still, the 2015 Hawkeyes will forever have a special place in the hearts and memories of Iowa fans, as the 12 victories were the most in a season in Iowa annals.
Now, it's the men's basketball and wrestling teams making plenty of noise.
Fran McCaffery?s crew is off to a 7-0 start in the Big Ten, the program?s best beginning since 1969-70. And the 16-3 Hawkeyes-riding a nine-game winning streak–landed at No. 3 in the AP poll and No. 4 in the Coaches Poll this week. The last time Iowa ranked No. 3 was Dec. 8, 1987. Add it all up, and the Hawkeyes have their sights set on winning the league regular-season title for the first time since 1978-79, when they shared the crown with Michigan State and Purdue.
Tom Brands' team has yet to lose on the mat, registering a 13-0 record, including 7-0 in the Big Ten, en route to being ranked No. 2 in the nation, behind rival Penn State.
So, if you're scoring at home, Iowa owns the No. 3 (AP) basketball team, the No. 2 wrestling team, and the football team was ranked as high as No. 3 this past fall. Impressive. So impressive, in fact, it marks the first time in school history that the three teams have been ranked in the top 3 in the same season.
January 26, 2016
Another potential Iowa first: Should the basketball team go on to win the Big Ten title, it would mark the first time in school history that the football team played in the Rose Bowl and the men's basketball team claimed the Big Ten crown in the same school year.
***
Email Tom Dienhart using the form below.
And if you want to leave a comment on this post, use the box below. All comments need to be approved by a moderator.