Brent Yarina, BTN.com Senior Editor,

January 23, 2016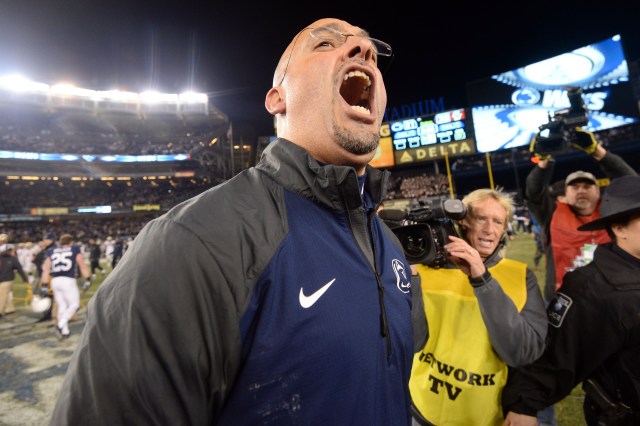 James Franklin met the media Saturday to discuss numerous topics about his program, in particular player and coach turnaround this offseason.
Fresh off a 7-6 season that ended with a 24-17 loss to Georgia in the TaxSlayer Bowl, there's been no shortage of musical chairs following Franklin's second campaign.
Staff-wise, Franklin fired offensive coordinator John Donovan, replacing him with Fordham head coach Joe Moorhead, while defensive coordinator Bob Shoop and offensive line coach Herb Hand bolted to Tennessee and Auburn, respectively.
"We've had some turnover in the program with coaches and players," Franklin said. "I'm very appreciative of what Bob [Shoop] and Herb [Hand] have done for us, for Penn State and for me over the last five years. I'm very, very appreciative of those guys. I wish nothing but success for them and their families both personally and professionally.
"Look around the country and the game has changed dramatically in the last 10 to 20 years. Good coaches are difficult to keep. There have been 14 changes among the Big Ten coordinators and 13 coordinator changes in the SEC since the end of this regular season. If you look at the Power 5 conferences, there have been 175 coaching changes. So it's been a lot of change and that's really what you see in college football right now. Do I like it? No, but that's the reality of it. People are going to make choices that they think are in the best interest of their families and in the best interest professionally as well."
Player-wise, quarterback Christian Hackenberg and defensive tackle Anthony Johnson elected to declare early for the 2016 NFL Draft, and receiver Geno Lewis (Oklahoma University), running back Akeel Lynch (University of British Colombia) and linebacker Troy Reeder (University of Delaware), among others, decided to leave the program.
"Player transfers, I'm really proud of the fact that the majority of guys who have transferred have their degrees," Franklin said. "That's what we're all about and always will be about. They're making decisions that they feel are in their best interest personally and in their football careers. I wish those guys nothing but success. This hasn't caught us by surprise. We were very aware that those things may be coming."
Franklin isn't deterred, though adding: "We have a plan and we're moving forward. I could not be more excited about the guys we have in our program."