BTN.com staff,

January 22, 2016

During football and basketball games, BTN LiveBIG will spotlight notable examples of research, innovation and community service from around the conference. In-Game stories will provide more background on these features, and the opportunity to view the videos again.
As the old saying goes, ?Home is where the heart is? … but in today?s globalized, virtual world, is that still true? Do our ties to the communities we live in still run deep, and are they worth nurturing?
For Jonathan Oppenheimer, a Master?s student pursuing a dual degree in social work and public policy at the University Of Minnesota Humphrey School Of Public Affairs, the answer is a resounding ?Yes!?
Oppenheimer?s Midway Murals project is a manifestation of his simple yet powerful vision of using public art to bring a community together. From the moment I met Jonathan to produce the story above, his positive energy and passion for the project were readily apparent. I knew this one would be a treat.
And as a proud resident of the Hamline Midway neighborhood in St. Paul, he now has some new art right down the block.
?The Midway neighborhood truly is diverse,? he tells me. ?It?s made up of people from so many different cultures and communities, and so my hope is that this public art can really be a way to bridge some of those divides and get us rallying around a common course and a common goal.?
The term ?man of the people? is usually reserved for politicians who can instantly conjure up a smile and a handshake. However, while meeting a handful of immigrant local business owners up and down Snelling Avenue - all speaking glowingly about the project and its leader - I decide Jonathan is an embodiment of the phrase.
First it was Hassan Hussein, the effervescent owner of Ganale Barbershop, who came to the United States from Ethiopia in 2000. Jonathan took a seat and the duo didn?t skip a beat, bursting into laughs before I understood what they were even talking about.
Soon it was lunchtime, so we walked into the Snelling Café, where Afeworki Bein cooked us up some delicious sandwiches with a chicken recipe from his native Eritrea. You know you?re in good hands when the menu is, ?Do you like spicy or not?? Uh, yes please.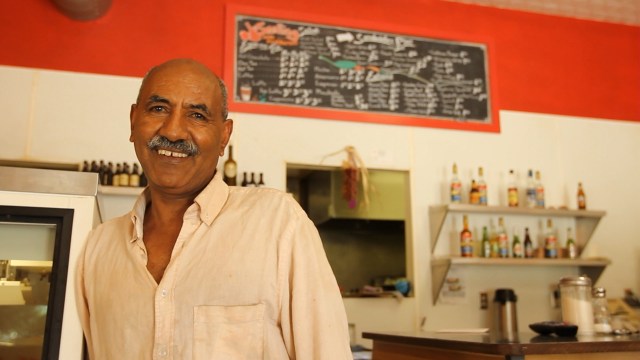 A Korean traditional music and dance school ? a Ethiopian beauty salon ? the introductions kept coming. I told Jonathan it wasn?t realistic to interview all these people given our time constraints. Yet, as it turned out, this wasn?t for the camera. This is Jonathan?s daily routine. I was just along for the ride.
With each subsequent introduction came a tangible interpersonal connection. This neighborhood, and its inhabitants, possessed a special warmth and hospitality you don?t find in many other places.
Maybe this neighborhood, with so many immigrant families coming from other parts of the world, placed a special emphasis on the value of community? On the values of inclusion and togetherness? Maybe their collective desire to share with others - stories, ideas, business opportunities - was the driving force behind their overwhelming support for the Midway Murals project?
[btn-post-package]Whatever it was, I felt it throughout the single day I spent there. When Jonathan says, ?Home is where my heart is, and my heart is about making the community stronger,? he means it.
So if you ever find yourself driving past Snelling Avenue in St. Paul, stop for a minute; go check out some beautiful art, get a coffee, and talk to a local. Trust me - within no time, you?ll feel it too.
By Sebastian Buffa